Images courtesy mountfestival.kiwi
By Kent Gray/Triathlon.kiwi
It still bugs Braden Currie that the men won't race iconic Kona in 2023 but he won't be wasting any more time, or energy, on a controversy still reverberating around the triathlon world.
Instead, the Wanaka 36-year-old is determined to get his bid for September's Ironman World Championship, shifted to glitzy Nice in France, off to a flying start at the Tauranga Half on Saturday.

Currie is out to win the showpiece event of the Fulton Hogan Mount Festival of Multisport for a fourth time. The 2km run, 90km bike, 21km run will be a handy early-season leg tester as he ramps up to a big year or Professional Triathletes Organisation (PTO) and Ironman racing.

With the Norwegian hype train running at full steam in 2022, highlighted by Gustav Iden's record-smashing win in Kona and Kristian Blummenfelt's 70.3 worlds victory – the pressure is on Currie to find yet more speed in 2023.
Iden and Tokyo Olympic champion Blummenfelt have already signalled that they are unlikely to return to the Ironman worlds this year in an attempt to qualify for the Paris 2024 Games, and that was before Ironman switched the men to Nice.
Still, Currie knows he is running out of runway to improve on his bronze medal at the 2021 worlds (delayed till May 2022 and moved to Utah due to the pandemic) and especially in light of the lighting times produced in Kona last October.

Iden won the Big Dance on the Big Island in a preposterous 7:40:24, slashing 10mins 49sec off the previous course record set by Jan Frodeno when the German legend won the last (pre-Covid) race in Kona in 2019. With a ridiculous 2:36:15 split, Iden also eclipsed the previous Kona marathon best set by Patrick Langer in 2016 by 3mins 30secs and towed Sam Laidlow, Blummenfelt and fourth-placed Aussie Max Neumann to times that beat Patrick Langer's previous mark.
Currie is doubly determined after the heartbreak of his own race in Kona where a mystery virus derailed a brilliant build-up, forcing the Kiwi No.1 out around 50km into the bike leg.

"The bar has been lifted higher this year [in 2022] than anyone ever thought it would go," Currie said.

"It's a mental challenge to get your head around believing you can go this fast. But I'm here for a good time not a long time, so I'm going to keep running.
"I know I only have a few years at the very peak of the sport. The venue [the shift from Kona to Nice] is what it is. Do I agree with it? No. But am I going to race as hard as I can? Absolutely. I'm going to give it my best shot".
With former two-time champion, Kyle Smith, ruled out by illness, the biggest threat to Currie's bid for the $6000 winner's cheque in Tauranga is set to come from Jack Moody.

The Auckland 29-year-old captured December's Ironman 70.3 New Zealand title in 3:49:18, overcoming a 50sec deficit out of the water with a 1:15:29 half marathon split in the gnarly Taupo weather. That wasn't much slower than the 1:08:05 Moody clocked to win the Queenstown Half Marathon the previous month.
"I don't think I have ever been the favourite in anything so yes it's an honour. For sure I am coming to win," Moody said of being one of the favourites for Saturday.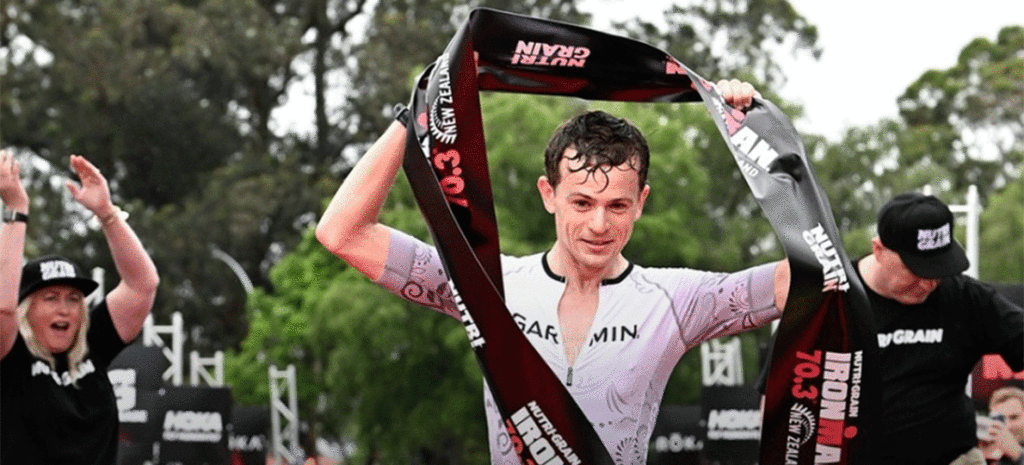 Currie edged Moody to the title last year but expects a battle royale with the man nicknamed "Texas".
"It has been great to see Jack win in Taupo in December. He has worked hard over the years and its paying off. It will be a good battle on the run as Jack always runs well off the bike."
The 2023 Tauranga Half has attracted the strongest elite field in its 34-year history with Sam Osborne, third last year, long-distance devotee Simon Cochrane, recent Tour of Southland (cycling) finisher Mike Phillips and OxMan champion Tom Somerville others to watch. Former Olympian Ryan Sissons and Cantabrian Bryan Rhodes, meanwhile, have come out of retirement to race alongside the likes of Ben Phillips, Mark Bowstead, Scott Harpham, Ben Hamilton, Brett Clifford, Jayden Kuijpers, Lucas DuRoss, Liam Bird and Mike Tong.
Like Currie, Rebecca Clarke is out to defend the women's title but home-town hope Hannah Berry (nee Wells) and Sunshine Coast-based Kiwi Amelia Watkinson, both two-time champions, won't make that easy.
The Tauranga Half doubles as the Suzuki New Zealand Mid Distance Championship for a big field of age-groupers, the best of whom can qualify for the 2023 World Triathlon Age-Group Multisport Championship in Spain.
There are also spots at the April 29-April 7 worlds in Ibiza on the line for the leading performers in Saturday's Suzuki NZ Mid Distance Aquabike (2km swim, 90km bike) Championship.
Mount Festival of Multisport -January 21
(Pilot Bay, Mount Maunganui)
*Tauranga Half (2km swim, 90km bike, 21km run)
**Aquabike (2km swim, 90km bike)
Pressio Mount Festival Half Marathon (5km/10km/21km options)
Pilot Bay Ocean Swim (800m/2km/3.7km options)
* + ** Suzuki NZ National Championship events