Images courtesy World Triathlon
By Kent Gray/Triathlon.kiwi
The path to World Triathlon Championship Series (WTCS) glory – and the richest source of Paris '24 Olympic Games qualification points – is now clear for New Zealand's leading triathletes.

World Triathlon has announced the addition of Cagliari (May 27-28) and Montreal (June 24-25) to its preeminent annual circuit.

The Italian (standard) and Canadian (sprint) rounds bring to seven the total number of WTCS events in 2023, with the series set for its traditional Abu Dhabi launch on March 3-4.

Kiwi No.1 Hayden Wilde will be out for swift redemption in the UAE capital after his 2022 title bid ended with a disappointing sixth place at the series finale in Abu Dhabi in late November. That result saw Wilde settle for third in the final WTCS standings behind Frenchman Leo Bergere and British rival Alex Yee.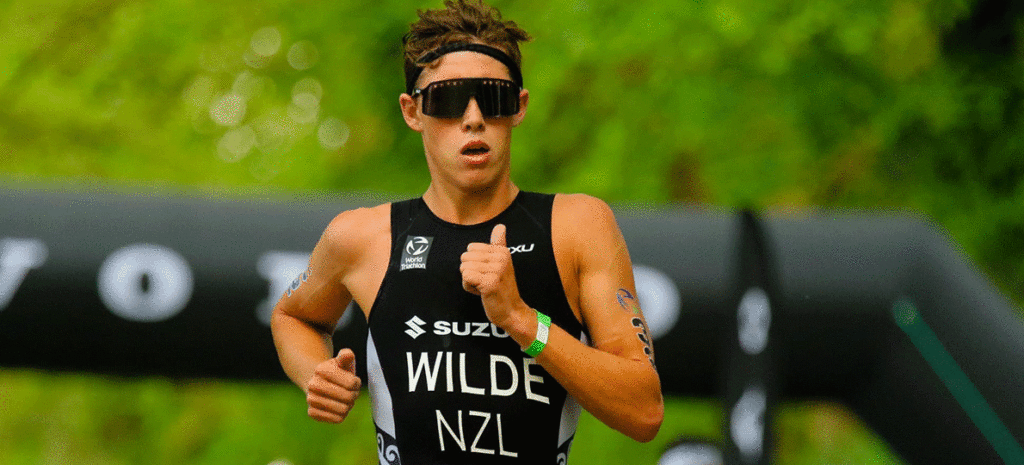 Tayler Reid, Nicole van der Kaay and Ainsley Thorpe finished 70th, 38th and 47th respectively in the final men's and women's standings and are again expected to contest the 2023 WTCS, alongside other Olympic focused Kiwis where starts can be secured.

Wilde raced in Yokohama (2nd), Leeds (1st), Montreal (2nd), Hamburg (1st) and Abu Dhabi (6th) last season but bypassed the Cagliari and Bermuda rounds late in the season due to his table-topping ranking and to focus on sealing the Super League title. It will be fascinating to see which WTCS races he commits to in 2023, a decision likely to again be determined by his early season form and the need to balance a schedule set to again feature yet-to-be-announced Super League and perhaps Professional Triathlete Organisation (PTO) races.
Key WTCS races in 2023 will include Hamburg and Pontevedra. The German stop from June 13-16 doubles as the World Triathlon Sprint and Mixed Relay Championships while the season finale in Spain incorporates the World Triathlon Age-Group Standard, Super-Sprint and Aquabike Championships.
The penultimate round in Sunderland on July 29-30 replaces Leeds as UK host and will include one of four Mixed Relay races, a key focus for New Zealand ahead of the XXXIII Olympiad in Paris next year.
The Mixed Relays are scheduled for Montreal, Hamburg (World Championships), Sunderland and Paris, the latter as part of the August 17-20 Olympic Test Event where Kiwis can nail selection for Paris 2024 with a podium finish individually.
In other World Triathlon scheduling news, World Cups planned for Busselton (Australia) and Bergen (Norway) have been scratched from the 2023 schedule. Busselton reverts to a Continental Cup while Bergen organisers are working to deliver the event in 2024.
The second-tier World Cup season opens in New Plymouth on March 26.
The World Triathlon board has also approved the addition of Zofingen as the host venue of the 2023 long distance Duathlon World Championships. It will be the 15th time in 34 years that the Swiss venue has hosted the event.
Mark your diary dates for ambitious Kiwi age-groupers are the Multisport Championships in Ibiza, Spain (April 29-May 7), the Sprint Distance and Mixed Relay Championships in Hamburg (July 13-16) and the Standard Distance, Super Sprint and Aquabike Championships (September 22-24).
World Triathlon said further events could be added to the 2023 calendar "in the coming weeks".
2023 World Triathlon Championship Calendar
World Triathlon Championship Series (WTCS)
March 3-4: Abu Dhabi, UAE (Sprint)
May 13: Yokohama, JPN (Standard)
May 27-28: Cagliari, ITA (Standard)
June 24-25: Montreal, CAN (Sprint)
July 13-16: Hamburg, GER (Super-sprint World Championship)
July 29-30: Sunderland, GBR (Sprint)
September 22-24: Pontevedra, ESP (Standard)
Mixed Relay
June 24-25: Montreal, CAN
July 15-16: Hamburg, GER (World Championship)
July 29-30: Sunderland, GBR
August 19-20: Paris, FRA
Paris 2024 Test Event
August 17-20: Paris, FRA (Standard, Mixed Relay, Para Triathlon)
World Triathlon Cup
March 25-26: New Plymouth, NZL (Sprint)
May 6-7: Yeongdo, KOR (Sprint)
June 17-18: Huatulco, MEX (Sprint)
July 8-9: Tiszaujvaros, HUN (Sprint, semi final & final)
September 2-3: Valencia, ESP (Standard)
September 9-10: Karlovy Vary, CZE (Standard)
October 7-8: Arzachena, ITA (Sprint)
October 14-15: Chengdu, CHN (Standard)
October 21-22: Tongyeong, KOR (Sprint)
October 28-29: Miyazaki, JPN (Standard)
November 11-12: Vina del Mar, CHI (Sprint)
November 18-19: Montevideo, URU (Standard)
Para Triathlon
Para Series
March 18-19: Devonport, AUS
May 13-14: Yokohama, JPN
July 8-9: Montreal, CAN
July 15: Swansea, GBR
Para Cup
June 10-11: A Coruna, ESP
June 17-18: Besancon, FRA
July 15-16: Long Beach, USA
August 19-20: Paris, FRA
Para Championships
September 23-24: Pontevedra, ESP
Multisport
March 25-26: Skeikampen, NOR – Winter Triathlon Championships
April 29 April – May 7: Ibiza, ESP – Multisport Championships
September 3: Zofingen, SUI – Long Distance Duathlon Championships
Arena Games (Indoor eSport World Championship)
February 25: Montreal, CAN
March 12: Sursee, SUI
March 25: Singapore, SGP
April 8: London, UK