Photos: @janosmschmidt/World Triathlon
By Kent Gray/Triathlon.kiwi
If Eva Goodisson can nail a good swim, don't be surprised to see the Kiwi's run prowess propel her to a career first top 10 at World Cup level in Japan on Saturday afternoon.
The Hawke's Bay 24-year-old has outlined the lessons learned during her first full and challenging European campaign ("Covid day zero, lost luggage…don't bring a leather jacket to a European summer and try not to crash on the mount line …") plus some more immediate race day thoughts in a video preview to World Cup Miyazaki.
Saturday's race (live TriathlonLive.tv from 12.50pm NZT) is Goodison's fourth World Cup start following trending 41st, 20th and 11th placings in Arzachena (Sardinia, Italy), Bergen (Norway) and Valencia (Spain) respectively, the latter her most recent start last month.
RELATED: Meet Tri NZ's other power couple, Olivia Thornbury and Janus Staufenberg
She's also had a taste of the blue-ribband World Triathlon Championship Series, finishing a handy 24th in a Montreal sprint race in June. But it was the frenzied atmosphere in Bergen in August that convinced the Havelock North speedster than the transition from running to tri was the right move.
"This has been my first year on the circuit, which has been really exciting. Before then I was over in America running so this year I jumped in, fresh, eager to give it a go and it's been awesome," said Goodisson who ran for the University of California, Davis.https://www.instagram.com/p/CiKN4-KMqsy/embed/captioned/?cr=1&v=14&wp=1080&rd=https%3A%2F%2Ftriathlon.kiwi&rp=%2Ffrom-track-to-tri-eva-goodisson-is-trending-nicely-ahead-of-world-cup-miyazaki%2F#%7B%22ci%22%3A0%2C%22os%22%3A1473.5999999642372%2C%22ls%22%3A1089.699999988079%2C%22le%22%3A1262.300000011921%7D
"Racing in the crowds at Bergen World Cup was amazing, that was the highlight. The energy from the crowd there was awesome and it's kind of what has inspired me to keep going."
RELATED: Dylan McCullough itching for World Cup Miyazaki return
Coached by Tauranga's Chris Willett, Development Lead at Tri NZ, Goodisson is slowly learning her craft at the elite level. In particular, she's quickly realised the importance of getting a clean and clear start in the water.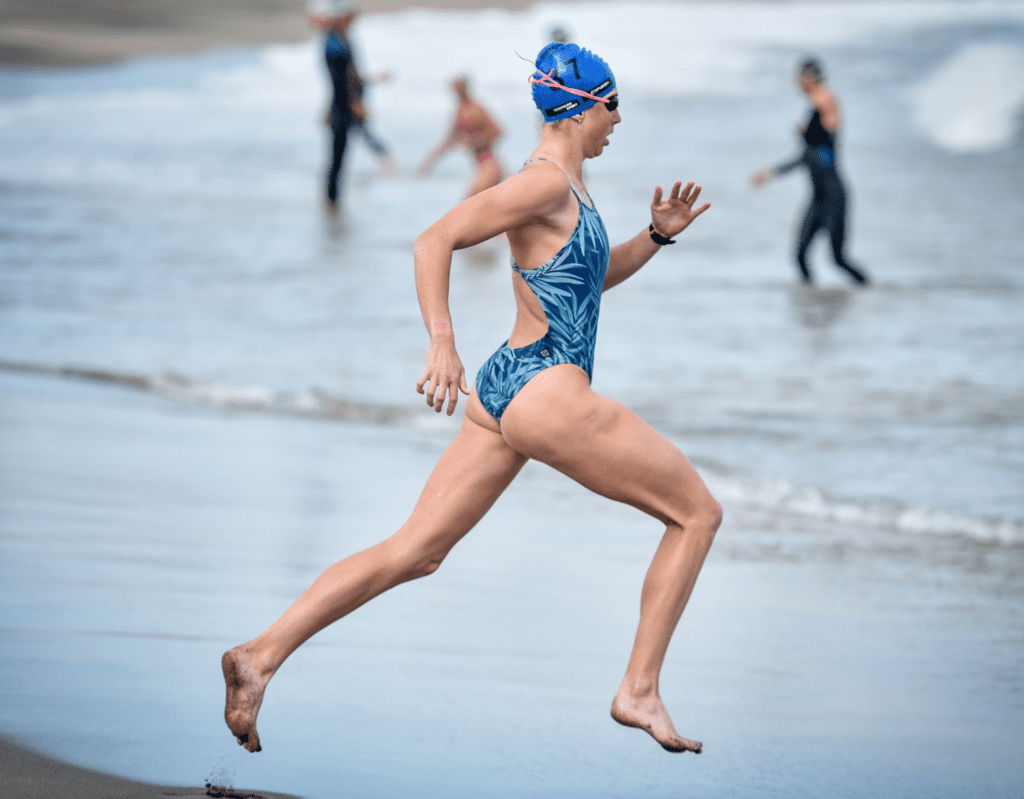 "I've had a few up-and-down swims. [You've] just [got to] try and stay relaxed, get a good starting point on the pontoon and pretty much not to be too nervous about it at the start. The race kind of unfolds as it goes.
"It's a bit of a shame the surfs not quite as big as I was hoping it would be here and we'd be able to have a bit of body surfing in there, unfortunately, there's not going to be that.
"But there's still going to be a good beach start so I'm really excited for the swim and the bike course is flat, it will probably be quite a big pack, and the run will just be a fast, flat 5k so I'm excited for what tomorrow [Saturday] will bring."
Catch the full World Triathlon video preview, also featuring Japan's Sarika Nakayama, Frenchwoman Sandra Dodet and Dane Alberte Pedersen, here:
https://www.facebook.com/plugins/video.php?height=314&href=https%3A%2F%2Fwww.facebook.com%2Fworldtriathlon%2Fvideos%2F809152647025481%2F&show_text=false&width=560&t=0
Goodisson is one of five Kiwis racing on the island of Kyushu. She'll be joined in the women's race (from 12.50pm) by Olivia Thornbury while Thornbury's partner and fellow Otago Med School student Janus Staufenberg, Saxon Morgan and Dylan McCullough take the men's klaxon at 3.20pm (NZT).
It will be McCullough's first race since breaking his elbow post a breakout 7th placing at the Birmingham Commonwealth Games.