Olivia Thornbury (File photo)
By Kent Gray/Triathlon.kiwi
Partners Olivia Thornbury and Janus Staufenberg have headlined a series of encouraging Kiwi results at the latest European Triathlon Cup in Austria.
Thornbury was 6th and Staufenberg 9th in picturesque Kitzbühel early Sunday (NZT) in the first of a corresponding quartet of European races the Otago Medical School students are set to contest, culminating at World Cup Tiszaujvaros in Hungary on July 8-9.

Brea Roderick made it three Kiwi top 10s in Kitzbühel, the Cantabrian running to 9th in a heartening warmup to her maiden World Triathlon Championship Series (WTCS) bow in Montreal next weekend.

Eva Goodisson was 16th, a promising performance in the Mt Maunganui-based Havelock North 24-year-old's comeback from a neural back injury, ahead of Hannah Howell in 32nd.
Trent Thorpe was the next best of the Kiwi men in 18th in a solid follow-up to his 5th at the Oceania Standard Distance Championship in Port Douglas late last month. Ivan Abele and Lachlan Haycock rounded out the Kiwi results in 27th and 35th respectively.
With Thornbury just 23 seconds shy of the podium and Staufenberg 26 seconds off third in the men's race, it bodes well for Hungary. The pair will continue building towards their first big World Cup moment of 2023 at the next two European Cups on the calendar, in Wels, Austria next weekend and in Holten, The Netherlands on July 1.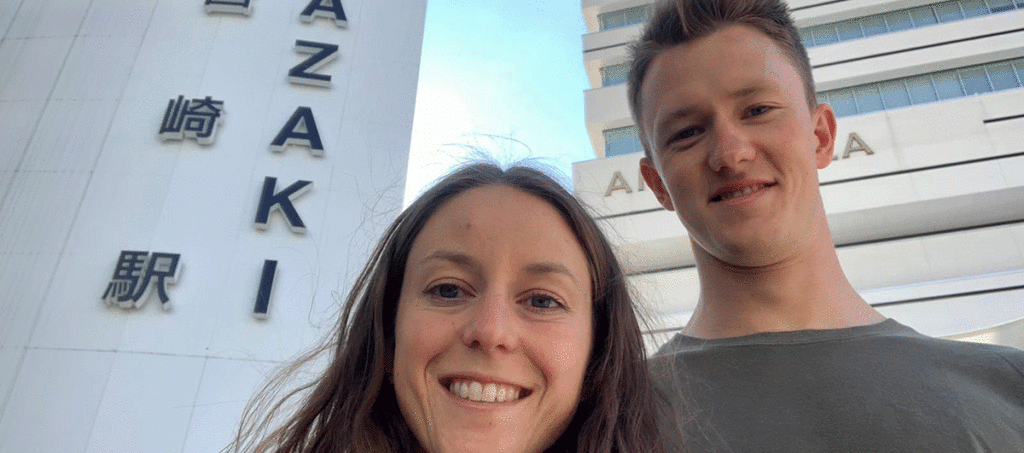 Haycock, Saxon Morgan, Goodisson, Hannah Knighton and Howell will also race in Wels.
"Happy with the race, a good swim got me into the front group, felt comfortable on the ride and was managing the surges well," Thornbury told Triathlon.kiwi.

"Got to the run and had a good start out of transition with the front girls and held on until down the hill where I let a gap open up. Felt a bit like survival mode from there on till the finish but a positive start to the trip considering I only got to Europe on Monday."
Roderick, meanwhile, now jets to Canada where she'll join Nicole van der Kaay, Ainsley Thorpe, Tayler Reid and Dylan McCullough at WTCS Montreal which features both individual sprint races on Saturday and the first of the year's four key Mixed Relays on Sunday.

Montreal is an added bonus for Roderick who is a replacement for Thornbury.

"I didn't think I'd be racing World Series races for a few more years so I'm just taking opportunities as they come and am going into the race with no expectations but just to give it my all," said Roderick.
"I was happy with my race today. It's my first Euro Cup for this season and I feel as if it was a good starting point for me but I'm defiantly wanting to build on that.
"Overall I had a pretty solid and consistent swim, bike and run and Kitzbühel has been amazing. It is such a beautiful place and the race atmosphere was incredible. I would defiantly want to come back and do this race again another year."

With running the most difficult part of Goodisson's comeback, she had targeted a strong swim, bike in Kitzbühel before taking a "see what I can do" attitude to the run. In that respect, she'll be happy with the sixth fastest women's swim, a 9.48 split to Tabea Huys' (AUT) pack-leading 9:34.

Goodisson rolled into T2 in the same bike group as Thornbury and Roderick. The difference, as predicted, came on the run with Thornbury the 8th fastest with a 17:48 5km split, ahead of Roderick with the 13th slickest time of 18:21. Goodisson knocked out a 19.39 but with a track background, it's a discipline where vast improvements will come with time.
"I am stoked," Goodisson said. "The race went perfectly to how I wanted it executed. The final result may not look career making but the goal for a solid swim and ride happened with probably my best swim finish yet.

"The race overall felt controlled and a step in the right direction. Plus it was an honour to race in such a beautiful location and alongside a good group of fellow Kiwis who performed well themselves."

Staufenberg was the fastest of the Kiwi males out of the water, 16 seconds down on Canadian Josiah Ney in 9:15. He produced the 9th fastest 5km split of 15:35 to mirror his overall finish.

Thorpe, surprisingly the slowest of the Kiwis out of the water, made up ground with a 15:47 5km.

European Cup Kitzbühel 2023 – Leading Results
June 17, 2023. Sprint (750m swim, 20km bike, 5km run)
Pos. Name. Swim (750m) T1 Bike (20km) T2 Run (5km). Gun Time
Women
1. Tanja Neubert (GER) 00:09:58 00:00:41 00:28:35 00:00:21 00:17:11 00:56:48
2. Selina Klamt (GER) 00:09:56 00:00:42 00:28:36 00:00:19 00:17:16 00:56:52
3. María Casals Mojica (ESP) 00:09:56 00:00:43 00:28:40 00:00:23 00:17:21 00:57:05

Also
6. Olivia Thornbury (NZL) 00:09:57 00:00:44 00:28:36 00:00:22 00:17:48 00:57:28
9. Brea Roderick (NZL) 00:09:53 00:00:45 00:28:38 00:00:20 00:18:21 00:57:58
16. Eva Goodisson (NZL) 00:09:48 00:00:49 00:28:39 00:00:22 00:19:39. 00:59:19
32. Hannah Howell (NZL) 00:10:25 00:00:44 00:31:32 00:00:23 00:20:15 01:03:21

Men
1. Samuele Angelini (ITA) 00:09:16 00:00:41 00:25:28 00:00:22 00:14:56 00:50:45
2. Jannik Schaufler (GER) 00:09:12 00:00:40 00:25:35 00:00:20 00:15:01 00:50:49
3. Esteban Basanta Fouz (ESP) 00:09:15 00:00:39 00:25:32 00:00:20 00:15:04 00:50:53

Also
9. Janus Staufenberg (NZL) 00:09:15 00:00:39 00:25:29 00:00:19 00:15:35 00:51:19
18. Trent Thorpe (NZL) 00:09:22 00:00:41 00:25:24 00:00:29 00:15:47 00:51:45
27. Ivan Abele (NZL) 00:09:19 00:00:42 00:25:27 00:00:22 00:16:35 00:52:27
35. Lachlan Haycock (NZL) 00:09:20 00:00:42 00:26:16 00:00:20 00:16:13 00:52:54