Photo: Hamish Collie
By Kent Gray/Triathlon.kiwi
When Eva Goodisson sped to a career-best 7th at World Cup Miyazaki in late October, a serious push for Paris seemed to have been set in train. Back home a week later, those embryonic Olympic dreams had been derailed, temporarily at least, by a seemingly innoxious deadlift in the gym.
Fast-forward eight long, physically and emotionally taxing months and Goodisson's on-again, off-again comeback from a neural back injury is on again, the Mt Maunganui-based 24-year-old one of eight Kiwis poised to race Saturday's European Cup in Austria.
Team-mates Brea Roderick, Olivia Thornbury, Hannah Howell, Lachlan Haycock, Ivan Abele, Janus Staufenberg and Trent Thorpe all have their own compelling dreams to fuel at European Cup Kitzbühel but none have had to work as hard as Goodisson to merely make it to the start line.

"It definitely has been by far the hardest setback I've had so far in my athletic career," Goodisson told Triathlon.kiwi of the injury.

"The hardest thing has been the uncertainty of a neural injury. No specialist or physio can give any sort of timeline in terms of return and progression, so it is a constant guessing game which isn't easy for anyone."

Goodisson has slowly eased herself back into racing, completing the swim and bike legs at Oceania Cup Taupo in February before taking bronze at the Marra Sprint Triathlon in Tauranga on March 12. But top-flight triathlon, much like life, is rarely a pothole-free journey with Goodisson struggling to 45th place at World Cup New Plymouth a fortnight later.

There were extenuating circumstances, a mechanical issue forcing her to borrow a bike which spiralled into to a subpar run, not that Goodisson's goals were overly ambitious in New Plymouth given where she was in her comeback.
"Still, it was a hard day to have one of these performances, in front of family and friends, especially when it didn't replicate what I had been doing in the leadup. But it's part of the sport and you take it, learn, and move on."
Moving on hasn't been easy, of course. Goodisson had eyed the Oceania Standard Distance Championship in Port Douglas on May 27, the final stopover for many of the aforementioned team-mates en-route to Europe. But after New Plymouth, and having never raced over the Olympic distance, she decided a little more training at home was the more prudent option.
"It's so frustrating as it was a freak accident and caused a prolapse in my lower back, essentially limiting motor function and neural control in my left leg," Goodisson says of the ill-fated deadlift she'd completed countless times previously without incident.

"Neural injuries have a timeline of their own, so from the moment of diagnosis, not walking properly for a good six weeks, I had no idea what my come back would look like. It has been eight hard months of constant physio, rehab, gym and some solid swimming and riding, while I regain function in my leg again. It is getting better by the week… just in the most painfully slow way."

After Kitzbühel, Goodisson will move to Wels for another European Cup in Austria, and then race African Premier Cup Larache in Morocco on July 9.
"Those races are trending towards fast swim-bikes at the top level, so I am feeling good about pushing these disciplines and then just doing what I can in the run," she said.

"I often surprise myself with little pressure so I'm looking forward to really going for it at the front of the race and then seeing what happens."

Goodisson is taking a similar attitude to the remainder of the year but it will include a big block of training post Morocco at Tri NZ's European season base in Banyoles, Spain, before a series of World Cup starts all going well.
"The comeback process has not been easy and after ending my first international year of racing on such a high last year [20th, 11th and 7th placings at World Cups in Bergen, Valencia and Miyazaki respectively], it has been even harder.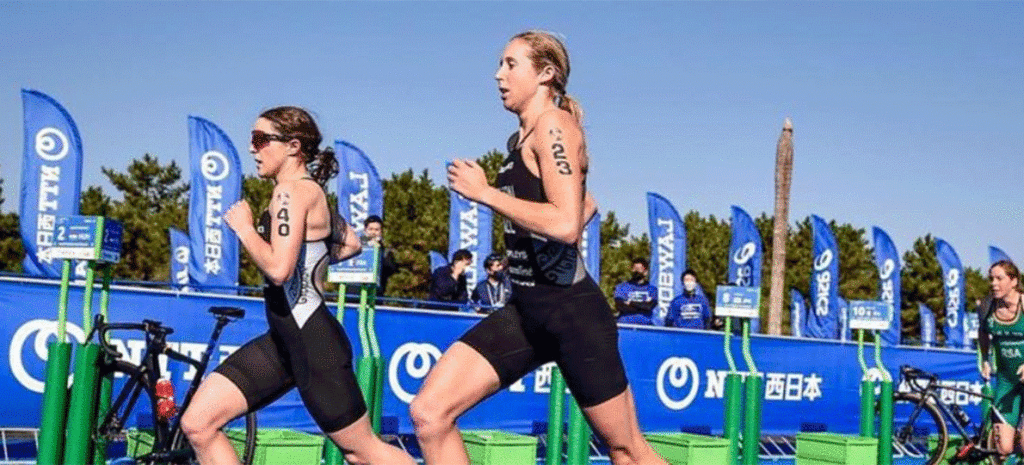 "I remain optimistic that I'll turn a corner quickly with my comeback but it has taken it's time. It has been rewarding to see gains made in my swim and bike but I know that I can't push this any faster than what I am doing. My best option is to accept that.

"Yes I would love to be racing the top girls right now but I'm not quite there yet. And as painful as a slow build up is, it is better to consistently build up now than rush, especially with big goals coming up.

"I have such a solid team around me that I'm still focused and driven towards World Cup goals this year, WTCS racing next year and future games."

Goodisson also refuses to completely abandon the push for Paris. This is sport after all, where fortunes can change very swiftly, for better and not always the worse.

"It is a shame because last year I was targeting WTCS races and Paris test event [in 2023], but with the progress being made, I still have to remain focused because anything can happen," Goodisson said.

"With a lot of World Cup races in September and October, that will be my main goal this year, to race well at those, get my name back in the ring and get fired for next year."