File Photos: Delly Carr/ Triathlon Australia
By Kent Gray/Triathlon.kiwi
Saxon Morgan survived the chaos typical of European Cup racing to return the eye-catching Kiwi result in Wels overnight, a confidence-booster as he looks to return to the highs of late 2022.
The 23-year-old Cantabrian was 6th in the men's sprint won by German Simon Henseleit, with Lachlan Haycock 32nd and Janus Staufenberg sporting some pretty nasty road rash after a bike crash en route to 44th.
Hannah Knighton got her European summer off to a solid start with 11th in the women's race, ahead of Eva Goodisson and Hannah Howell in 14th and 19th respectively. Olivia Thornbury, seeded second as partner Staufenberg was for the men's race, withdrew after the swim with a health issue.
In the Junior (U19) races, Sophie Spencer (1:01:56) and Hannah Prosser (1:03:30) were 5th and 10th respectively in the women's race and Ben Airey (56:12) and Finnley Oliver (57:32) 14th and 25th.
Morgan had designs on pushing for a start in the Paris Olympic test event off the back of his run to 8th at the U23 WTCS Finals in Abu Dhabi in November but has endured a topsy-turvy Oceania summer. The result in Wels, on the back of 4th in the U23 Oceania Standard Distance Championship (and 8th overall) shows his form is trending in the right direction again.
"It has been pretty up and down during the Oceania season but really happy to start with a 6th place here and hopefully build from this in the upcoming races…a really solid start to my European season," Morgan told Triathlon.kiwi.

Next up is European Cup Holten next Saturday (Sunday NZT) where Morgan will be joined on the start line by Staufenberg and Trent Thorpe while Thornbury and Knighton will also race in The Netherlands.

"Another Conti Cup so hopefully I can carry through some confidence and perform next weekend as well," Morgan said.

He'll race Holten a little bit more match fit too after the inevitable argy-bargy brought about by a big field of ranking point desperate men in Wels.
"It was pretty different to the Oceania level, it's just full on from the gun. It was a downstream swim which is something we're not used to, it was very physical with all the other athletes, there was 74 of us or something, so quite a few bodies in the water to make your way through and contend around the buoys with but made it to the end in one piece," Morgan continued.
"The bike, again, was just very sketchy, people just risking it all around some of the corners, just cutting people's wheels and chopping everyone off but it is what it is. Managed to stay upright, unfortunately, Janus went down on the first lap which really sucks.
"Came off the bike with the front group and hit the run, felt good from the start and just slowly made my way up the field, I think I started a little bit further down and made my way through to 5th and then dropped back to 6th in the last k but happy with that performance. Hopefully, it's just the beginning of my European season."

Morgan's 15.02 split was the seventh best. Haycock, the fastest of the Kiwis out of the water, ran a 16:01 while Staufenberg managed a 15:19 despite his scrapes.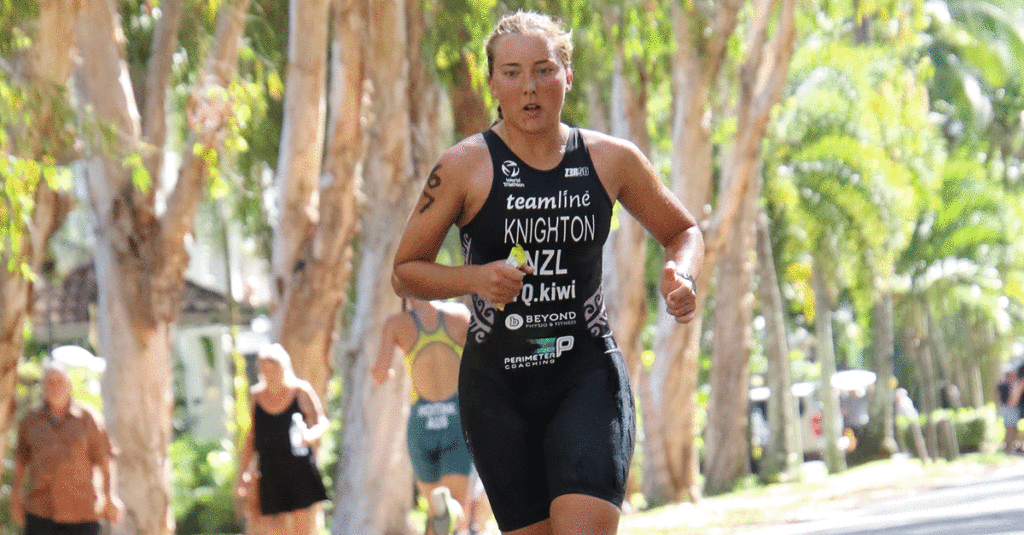 After being caught in the swim washing machine, Knighton was pleased to battle out a positive result in her European season bow.
"My race was probably better than the result looks,' said Knighton who entered the race in Austria fresh from an Oceania U23 Standard Distance Championship bronze medal in Port Douglas.
"I had a terrible start and was swamped but I was happy with how I managed to calm myself down and get out of the situation and swim back up to the front group.

"On the bike I had to work pretty hard on the first lap to catch the leaders with very little help and from there I just tried to focus on taking good lines and conserving energy as it looked like it was going to be a running race. I was happy to see progress and feel more confident in a group going through technical sections as this has been a big work on for me over summer."

Knighton's 18:35 split was the fastest of the Kiwis on the 5km run with Howell clocking 19:09 and Goodisson 19:18 in another encouraging result in her comeback from a serious neural back injury.

"The run was so epic, we were running through the heart of the town through the restaurants. It's been such a cool week in Austria and I feel like I've blown some cobwebs out ahead of Holten next week," Knighton said.

Thornbury is likewise looking forward to Holten after a race to forget in Wels.

"Not our day today that's for sure. I'm ok now, a bit of a health issue so made the brave call to stop. Janus had a crash so is pretty grazed up now but is otherwise okay, Thornbury said.

"Just both really disappointed considering we were feeling ready for a good race. Sport is tough at times. We will look forward to another opportunity next weekend in Holten."