Main photo: @dellyphotoninja/World Triathlon
By Kent Gray/Triathlon.kiwi
Nicole van der Kaay is loving the ability to flick the "NVDK race switch" so early in the season and has a third straight Oceania title to show why.

This time it ignited (another runaway) victory at the Oceania Sprint Championship, the first of two golden highlights for New Zealand in Devonport, Tasmania on Saturday with Dylan McCullough later crowned U23 men's champion.
Like McCullough had been in the simultaneously staged elite and U23 men's race, Brea Roderick was a pointy-end-of-the-race provocateur in the women's combined to add an U23 bronze (and 6th overall) to the Kiwi medal haul while paratriathlete Maria Williams secured a hard-fought silver with hobbled guide Melissa Moon.

For context, van der Kaay says the "NVDK race switch" is the ability to quietly "get in the zone" and "block out everything" on race day. For her rivals, that becomes painfully apparent on the run when she activates the afterburners and leaves her Oceania rivals for dust.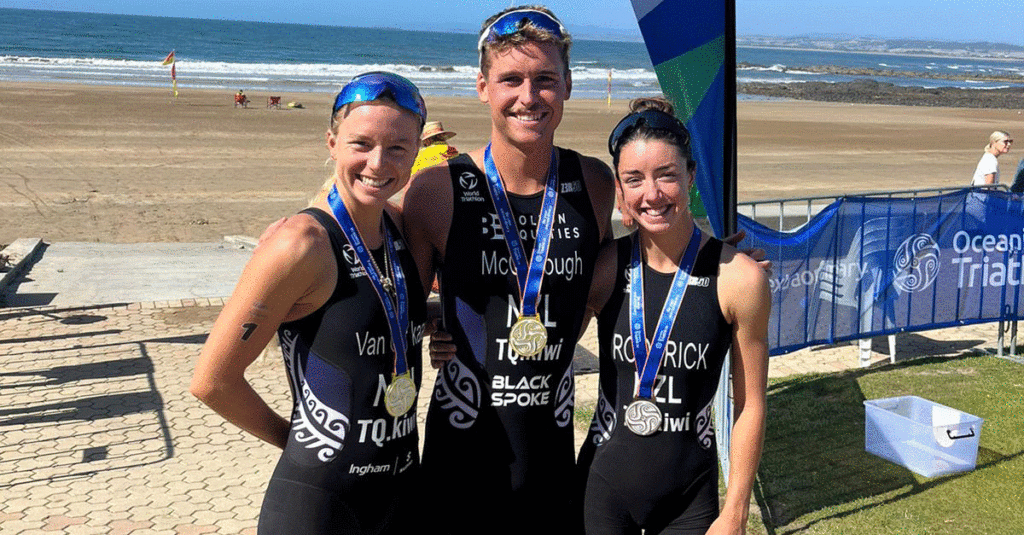 So it proved at earlier Oceania Cups in Wanaka and Taupo and again on Saturday for the Continental sprint title as she produced a 16.23 split for the 5km to power away from Aussie Kira Hedgeland.

Van der Kaay eventually knocked out the 750m swim, 20km bike, 5km run in 1:00:03 time, 12 seconds clear of Hedgeland with Charlotte Derbyshire (1:00:30) rounding out the elite podium and taking the U23 gold from Ellie Hoitink (1:01:16, 5th overall) and Roderick (1:01:32, 6th overall).
"It's really nice to be back racing and back healthy and happy and just the ability to train and race uninterrupted is sometimes foreign for me, so hopefully I can keep it up, touch wood," van der Kaay told Triathlon.kiwi of her Oceania three-peat.

You seem to have come into these three early-season Oceania races so calm?
"Oh, I've just been notorious to have the NDVK race switch where, I don't know, I just go into the zone and am able to focus and yeah, just block out everything.
"It's been a great start [to the year]. We started off in Wanaka for a little Conti Cup, and then the week later, Taupo, and I was really stoked to come away with two wins. I wasn't expecting that as I was doing base work but really happy that my training's just going well and I can perform consistently."

It all bodes well for World Cup New Plymouth on Sunday week, another step up again in terms of quality and much-needed ranking points after a topsy-turvy 2022.
"Last year I got next to no points so that's why I've been chasing all the Conti Cups and Oceanic championship. I'm trying to set myself up well for later in the year. And yeah the main season is obviously the European summer and targeting some of those bigger races."
Encouragingly, van der Kaay produced her swim of the season so far, a 9:10 split seeing the Kiwi No.1 second out of the water behind Emma Jeffcoat and setting her on the way to victory. In the end, race smarts enabled the Taupo 27-year-old to overcome slow reactions in the initial helter-skelter beach sprint into Bass Strait.

"When the gun went off, the girls sprinted way faster than me into the water so I thought that was it done for me but they dove in straight away and I managed to wade a bit further and got myself back into the race," van der Kaay said.

"Slotted straight onto Emma's feet and I was really happy to have clear water and I followed her the whole way around, so, very happy."
Roderick is another looking to her World Cup New Plymouth debut and the European summer with similar glee after backing up her silver in Taupo with another eye-catching result in Devonport.

"I'm pretty pumped with it, pretty happy," Roderick said. "It was a pretty brutal race. There was quite a big swell, which it may not have looked it but it was in the water, so it was quite choppy and so coming in I could see other girls catching waves and I just couldn't find any waves to catch so I was stressing a bit." Fortunately, Roderick wasn't too far adrift at 9.35 out of the water and battled her way back.

"Once we got on the bike I just hit it hard. I was with two Australians, we caught a group in front which then went and caught the leaders and we had a group of seven [others] and we just worked well together to get a gap on the group behind.

"Then I just ran what I could, did what I could with what was left and yeah, I'm definitely happy with it."

Roderick's 17:56 5km has her "super pumped" to race World Cup New Plymouth on Sunday week, March 26.

"It's a race I've been watching since I was like a young girl first starting tri. So to now be racing it, it's going to be pretty special."

Just like Saturday in Tasmania for the Kiwi contingent.