Photos: @dellyphotoninja and @worldtriathlon


By Kent Gray/Triathlon.kiwi
It's easy to forget Dylan McCullouch is still only 22 and was New Zealand's Commonwealth Games standout in Birmingham last July behind silver medallist and Kiwi golden boy Hayden Wilde.
Such is the helter-skelter pace of modern-day triathlon where races come thick and fast and seasons quickly merge into one another. If you're not on the podium, it's easy to meld into the background, especially when you're not really one for the limelight anyway.

It's not as if 4th and 6th places at last month's Oceania Cups in Wanaka and Taupo were anything to sniff at. It's just they were notable results lost in the Kyle Smith-Tayler Reid sprint for silver at the former and Janus Staufenberg's photo finish for second at the latter.

Staufenberg edged McCullough again at Saturday's Oceania Sprint Championships in Tasmania, 4th plays 5th in the elite men's race to give Staufenberg another slight ranking points boost in the race for Paris Olympic Games consideration. Yet it was McCullough who left Devonport with the golden glow, champion of the U23 race run simultaneously with the elite men.
McCullough's victory in 55:20 saw him finish 14 seconds clear of Oceania Junior (U19) champ Bradley Course with fellow Aussie Oscar Dart a further eight seconds adrift in third. It was a reminder of the potential McCullough brings to the Kiwi cause, especially those swim-bike skills that saw him first out of Bass Strait in 8:39 for the swell-impacted 750m and then feature prominently on the bike course with its four leg-busting climbs.
"Yeah, I'm absolutely stoked to get the win in the U23s today and a top-five in the elite race overall. It's been a while since I last won a race, it was actually 2020 in Devonport here so very happy to be back on the top," McCullough said.
Indeed, McCullough was crowned Oceania Junior (U19) Sprint champion three years ago and has slowly chipped away at his run skills ever since.
"Just consistency in my training and just week-in, week-out of high Ks pretty much to get my running volume up. That's been my biggest improvement over the last few years to kind of level up with my swim and bike," said McCullough who produced a slick 15:05 split for the 5km run in Devonport. That was only eight seconds slower than Staufenberg who is one of the noted runners in Tri NZ's high-performance program.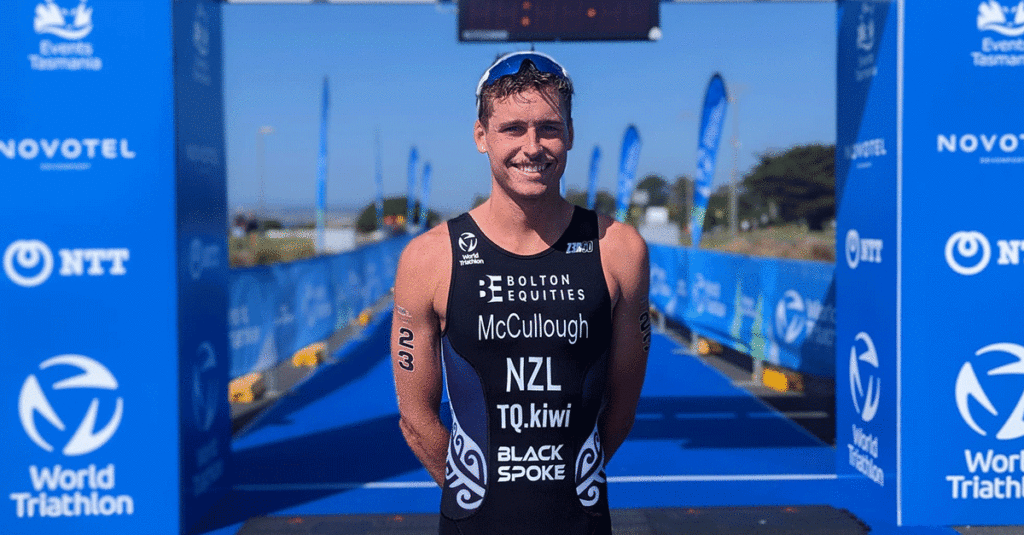 After his 7th in Birmingham, next summer's XXXIII Olympiad become the next obvious target. That was until McCullough broke an elbow shortly after the Commonwealth Games and took much of the rest of 2023 to recover.

Surely now though, Paris is the goal? Yes, McCullough confirmed. Sorta. Maybe.

"Yeah, Paris is my goal over the next two years. It's kind of, I dunno, there or thereabouts but it's just going to be touch and go whether we get there or not but it's only once race at the end of the day and I'm only 22.

"I dunno, I'll give it a go but if it's not to be, it's not to be and it's not the end of the world."

Remember, he's still only 22 and it's not long till the 2006 Comm Games in Victoria or the next Olympics in Los Angeles in 2028.

"Yeah exactly, many more goals to tick off over next few years so we'll see what happens."

What happens next is World Cup New Plymouth on Sunday week. Wilde is jetting in from Belgium to up the Kiwi ante and expect Reid to come out swinging after by-passing Tasmania to continue training.

Watch too for Staufenberg who finished just five seconds off the all-Aussie podium of Jacob Birthwhistle (54:46), Callum McClusky (54:54) and Brandon Copeland (55:09). The Otago Medical School student's splits for the 750 swim (8:57), 20km bike (29:56) and 5km run (14:57) certainly won't have gone unnoticed, his swim, in particular, giving hope to another eye-catching performance in New Plymouth.