Photos: Tommy Zaferes/World Triathlon

By Kent Gray/Triathlon.kiwi
The lure of the Paris Olympic Games is so strong for Kyle Smith, he's more than happy to trek to "far-flung" corners of the triathlon globe to make the most of every qualifying opportunity.
Huatulco, an 80-minute flight south of Mexico City, offers an imminent example of that "privilege" with Smith the sole Kiwi set to contest Sunday's World Cup sprint (Triathlonlive.tv 11.50am NZT) in the sweltering tourist hotspot.
The Girona-based, Taupo 25-year-old's Olympic ambitions are well-documented and given his late dive into the Paris qualification cycle, it makes performing at races such as Huatulco critical. The long and short of Smith's situation is that he needs quick point bursts to climb the rankings and generate more World Cup, and ultimately World Triathlon Championship Series (WTCS), starts.

A nomination to the New Zealand Olympic Committee can most easily be achieved by being the highest-placed Kiwi on the podium at August's Olympic Test Event in Paris or with a pair of top eight placings at WTCS level.

With an eye-catching bronze medal at Arena Games London in early April and 30th place in his WTCS debut in Abu Dhabi a month earlier, Smith has shown his credentials. The trick though remains qualifying for enough starts at World Triathlon's premier level to truly state his selection case. At 163rd in the World Rankings, Smith is the 7th-ranked Kiwi. In the Olympic standings, he's lower still at 204th and 11th in the Kiwi pecking order.

Cue a crucial Saturday (Sunday NZT) at World Cup Huatulco where Smith will start ranked 39th in the 66-man field due to his ranking conundrum.

"It's super important," was Smith's succinct answer to the question of maximising every World Triathlon start.
"I mean coming into an Olympic selection period, it's always hard to get starts because everyone is trying to get starts and everyone is racing what they can, right. So that's why we come to far flung places like this, to where I'm kind of guaranteed a start to [hopefully improve his ranking and] get starts in the bigger races and to try and get to the Olympics."

Smith's decision to chase his mid/long distance goals last season means he's left himself with a short runway to launch his Paris bid, something he conceded to World 'Triathlon.org' on Saturday.
"Last year would have been better to start this sort of project, or program, I guess but I had a year of doing the Ironman stuff with Kona as well, that being a priority," said Smith who is currently 33rd in the Professional Triathlon Organisation (PTO) rankings after finishing 9th at the 100km PTO European Open in Ibiza on May 6.

"I got a little bit sick at the end of last year so I couldn't actually do any of the World Triathlon stuff so yeah, started in February with zero points and sort of like working our way back up the ranking."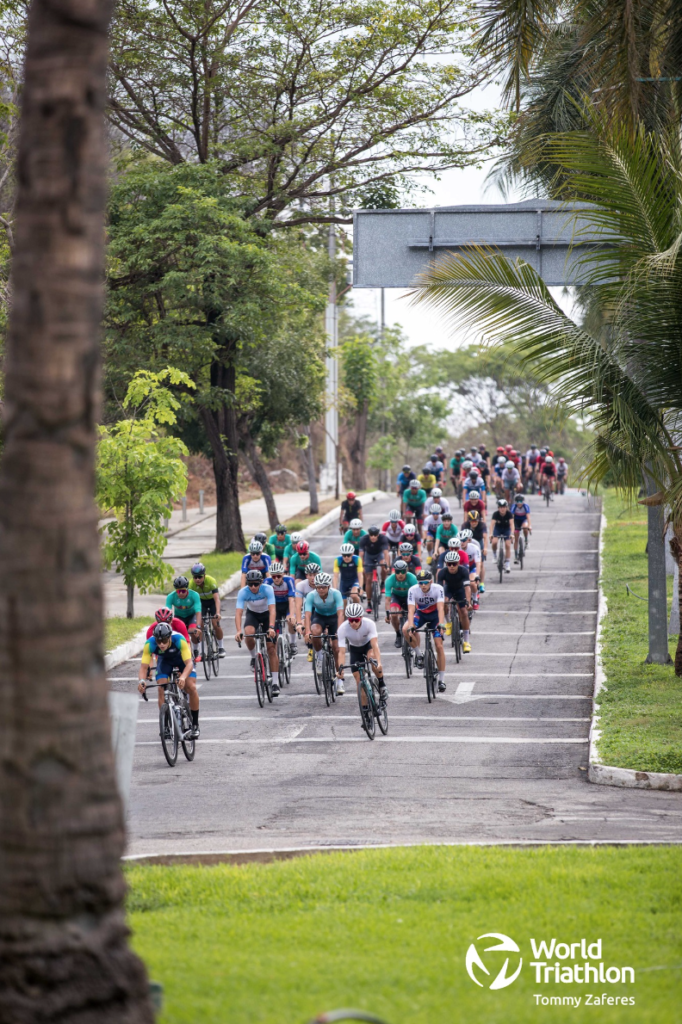 That ascent began with 2nd and 4th places at February's Oceania Cups in Wanaka and Taupo respectively – results Smith described as a "pleasant surprise" – before he jetted to Abu Dhabi.

"…and then I did totally different racing at the Super League Arena Games in London but yeah, they've been going good, couple of podiums and yeah, getting up there, so a couple of more races and it'll be good," Smith said of his form.

Illness meant he was forced to DNF at last October's Ironman World Championships in Hawaii. Memories of the energy-sapping Kona lava fields have flooded back with Smith saying Kona doesn't hold a candle to the conditions encountered in Mexico so far. Huatulco is a tourist destination on the Pacific Coast in the state of Oaxaca where the mercury is set to be as tough an opponent as anyone on the start list, including Oceania Cup Taupo champion and No.1 seed, David Castro Fajardo (ESP).
"Obviously the biggest limiting factor is the heat, like it's going to be so hot, like 35 degrees," Smith said.

"I just mentioned Kona but Kona is nothing compared to this, it's crazy. So that's going to be the thing, just trying to keep beneath that red line and just limit the exertion I guess and just holding on.
"The course is cool, it's a cool place, a cool destination to be here in Mexico, such a privilege to be able to race in places like this, right. Should be good, should be fun."
Smith is enjoying the re-entry to short-course racing. Huatulco will see a mass beach start to the 750m swim, 20km of biking punctuated on each of the four laps by a small early climb, followed by a relatively flat and fast 5km run.

Finding speed has been a fun work-on for Smith since his decision to push for Paris.

"Everything just becomes a lot shorter, a bit more fun. There's no six hour rides with all these efforts and stuff for Ironman training, it's all very short and sharp and just working on my punchy speed.
"My aerobic fitness was there but just trying to get the speed to compete with these guys has been the biggest challenge."