By Kent Gray/Triathlon.kiwi
Serial world championship medallist Angie Keen picked the perfect time to produce the perfect race to snare a third gold for New Zealand at the World Triathlon Multisport Championships in Spain.
The Taranaki Triathlon and Multisport Club member won the 35-39 age group Cross Triathlon title overnight, taking the top step of the podium in the wake of Tauranga 22-year-old Blake Miller who won Sprint Duathlon and Aquathlon titles earlier in the week in Ibiza.
It was a fourth World Triathlon medal for Keen who has been competing at age group world championships since the then ITU World Triathlon Grand Final Edmonton in 2014. Her other medals came at the 2017 Aquathlon and Long Distance worlds in Penticton, Canada – both silvers – and the 2018 worlds in Fyn, Denmark where she was third in the Aquathlon.
Keen rattled off Friday's 1000m swim, 20.9km mountain bike and 6km run in Ibiza in 2:15:41 for a 2min 35s victory over Frenchwoman Severine Da Costa. Earlier in the week she had finished 5th in the 35-39 Aquathlon.
"It feels amazing," Keen told Triathlon.kiwi. "It was perfect, I couldn't have asked for a better race.
"I led the swim, which I still can't believe, had an awesome bike, just played to my strengths and yeah the run, just everything was awesome."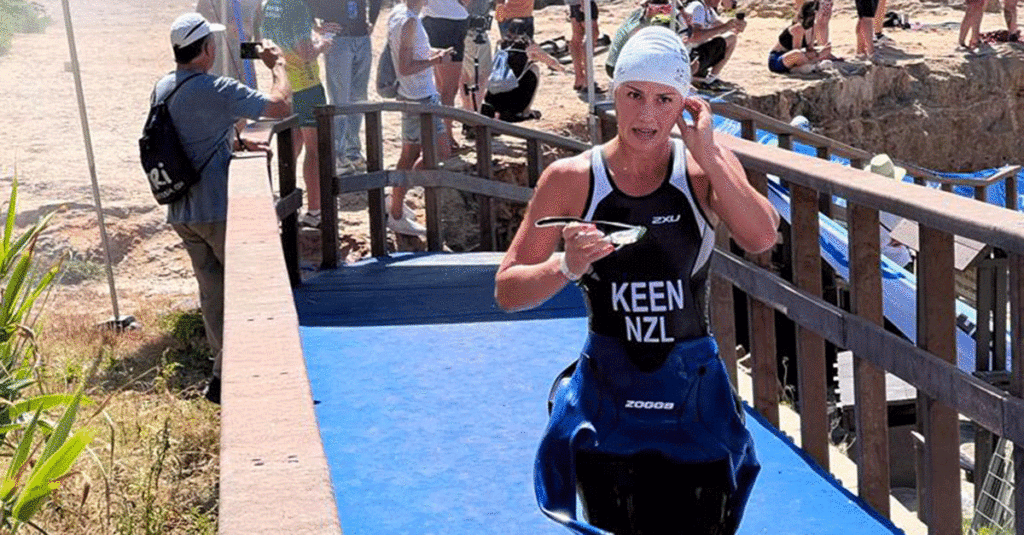 Keen had partner Brad Smith cheering her on throughout the race. Smith finished 25th in the 35-39 Aquathlon on Monday, a great result considering he's only been a triathlete for a few months.
"Roll on Townsville," Smith said in reference to the 2024 World Triathlon Multisport Championships.

RELATED: Townsville 2024 – Everything you need to know
Keen is certainly proud of her man, writing on social media earlier in the week: "Holy moly I am so darn proud of this guy ❤️
"After only starting this sport a couple of months ago, he just raced at the Aquathlon World Champs 🌎 With a very respectable result 🥲. I am so excited to see him grow in this sport and see what he is able to achieve! I love him so much and just love how he has dived into this crazy but amazing sport with me 🥰❤️ #proud."

Canterbury Triathlon Club's Jayden Hopkinson was 10th in the men's 30-34 Cross Triathlon on Friday, Patrick Johnson finished 21st in the 35-39 category while fellow Auckland City Triathlon Club member Jerym Brunton and Gareth Cashin (Nelson Triathlon and Multisport Club) were 17th and 27th respectively in the 50-54 age group.

The previous day Brunton and Cashin placed 14th and 18th respectively in the Cross Duathlon.
The 2023 World Triathlon Multisport Championships wind up on Sunday with the Long Distance Triathlon and Long Distance Aquabike Races, with 20 and 23-strong Kiwi contingents respectively scheduled to race.

Many of the Kiwi age groupers will draw inspiration from the inaugural PTO European Open on Saturday (Live on Sky Sport from 6pm NZT) which is being co-hosted in Ibiza. Kyle Smith, Rebecca Clarke and Sunshine Coast-based Amelia Watkinson will fly the Kiwi flag in the 100km races.
Kiwis in Ibiza action
May 7
LONG DISTANCE TRIATHLON (Eivissa, Ibiza)
Emma Smith (Canterbury Triathlon Club) 20-24
Hannah Maher (Canterbury Triathlon Club) 25-29
Rebecca Swainson (Overseas) 25-29
Aleisha Williams (Auckland City Triathlon Club) 25-29
Kylie Brown (North Harbour Triathlon Club) 35-39
Emily Jane Hunt (Canterbury Triathlon Club) 40-44
Jenny Melik (Overseas) 45-49
Harrison Lloyd (Dunedin Triathlon & Multisport Club) 20-24
Nick Benton (Auckland City Triathlon Club) 25-29
Adam Hillis (Canterbury Triathlon Club) 25-29
Connor Shivnan (Wellington Triathlon & Multisport Club) 25-29
Morgan Lumsden (Nelson Triathlon & Multisport Club) 30-34
Andy Higginbotham (Auckland City Triathlon Club) 45-49
Paul Koot (Manawatu Triathlon Club) 45-49
Jerym Brunton (Auckland City Triathlon Club) 50-54
Mark Esselink (Oamaru Multisport Club) 55-59
Barry Herbison (Hibiscus Coast Harriers & Triathlon Club) 55-59
Andrew McLeod (Tri Wanaka) 60-64
David Scott (Wellington Triathlon & Multisport Club) 60-64
Richard Baker (Overseas) 70-74
May 7
LONG DISTANCE AQUABIKE (Eivissa, Ibiza)
Alana Stretton (Auckland City Triathlon Club) 30-34
Danielle Trewoon (Wellington Triathlon & Multisport Club) 30-34
Danella Nicholls (Wellington Triathlon & Multisport Club) 35-39
Susan O'Brien (Wellington Triathlon & Multisport Club) 35-39
Kate Brown (Tri-Sport Taupo) 45-49
Rachel McCulloch (Hibiscus Coast Harriers & Triathlon Club) 50-54
Maria Jones (Tri Wanaka) 55-59
Myriam Smith (Overseas) 55-59
Shirley Rolston (Canterbury Triathlon Club) 70-74
Liam Miller (Triathlon Tauranga) 20-24
Alex Bees (Auckland City Triathlon Club) 30-34
Patrick Johnson (Auckland City Triathlon Club) 35-39
Anthony Nansen (Auckland City Triathlon Club) 35-39
Paul Botha (Canterbury Triathlon Club) 45-49
Jonathan Gray (Triathlon Tauranga) 45-49
Michael Crowe (Nelson Triathlon & Multisport Club) 50-54
Kristof Milne (Southland Triathlon & Multisport Club) 50-54
Michael Glynn (Auckland City Triathlon Club) 55-59
Timothy Raw (Canterbury Triathlon Club) 55-59
Nick Holdsworth (Tri Wanaka) 60-64
Kevin Hunt (Canterbury Triathlon Club) 60-64
Peter Jackson (Tri Wanaka) 60-64
Andrew McCulloch (Hibiscus Coast Harriers & Triathlon Club) 65-69