Photo: Hamish Collie
By Kent Gray/Triathlon.kiwi
Traverse triathlon's global media landscape in the countdown to the inaugural PTO European Open and you'll struggle to find mention of Amelia Watkinson.
The same goes for fellow Kiwis Rebecca Clarke and Kyle Smith, perhaps not surprising given the glittering cast assembled for both the 100km men's and women's races in Ibiza on Saturday (from 6pm, Sky Sport Channel 601).
After all, Ashleigh Gentle won every PTO race on offer last year, including beating Laura Philipp and Chelsea Sodaro in her Collins Cup match for Team International. The Aussie deserves every minute of video and word written about her.
Sodaro, of course, is the reigning Ironman world champion and a super "mom" to boot, giving the U.S. media a ready-made storyline. The Brits, meanwhile, have the virtues of Lucy Charles-Barclay to extol, not to mention Kat Matthews who is on the comeback trail after her horrific pre-Kona bike crash. The European media have their favourites too; in Germany it's Philipp and Anne Haug, in Switzerland Daniela Ryf, in Canada Paula Findlay. And on it goes.
Pretty much everywhere, the first head-to-head-to-head between PTO No.1 Kristian Blummenfelt, German immortal Jan Frodeno and Brit Alistair Brownlee (GBR) – the last three Olympic champions – is an utterly mouth-watering prospect. Magnus Ditlev, the Danish PTO No.3, is an ever-present danger and there's even been plenty of column inches devoted to the late withdrawal of Sam Laidlow.
But the Kiwis? Radio silence.

Flying under the radar is how most New Zealand sportspeople love it, not that Watkinson's peers will miss what so many scribes seem to have.
The Sunshine Coast-based 31-year-old is on a tear, victory at Challenge Taiwan late last month meaning she's podiumed in 11 successive races. Watkinson eventually won by a whopping 24 minutes for a seventh victory in her last 17 races dating back to August 2019.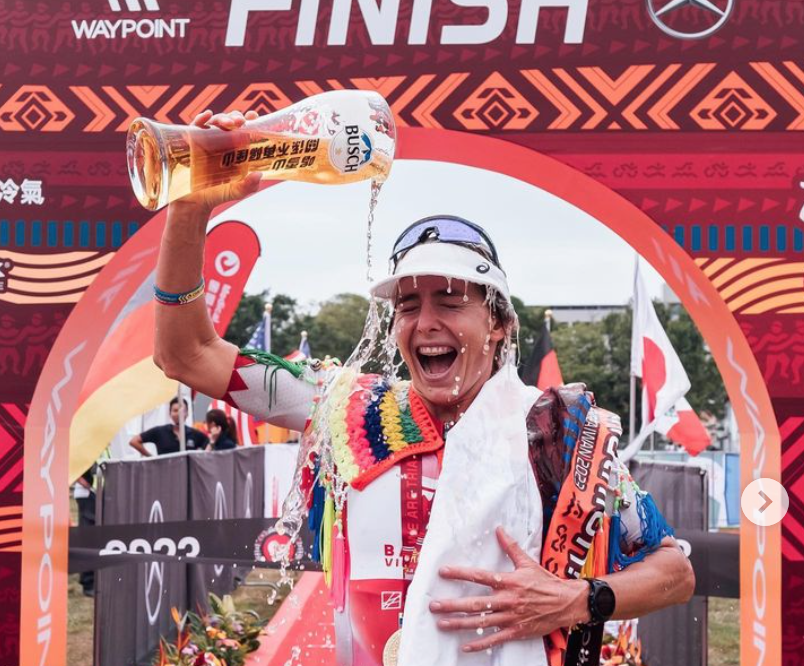 What makes that all the more remarkable is the broken elbow she'd been forced to battle back from after a training ride incident in Europe last year. Watkinson's now up to third in the Challenge Family rankings and has risen nine places in the latest PTO rankings to 62nd as a result.
She still needed a wildcard to get into the 27-strong women's field in Ibiza but that only serves to add more motivation.

"Good PTO points at Ibiza are important for me, I need to get my ranking back up there to be able to qualify for the next PTO events later in the year, both the Asian and US Opens," Watkinson told Triathlon.kiwi.
Those races in August, along with the 70.3 World Championship in Finland, are key targets, the May 21 Challenge Championship in Samorin another.
"After a little less luck last year, my goals this year are really focused on achieving at these championship events."

But for now, Watkinson is taking the confidence garnered in Taiwan to the start line in Ibiza.
"I'm very pleased with my performance in Taiwan. The opportunity to test the body and mind in a race scenario prior to a big event is really valuable.
"Although it was a different dynamic having to push myself solo from the front of the race, I was able to bike well and push the back half of the run."

Watkinson started 2023 by finishing runner-up to Clarke at the Tauranga Half before being rolled out, alongside Kiwi short course No.1 Hayden Wilde, as a new member of the Bahrain Victorious 13 roster. Now, after the romp in Taiwan, the ante has been upped even further.

 "It's awesome to get to line up with the best," Watkinson said.

"It is early in the season but its early for everyone. Some athletes have already fitted in an altitude camp but I do have the advantage of coming out of an Aussie summer and a decent training block with home comforts.
"I know everyone likes numbers so for me a top 10 is good, top five is great. Points wise it will depend on how tight the race is. But we have a brilliant start list and I think the dynamic will be a nice one to both race and spectate."

And to cover. If Watkinson's recent run of form is any indication of her potential on Saturday, fewer media outlets will make the mistake of brushing over Kiwi names so readily again. Clarke and Smith will be out to ensure that too.