Photos: @cammackenziephotos | @worldtriathlon


By Kent Gray/Triathlon.kiwi in New Plymouth
It's a picture for the ages capturing a moment in time that Hayden Wilde – and Tayler Reid – will cherish forever.
Not long after Nicole van der Kaay and Ainsley Thorpe's gold-silver in the elite women's race, Wilde and Reid made it another memorable Kiwi one-two at World Cup New Plymouth on Sunday.
Wilde won the sprint distance race in 55:57 to become just the second Kiwi male, after Bevan Docherty in 2005, to stand atop the World Cup New Plymouth podium.
The Whakatane 25-year-old had 35 seconds and change (more on that soon) to spare – plenty of time to lap up the adulation of the Taranaki crowd before spinning around to excitedly roar Reid across the line in his epic photo finish for silver with Portugal's Ricardo Batista.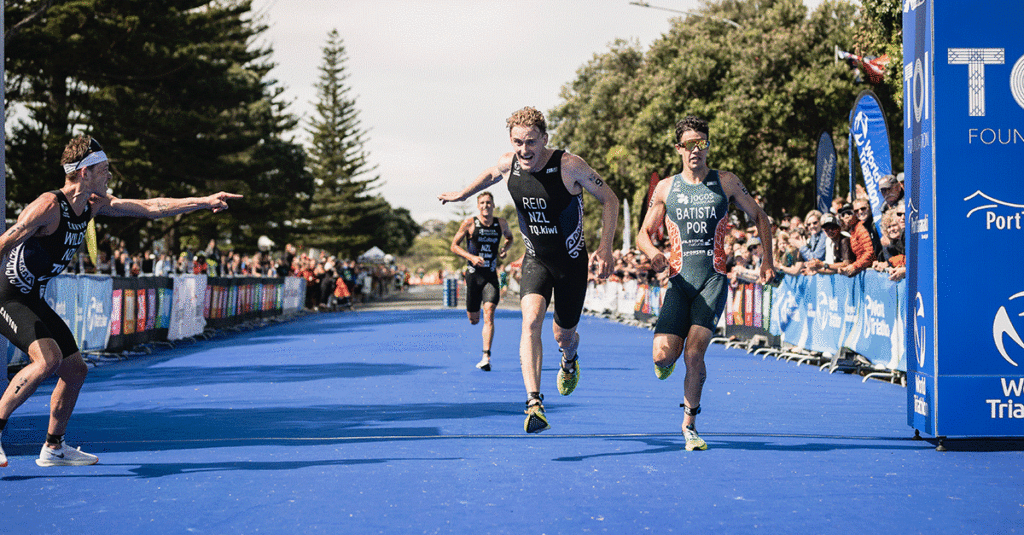 Dylan McCullough very nearly gave the Kiwis a clean sweep of the podium but was forced to settle for 4th. It was the only slight downer on a day where Wilde well and truly parked his unfortunate start to 2023 at World Triathlon Championship Series (WTSC) Abu Dhabi three weeks ago, done by riding like a boss and running away with the title in a 5km class almost of his own.
"Yeah stoked. The crowd came out today and it was fantastic to do it in front of the team [family and friends]," Wilde told Triathlon.kiwi.
"It was nice to park that up [his puncture and eventual 46th place at WTCS Abu Dhabi] and move on and have a good result here. I knew the legs were there in Abu Dhabi, it just wasn't my day. So it's really nice with a quality field…there were some World Series athletes there but it was just nice to do my own race and just prove to myself that 2023 is looking good."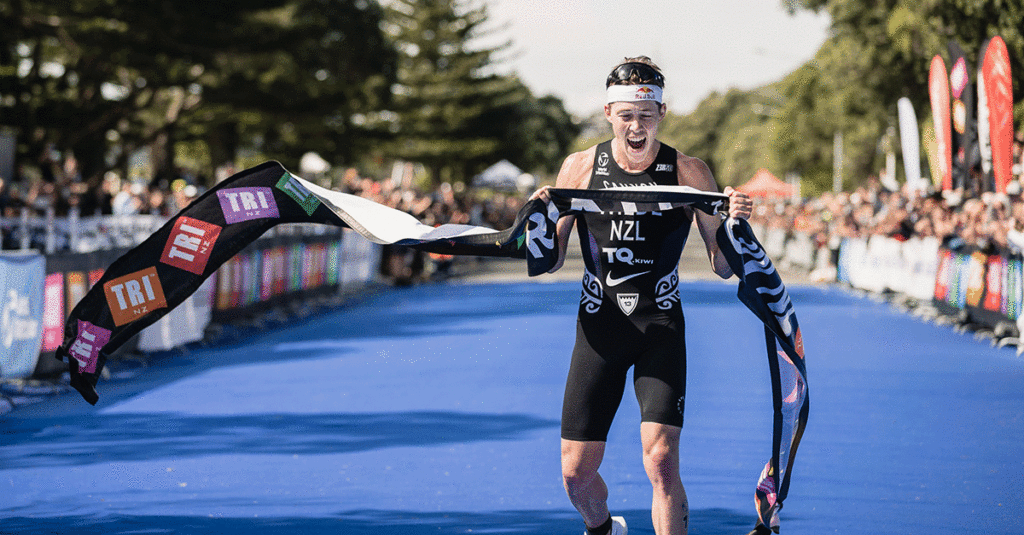 On the evidence on Sunday, it's looking better than good. Wilde was 17th out of the water in 9:21, 20 seconds adrift of Batista and Italian Nicolo Strada who completed the 750m swim just clear of Kiwi Trent Thorpe.

But as scripted, it was the Wilde show thereafter. The Kiwi No.1 made up 22 seconds to tag on the back of the leading group of 10 by the end of the first lap of the 20km bike and then stretched the pack up the hills.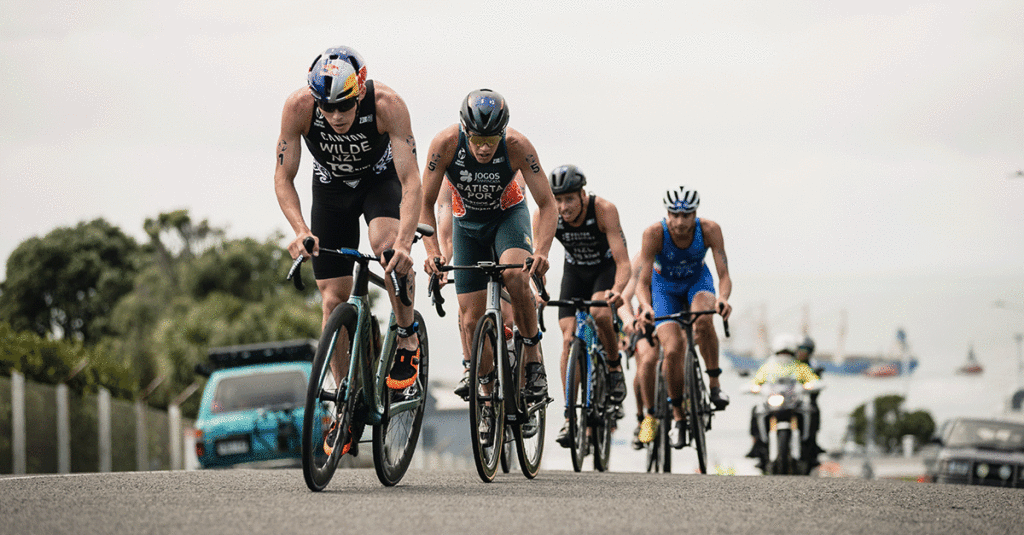 Wilde immediately applied the afterburners on the run to the point where he had a 23-second gap on Reid, Batista and McCullough by the end of the first lap, a buffer big enough to play up to the finishing straight crowds.

It was out to 45 seconds after the second lap before he dialled it back, eventually knocking out the 5km in 14:30 – 35 seconds faster than Reid. Aussie Callum McClusky (14:31) in 8th and Janus Staufenberg (14:44 to impressively sneak into the top 10) came closest but neither had time to joyfully zig-zag their way up the blue carpet to acknowledge the parochial crowds, nor turn around to soak in more applause before finally walking through the tape.

"I kind of did the same game plan as I did here last year [Oceania Cup], just be extremely aggressive on that climb and hopefully have the legs to run away with it and yeah, that's how the game plan went.
"For some reason, I just always whip out a good swim here so I'm pretty happy with that and then I wanted to keep it honest on the hills because you can push it 100 watts less but you've got that fear of the other group bridging over and they were so close to bridging over.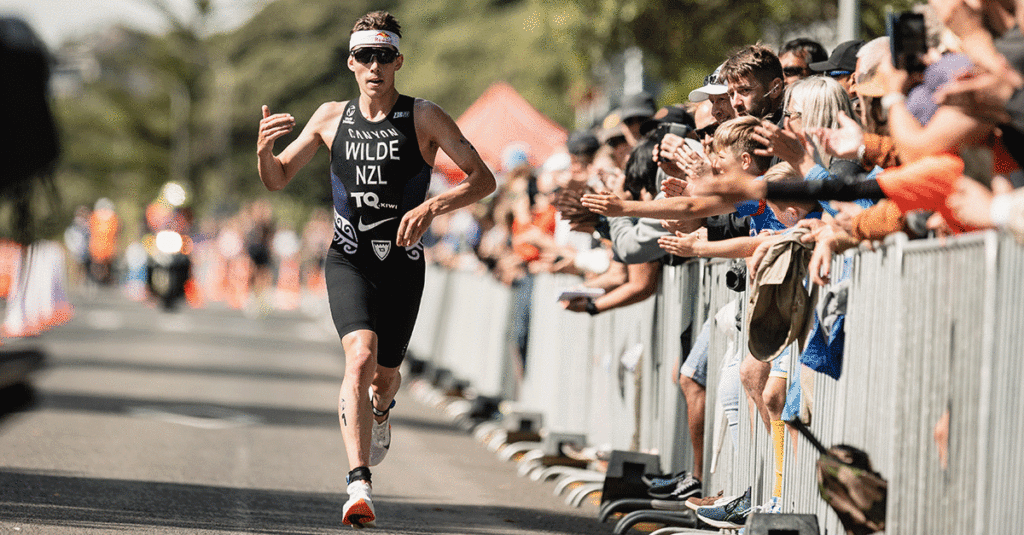 "I just went on the front and put it into my own hands…I wanted to make it not a running race here."

Mind you, it's not much of a race when you can run 5km in 14:30.

"I think I did the first two and a half in around that 2:40-2:45 (per kilometre) and then I really pulled it back. I was like, ooh, if I had anyone around me I'd be asking questions because I was hurting so it was nice to just pull it back on that last lap and kind of come in being able to celebrate."

Wilde will continue training in New Zealand before winding his way back to his new Andorra base via WTCS Yokohama on May 13 and WTCS Cagliari on May 27-28.

Reid will be back in action before then at the May 27 Oceania Standard Distance Championship and isn't a bad shout to extend New Zealand's dominance of the Australasian summer in Port Douglas. He skipped last weekend's Oceania Sprint Championship in Tasmania to continue training and it proved a prudent decision.
"I'm really happy. I had a full taper into this one and I trained through Devonport [Tasmania] just to fully focus on this race. I'd been training well and if I'd been training well and I'd had a bad one here, it would be quite confusing but it just cements what I've been doing is working," Reid said.
"We've got a good routine going and I've got a lot more to improve from here. This is a good start but I think I can go a lot faster."

Reid was outsprinted for second by Kyle Smith in Wanaka and finished fifth, a place behind Smith again, at the second Oceania Cup in Taupo the following week. There were eyebrows slightly raised too when he was only 9th out of the water for the long run up Ngamotu Beach on Sunday, 11 seconds down. But Reid wasn't panicking.
"Not as far up as I'd like to be but I felt very comfortable. It was obviously windy down there and I couldn't quite hear the start, I think that right side got in [the water] a bit quicker than us but I just worked my way through. Yeah, I could have pushed a bit further but I was comfortable and in my mind, the bike is where this race was going to be one and lost.
"I knew you were really going to have to hit it up the hills and there is no hiding, you're going to see who has strong legs."

Reid did on the bike and was also "very happy" with his 15:05 5km split.

"You know Haydo is going to take it out hard and yeah, I'd like to go with him but today that unfortunately would have been suicide. That's what we're working towards, being able to go with him but not today, unfortunately. I was happy with the way I ran even though Hayden was way up the road."  

Clear ahead and so close to an all-Kiwi podium.
"That was so epic, so close to having three Kiwi boys on the podium which I was hoping for down the home straight," Reid said before employing his noted humour to sum up the sprint with Batista.
"Luckily I've been doing a bit of bench press, sticking the chest out [laughs]…but, no, full venom all the way to the line, almost stacked it, almost hit the photographers but we got the job done."
World Cup New Plymouth – 2023
1. Hayden Wilde (NZL) 55:57
2. Tayler Reid (NZL) 56:32
3. Ricardo Batista 56:32
4. Dylan McCullough (NZL) 56:34

Also
10. Janus Staufenberg (NZL) 57:25
25. Saxon Morgan (NZL) 58:04
30. Trent Thorpe (NZL) 58:15
34. Sam Parry (NZL) 58:25
42. Austin Carter (NZL) 59:53
47. Ivan Abele (NZL) 1:00:16
49. Lachlan Haycock (NZL) 1:00:46
DNF. James Corbett (NZL) –