Photos: @cammackenziephotos | @worldtriathlon

By Kent Gray/Triathlon.kiwi
Nicole van der Kaay's perfect early season palmarès now has the entry she coveted most – World Cup New Plymouth champion.
The Taupo 27-year-old ignited a memorable day for the Kiwis at Ngamotu Beach when she led Ainsley Thorpe home ahead of Norwegian Solveigh Lovseth in the World Triathlon Cup season-opener. Partner Tayler Reid later snared a photo-finish silver behind Kiwi No.1 Hayden Wilde in another noteworthy Kiwi one-two in the elite men's race.

Van der Kaay is now four for four in her Australasian ranking points hit-and-run job en route to the season's big European races. The way she's increasingly dominated Oceania Cup victories in Wanaka and Taupo, last weekend's Oceania Sprint Championship in Tasmania and now World Cup New Plymouth, there's every chance she'll make it five straight victories at the Oceania Standard Distance Championship in Port Douglas on May 27 after a possible World Triathlon Championship Series (WTCS) season bow in Yokohama on May 13.
"I couldn't have had it any better, it's pretty surreal really, I'm not sure I believe it yet," van der Kaay told Triathlon.kiwi.
"It's incredible. World Cups are not an easy race so I was coming in here not sure how I'd shape up against those international girls so walking away very happy."
Van der Kaay became just the second Kiwi female, after Andrea Hansen (then Hewitt) at Auckland in 2011, to win a World Cup on home soil. Her victory was the just the second in New Plymouth for New Zealand behind Bevan Docherty at the event's 2005 debut, a feat Wilde later extended to three.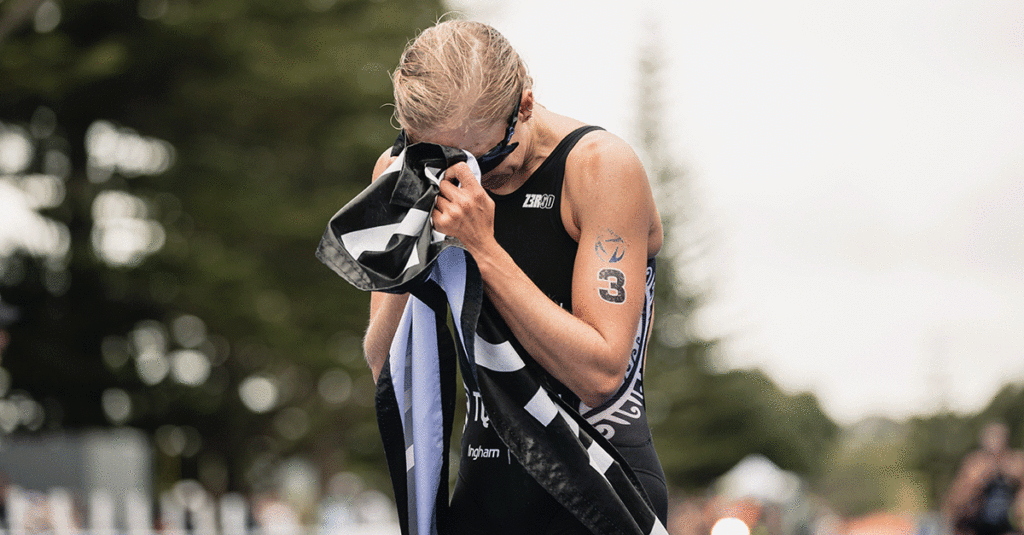 "It is pretty unreal. New Plymouth was actually my first World Cup podium [2nd in 2018] just before Commonwealth Games [Gold Coast] so this place is special to me, I love a good hard course and it shows that it suits me so I'm just really rapt.

"Just small steps, small goals and I find myself at the end of the summer season ticking my four goals off and I'm really rapt with that. I've just got to keep on doing the little things and keep healthy and stay injury free and hopefully, it means a good year for me."

Van der Kaay set her race up by being fourth out of the water behind Emma Jeffcoat, Kiwi Hannah Knighton and Jeffcoat's Aussie teammate Sophie Linn. It was reward for all her hard work in the pool over summer and van der Kaay doubled down by bossing the hilly 20km bike.

Thorpe stuck on van der Kaay's shoulder for much of the 5km run but the former's run prowess was always going to be tough to beat, as it proved with van der Kaay producing a 16.12 split to win in 1:02:57. Thorpe was nine seconds adrift after a 16:21 run while Lovseth claimed her first World Cup medal a further eight seconds behind.
"The start of the swim was actually a bit tricky because all the left guys didn't actually hear the starter so we had a slight delay, two to three seconds so I'm even more rapt that I came out in the front," van der Kaay said before analysing her ride.
"It was pretty wet out there with a lot of morning rain but my plan was just to stay up front, stay clean of any crashes and minimise risk so in my mind, I played it safe."
Sunday's result was a repeat of the Van der Kaay-Thorpe one-two at Oceania Cup Taupo last month and left the latter "pretty stoked."

"It was a hard race. I had a really good swim, I just controlled the swim once I was at the front and the bike, yeah I just tried to conserve a bit of energy for the run because I knew that was going to be the hardest part of the race," Thorpe said.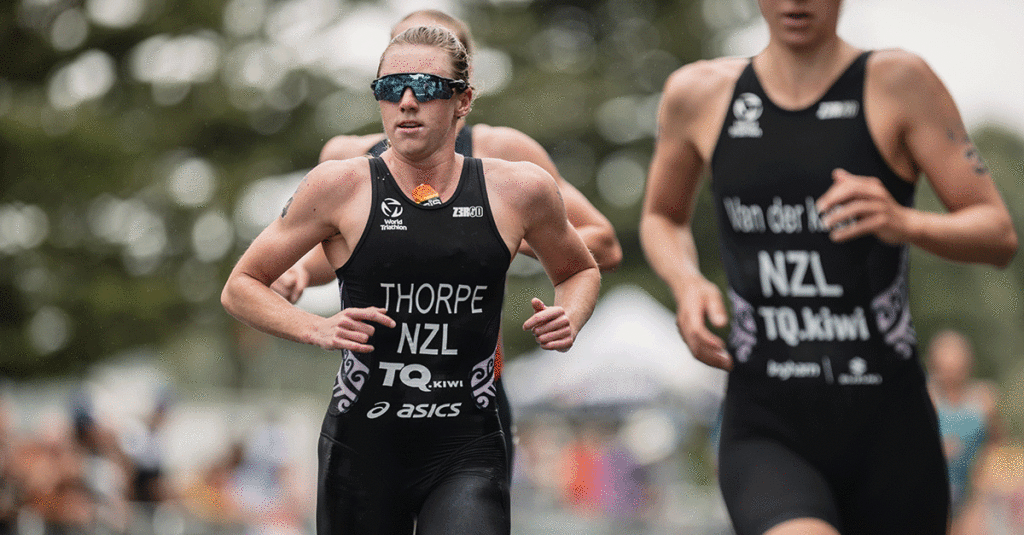 "My plan was just to stick with Nicole on the run for as long as I could. I knew she was on form and I pretty much hung on for dear life on the last lap. I was pretty knackered by the time we got to the turnaround at the end but I knew if I could stay on Nicole as long as I could it was unlikely anyone else would catch from behind."

Thorpe's silver follows a 17th-place finish at the WTCS season-opener in Abu Dhabi on March 3 which came a week before her second place to van der Kaay in Taupo. Before that, Thorpe recorded a DNF in Wanaka which she attributed to "personal reasons" ­– and for her resurgent form.
"I think if I didn't get the DNF in Wanaka I wouldn't have got the results I have in the last few races," Thorpe said.

"My Athlete Life in Cambridge, Dani [HPSNZ Performance Life Coach Daniella Cameron], would be proud of me, she talked to me after Wanaka and she got me to do something different leading into the next few races, and I think if I didn't have that bad race I would be as good as I am right now."
There was a notable top-10 for Dunedin-based Olivia Thornbury while Brea Roderick, still only 20, was 11th – three spots ahead of 2016 Rio Olympic champion Gwen Jorgensen (USA). Knighton eventually finished 32nd while Madison Keightley battled to a brave 47th after an early bike crash that left her with nasty road rash down her left thigh.
World Cup New Plymouth – 2023
1. Nicole van der Kaay (NZL) 1:02:57
2. Ainsley Thorpe (NZL) 1:03:06
3. Solveig Lovseth (NOR) 1:03:14

Also
9. Olivia Thornbury (NZL) 1:03:44
11. Brea Roderick (NZL) 1:04:08
32. Hannah Knighton (NZL) 1:06:58
37. Olivia Cummings (NZL) 1:07:36
43. Hannah Howell (NZL) 1:09:03
44. Anna Lindsay (NZL) 1:09:51
45. Eva Goodisson (NZL) 1:10:19
47. Madison Keightley (NZL) 1:12:19
50. Angharad Llewellyn (NZL) 1:15:16