By Kent Gray /Triathlon.kiwi in Tauranga
The resurrection of James Corbett and the reinvention of Hannah Knighton gathered pace at the Gen X/Marra Tinman Triathlon on Sunday as a hardy band of age groupers defied the wet and windy conditions in pursuit of a sunnier Spanish dream.

Sidelined with a stress fracture since the Oceania Standard Distance Championships in Port Douglas in late May, Corbett's return to racing saw him streak away with the 35th edition of Triathlon Tauranga's popular 1500m swim, 40km bike and 10km in a gun to tape effort of 1:52:54.

The 21-year-old Aucklander won by six minutes from Cantabrian Tom Somerville who, with Corbett well up the road and silver sealed, eased off on the run to sagely leave fuel in the tank for next Sunday's OxMan half in rural North Canterbury, the next race of the Tri NZ Suzuki Series.


Tri Tauranga favourite Blake Miller (2:03:51) was third overall, edging Conrad Visagie for bronze by no more than eight seconds and winning bragging rights over twin brother Liam Miller who was 5th in 2:04:18.

Knighton repeated as women's champion in 2:09:23, a time roughly seven minutes slower than last year in a nod to Sunday's greasy road conditions and gusty wind that lashed the bike and run legs.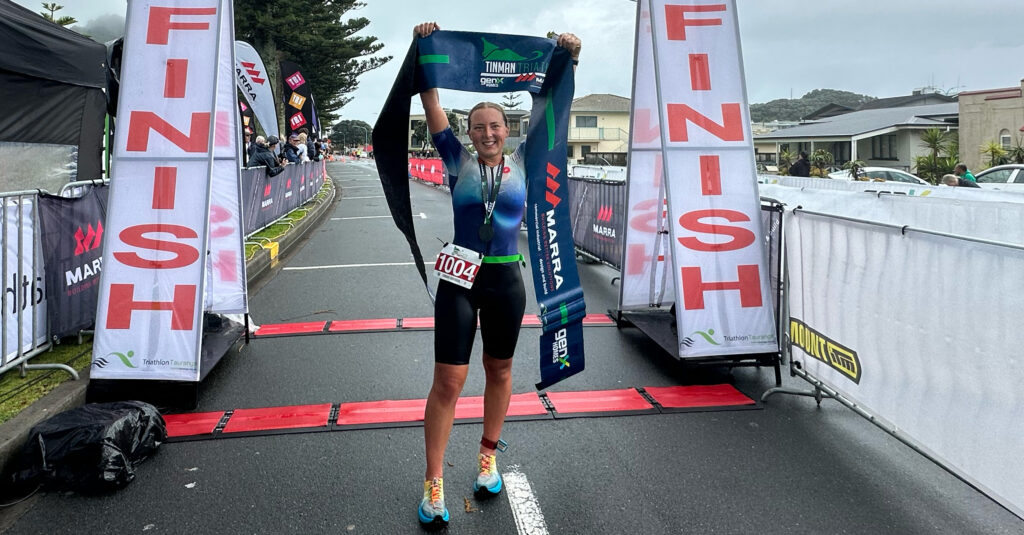 The Tauranga 23-year-old still won in a canter from Matilda Lawrence (2:17:14) and Nikkola Mathews (2:19:10) who had their sights not up the road on Knighton but firmly on their respective 35-39 and 40-44 titles at what doubled as the Suzuki NZ Standard Distance Age Group Championships.

With Tinman the NZ qualifier for the 2024 World Triathlon Age Group Championships in Malaga next October, Lawrence and Mathews duly earned the right to race for New Zealand in Spain on the exciting sidelines of the WTCS season finale set to feature the sport's biggest short course stars.
The winners of their respective age groups in Mount Maunganui like Lawrence and Mathews, plus anyone who finished within 20 percent of the winner's time, have 48 hours to lodge a Malaga nomination to Tri NZ. You can find the form and more information HERE

The Miller, Visagie, Miller tussle, with just 27 seconds separating the trio in the 20-24 age group category, showcased all that is great about Tri NZ Suzuki Series racing and could see all three in Malaga if they choose.
For Tri NZ elite squad members Corbett and Knighton, Tinman proved a perfect start to busy Oceania season campaigns, the former with a long term eye to qualifying for the 2026 Commonwealth Games and the latter a more immediate step up in distance.

Corbett has only been back running for a month but was in a class of his own on Sunday, first out of the water in 19:03 before rattling off the bike leg in 57:11 and the 10km run in 34:28. They were handy splits in the context of the last six months and most definitely good for the soul of a youngster suddenly faced with the reality of injury.

"It's been a really tough year with just injuries and COVID and stuff and to be back racing now, it just feels like…it reminds me why I love this sport so much and just so grateful to be back," Corbett told Triathlon.kiwi.
"The win is second to just getting back to racing. Coming into transition today, seeing everyone again, just that giddy feeling you get, kind of like you're a kid again is second to none and I'm so grateful that I've got those feelings back. "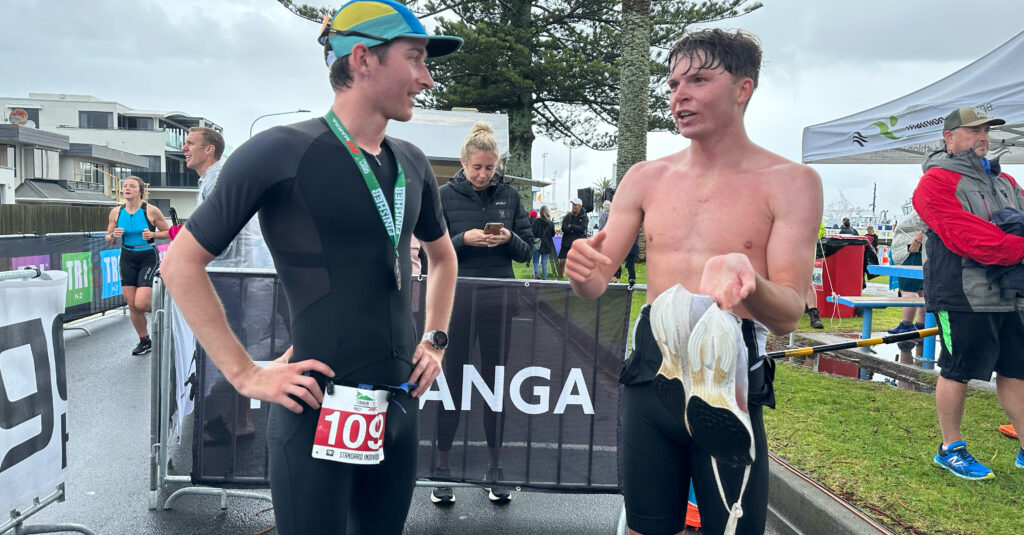 Corbett had planned to kick on from Port Douglas and race the European season but had to fly back to Auckland on discovering the stress fracture. It was tough waving his Tri NZ elite team-mates goodbye at Cairns Airport as they headed north and he limped home.
"That was really hard to come to terms with [but] a couple of months off everything made me really hungry to get back into it and I think I showed that today with how I raced," Corbett said.

Knighton ended her World Triathlon campaign with 23rd place in the U23 World Championships in Pontevedra in late September, came home and promptly contracted COVID and then warmed up for Tinman with 14th place at the recent Garmin Noosa Triathlon.

"I'm pretty stoked to come back and defend the title today," Knighton said. "I didn't have the season I wanted to have overseas so it's really nice to come home and put a performance together I'm proud of in front of some family and friends."

Next up is Ironman 70.3 Taupo on December 9 where Knighton hopes to qualify for the 2024 Ironman 70.3 World Championships on the same course. The step up in distance is semi-permanent though she is also looking forward to the just announced World Triathlon Cup season opener in Napier in February and a return to Hawke's Bay for the Oceania Standard Distance Championships in April.
"I kind of dipped my toe into a few non-drafting races overseas this year and I just loved it. It was something a bit different and I just found myself getting so excited for the racing and the training," Knighton said, referencing the Taupo 70.3 worlds.
"That's definitely a big goal for next year, I really want to qualify for that. You don't get many opportunities to race the world champs at home and to do it with all my support team and everyone else, it would just be really cool.
"I'm definitely not saying goodbye to [short course racing] yet. Probably a little bit more of a focus on long course next year but I'm still looking forward to racing in Napier. It's pretty cool we've got a World Cup and Oceania [Championships] there so I'm really excited for them."

You can find all the results from the Tri NZ Suzuki Series event HERE