By Triathlon.kiwi
Get set for another deep dive into all things swim, bike and run in the latest edition of Triathlon Quarterly.  
The 3rd edition of Tri NZ's in-house digital magazine has the sport, the long and short of it, covered from every angle with an Ironman 70.3 Taupo and Tri NZ Suzuki Series theme running through the issue.

Our cover star, Dr Dan Plews, has advice to help you not only qualify for, but also perform at, the Ironman 70.3 Worlds on the Central Plateau in 13 months time. Who better to dish out advice than the fastest Iron distance age grouper ever?


Rolling with the endurance tri, we ask who is winning the arms race for long distance triathlon's biggest pro names – and all those lucrative age group limpets – in our PTO v Ironman feature in Racing.

Short course fans won't want to miss our WTCS Report Cards where the coaches of NZ's elites give their assessments of the season just past. Napier's surprise inclusion on the World Triathlon calendar for 2024 also gets the full treatment, as do Tinman and OxMan, the two remaining pre-Christmas Tri NZ Suzuki Series events. Lachlan Haycock's Tinman defence and Matt Payne's OxMan journey are equal parts frightening and inspiring.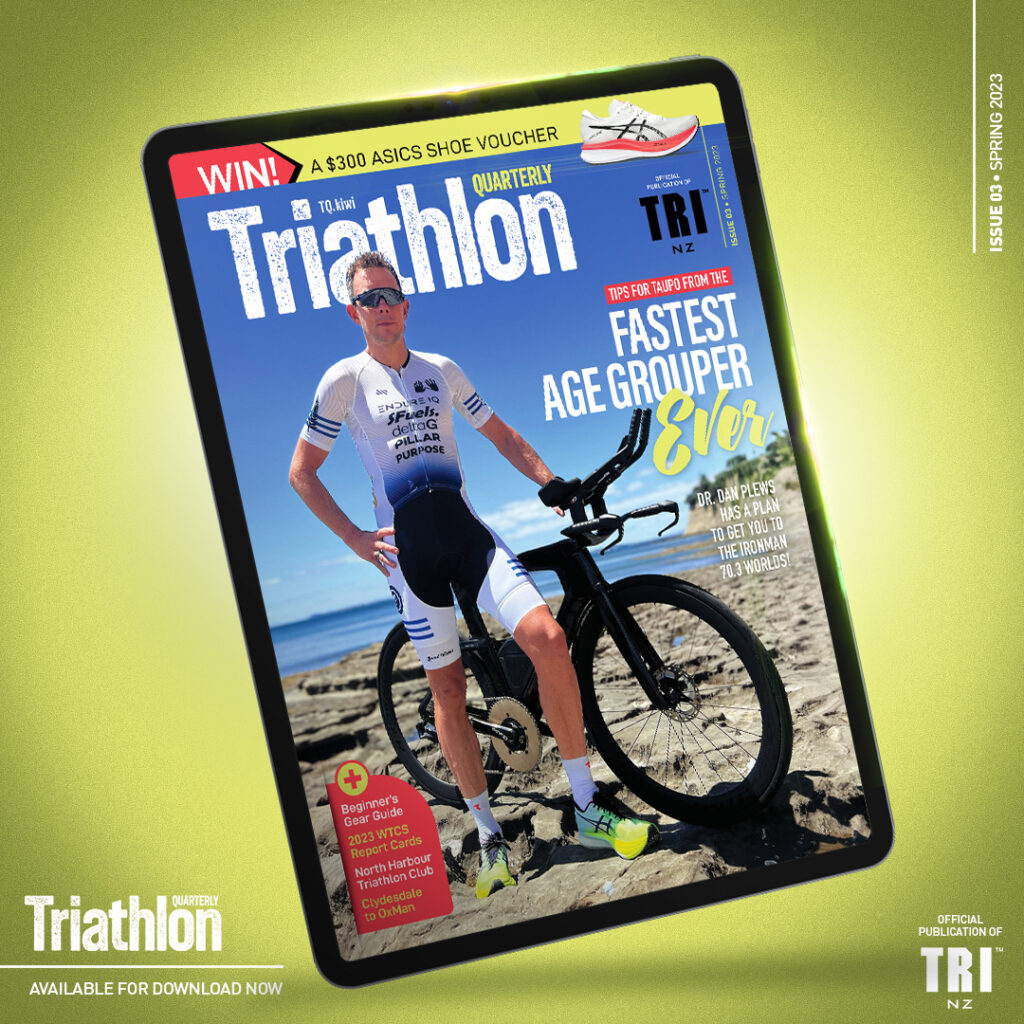 There's a handy Beginner's Gear Guide, training, and nutrition tips and much more in TQ3 which again packs serious punch with the thud-factor of 138 digitally enhanced pages.
As ever, it is FREE for all so be sure to share with your friends around New Zealand and the world and let them know they can also find archived editions of TQ1 and TQ2.
*The team at TQ recommends viewing on a tablet or desktop for the most immersive experience.

TQ3 – What's Inside?
Insider
Our new Triathlon Summer Series, including World Triathlon Cup Napier, explained
The updated World Triathlon calendar and its Paris Olympic Games ramifications
Tri saved an Auckland Tri Club member's life and he has the ink to prove it
Meet Tri NZ's new Women and Girls Lead Tamara Reed
Super League season V in pictures
Tinman Preview
Gear + Tech
Check out what's in Brea Roderick's kit bag
Need you own kit but don't know where to start? TQ's Beginner's Gear Guide is here for you
ASICS Summer Shoe Showcase

Racing
The Long Game: The arms race between PTO and Ironman for long distance triathlon
Nice and Kona in 46 pictures
WTCS Report Cards – the coaches of our Kiwi elites assess the year at WT's top tier
The Big Race: Auckland Duathlon Championships

Train + Fuel
Zone 2 training. What's all the fuss about?
I ate Radix Nutrition for 30 straight days. Here's what happened…
Competing offshore? Take these nutrition tips with you
Ainsley Thorpe's three speed and stamina enhancing run drills
Tribe Nation
OxMan Preview: Canty Tri Club's Matt Payne has shed 30kg since discovering tri
Club Focus: The significance of Birkenhead Leisure Centre in the rise and rise of NHTC
Lisa Shingleton is here to tell you the TO life is a fulfilling life
All this, and much, much more in TQ3. Out now and free for all. Like, comment and share to help TQ grow.

Get TQ3 HERE today!