Photos: Garmin Noosa Triathlon
By Kent Gray/Triathlon.kiwi
Not even a costly navigation error exiting T2 could prevent Hayden Wilde from winning in record smashing style as Aussie superstar Ashleigh Gentle extended her reign as the Queen of the Garmin Noosa Triathlon on Sunday.
Wilde won the 40th edition of the iconic standard distance race on debut, the Kiwi short course star's sensational 1:41:57 effort slashing 1min 15sec off the previous record set by Aussie Charlie Quin 12 months ago.
The 26-year-old overpowered Aussie rival Matt Hauser by 13 seconds with South African Henri Schoeman a further 25 seconds adrift in 3rd. It needn't have been so tight either as Wilde sacrificed 33 seconds running around in confused circles in the maze of fences and cones in the bike to run transition.

Still, it was a good day's work with Wilde pocketing A$15,600 (NZ$16,907) for the victory after becoming just the third Kiwi male and fifth New Zealander behind Erin Baker (1984), Sarah Harrow (1994), Shane Reed (1999) and Paul Amey (2001) to win the fabled title.
Gentle, meanwhile, waltzed to an historic 10th title in 1:55:13, beating Sophie Malowiecki by 1min 36sec. A third Aussie, Richelle Hill, the daughter of 1992 champion Rina Bradshaw-Hill, rounded out the elite women's podium with a surprise 1:57:14 effort.
Kiwis Amelia Watkinson and Hannah Knighton placed 13th and 14th in 2:02:57 and 2:05:31 respectively while Coromandel's Matt Kerr was 16th overall in the men's race in 1:55:40.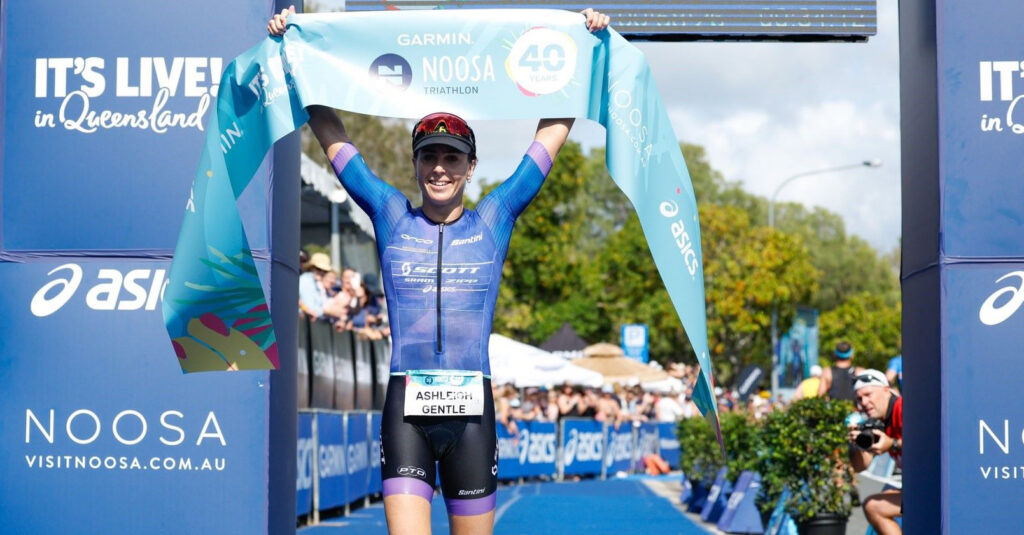 Wilde was 42 seconds adrift and in 7th place following the 1500m swim in Laguna Bay and had live stream commentator Belinda Granger wondering out loud about his ability to bridge the gap over the 40km bike course. Granger couldn't see it done but her theory was quickly blown out the window as the Whakatane Falcon burst into the lead before Garmin Hill, savouring, as he had forecast in his pre-race interview, the non-draft TT racing.
He opened up a 30 second gap, helped by hitting more than 100kmh on the decent, and then made up for the T2 gaffe by quickly stretching away from Hauser early on the 10km run to lead by as much as 17 seconds at one stage.  
"Yeah, nah, absolutely stoked eh," Wilde said afterwards in his trademark Kiwiana way.
"I got lost in transition at one point so I'll have to come back next year because I know I've got 30 seconds up my sleeve. I think I did an absolute acrobatic jump over the fence and then I looked back and I was like, oh, great, there's Matt…"

Wilde knocked out the 10km in 30:33 but it was tucked into the aero position on his Canyon TT bike where he really impressed. "That's pretty incredible" was how Gentle reacted where she learned Wilde had reached three figure speeds downhill.

"I risked it for the biscuit as they say and kept on the bars heading down the other end of Garmin Hill and I think I hit triple figures and then absolutely ripped it up the hill and that's when I made the gap. I was like, finally, we've got about 20 metres now, time to rip it and that's when I made the gap but lost every single second of it in transition [laughs].

"I asked my coach today can I push 400 [watts] up there [Garmin Hill] and he was like, no, keep it composed so I kept it at 380. But over the whole course I was trying to push it pretty hard and drop the boys and averaged about 355 [watts].

Wilde averaged approximately 48kmh on the bike, breaking the Noosa speed limit of 40km to the amusement of the live stream commentators, Granger and host Matt Keenan.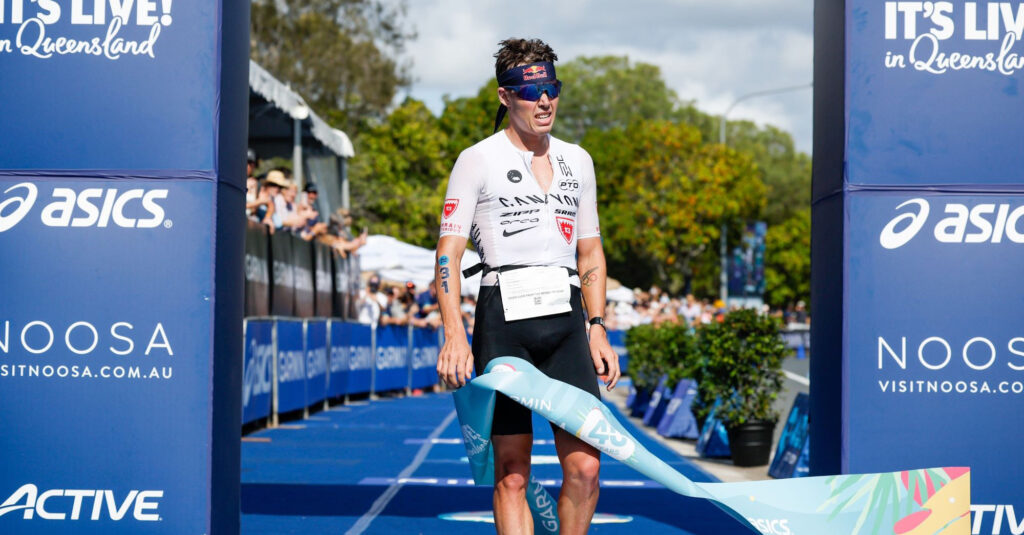 "Yeah I saw a couple of speed limits [signs], I was waiting for the coppers to come and pull me over but I had to drop Matty and the other boys because I wanted a bit of a buffer coming onto the run because I'm racing next week at Melbourne [70.3] so I didn't want to go as deep as I did in the run today but I had to do what I had to do.

"I was still running scared with 200m to go because I raced Matt over the whole course of the [World Triathlon Championship and Super League] season and I know how dangerous he is in the last 2km and yeah, he was not giving up and I looked back and I had a little bit of leeway in the last 500 so I could kind of cool off the jets but man I was running scared."
Wilde will sign off 2023 at Sunday's Ironman 70.3 Melbourne where he hopes to nail a qualification spot for the 2024 Ironman 70.3 World Championships in Taupo, his birth place.

He can't wait to go again on the TT bike specifically.

"I see why Ash has come to long course because, I dunno, I'm one of the athletes that just loves to really rip it on the bike. I should have, in reality, looked after my legs and save it for the run but I just love ripping it and just hitting every single discipline hard and knowing I've done everything to deserve the win instead of hiding in the group.

"I think that's what is really nice about long course is you do most of the work yourself and when you cross the line you do feel real proud because you've hit the swim hard, you've done all the biking yourself and you've obviously finished off with a run and just out here in Noosa, the crowd was amazing, they just keep amping you on and you just kind of feel at home here. I see why Ash comes here and likes to come back, the vibe was just insane."

Gentle has now won the Garmin Noosa Triathlon 10 times, nine of them on the bounce.
"Each year has been really enjoyable, and I've had fun each year but 10 victories, what else can I ask for," said Gentle. "It's an incredible feat and I'm actually really proud that each year no matter what happens I kind of find a way to bring the best out of myself at Noosa. I think from here on in I'll just enjoy it even more.
"Just before I ran over the Garth Prowd bridge it was a bit of a heck yes moment, that kind of summarises the day, it was pretty surreal and I think a weight off the shoulders that's for sure," she said.


2023 Garmin Noosa Triathlon – Results
Elite Men
Hayden Wilde (NZL) – 1:41:56
Matt Hauser (AUS) – 1:42:09
Henri Schoeman (RSA) – 1:44:20
Jake Birtwhistle (AUS) – 1:45:23
Kurt McDonald (AUS) – 1:47:17
Jamie Riddle (RSA) – 1:48:33
Jack Sosinski (AUS) – 1:49:02
Brandon Copeland (AUS) – 1:49:44
Jarrod Osborne (AUS) – 1:50:49
Rory Thornhill (AUS) – 1:52:43
Elite Women
Ashleigh Gentle (AUS) – 1:55:13
Sophie Malowiecki (AUS) – 1:56:49
Richelle Hill (AUS) – 1:57:14
Hanne De Vet (BEL) – 1:58:55
Charlotte McShane (AUS) – 2:00:16
Lotte Wilms (NLD) – 2:00:25
Jaz Hedgeland (AUS) – 2:00:38
Kira Hedgeland (AUS) – 2:00:51
Fenella Langridge (GBR) – 2:01:24
Milan Agnew (AUS) – 2:01:53