Photos: World Triathlon
By Kent Gray/Triathlon.kiwi
That nail biting Hayden Wilde v Alex Yee, NZL v GBR sprint to tape we all crave to decide the World Championship? The Kiwi No.1 won't be at all surprised if the climax to the short course season has it's dream photo finish.
Wilde's body has mended post Paris, his mind is at ease and he's ready to "give it some" in the standard distance decider in northwest Spain from 4:20am NZT Sunday.
WATCH: Get your special Triathlonlive.tv World Triathlon Championship Finals Pontevedra season pass for US$7.99

And after a course recce, the Whakatane 26-year-old predicts a tight race of punch and counterpunch in Pontevedra.

Yee and Wilde, one and two in the World Triathlon Championship Series (WTCS) standings, are in the box seat with victory for either guaranteeing the world title. Portugal's Vasco Vilaca and defending world champion Léo Bergere of France could theoretically snatch the crown but in all likelihood, it will be whomever of Wilde or Yee finishes highest – even if neither wins.

"Went over the course today and yeah, it's going to be fast, it's going to be hard to get away," Wilde told World Triathlon on behalf of Triathlon.kiwi

MORE: Pontevedra Preview – 'Box Office' Wilde v Yee and more NZ glee?

"With a wetsuit swim I don't think there will be too many gaps. The run course, as well, is pretty exciting. I think if it was raining there would be more crashes on the run course than the bike course, it's [a] super cool, technical run and we don't get many of those."

A 10km shootout for glory would be perfect but nothing is guaranteed in triathlon as Wilde knows all too well.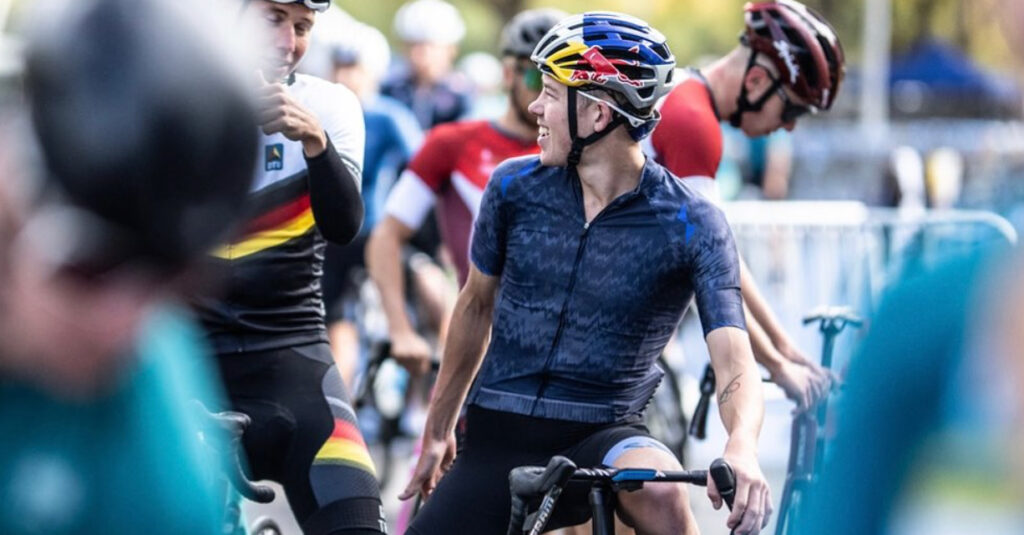 He went into last year's World Triathlon Championship Finals in Abu Dhabi wearing the No.1 bib only to quickly discover his body wasn't right, a bout of COVID-19 manifesting itself at the worst possible moment. He eventually finished six and was left to rue missing out on the world title by essentially 10 seconds as he slipped to third behind Bergere and Yee in the final standings.

Wilde also went into July's Olympic Test Event, which doubled as the penultimate round of the 2023 WTCS, ranked top but was forced to quit early on the run in Paris with hip pain after a slow speed bike crash en route to the race. It means Yee, who powered to victory in Paris, starts from pole position in Pontevedra.
"Yeah, some results have gone great this season, some things have gone a little bit upside down but looking forward to just trying to execute the best world champs I can tomorrow," said Wilde who has two 2023 WTCS wins to Yee's three.
"I've put Abu Dhabi [last November] behind me, that was also something I just couldn't control, being sick on the day, not realising I had COVID, so I've done some extra precautions heading into this race so I would get a bug before."

How are you feeling physically in light of the hip injury?

"Post Paris I had a few weeks off running. I continued to bike a little bit and swim a little bit but the hip was still a bit painful. Four weeks later and I'm feeling pretty good, the hip's good, had a few sessions just to kind of get some confidence back in the mind.

"I feel like I've done everything I could possibly do post Paris with all the setbacks that I've had this year. Looking forward to it, ready to go and give it some.

"Hips feeling good, minds in a good place and just hope I can really put [forward] a result I'm proud of. Lining up contesting for the world title is a privilege and honour so let's get out there, let's give it some."

U23 Men – 00:20am Sunday NZT (TriathlonLive.tv from 00:10am NZT)
Saxon Morgan #5
Lachlan Haycock #11

*Elite Men – 4:20am Sunday NZT (TriathlonLive.tv from 4.04am NZT*)Hayden Wilde #2
Dylan McCullough #27
Tayler Reid #28

U23 Women – 01:00am Monday NZT (TriathlonLive.tv from 00:50am NZT Monday)Brea Roderick #2
Hannah Knighton #6
Hannah Howell #37

Elite Women – 3:45am Monday NZT (TriathlonLive.tv from 3:29am NZT)
Nicole van der Kaay #15
Ainsley Thorpe #27
Eva Goodisson #63

*NB: Daylight Saving begins Sunday, Sept 24, with clocks officially going forward one hour at 2am