By Kent Gray/Triathlon.kiwi
The equation is simple if not easily achieved. Win in Pontevedra and Hayden Wilde is guaranteed to become world champion, the angst of Abu Dhabi a year ago and Paris in July firmly consigned to history.
Inevitably, Alex Yee again poses the greatest threat to that glorious prospect, the British whippet in pole position for Sunday morning's (NZT) World Triathlon Championship Finals after his ascension to the summit of the WTCS standings with his Paris win and the Kiwi's unfortunate WD at the Olympic test event.

Portugal's Vasco Vilaca and defending world champion Léo Bergere remain mathematical threats but would need victory and a series of unlikely results involving Wilde and Yee to go their way. Vilaca, who has never won a WTCS race, needs to win and for Yee to finish 4th or lower and Wilde 3rd or lower. Bergere, meanwhile, would need to win and for Yee, Wilde and Vilaca to finish 8th, 7th and 5th or lower respectively.

So, barring misfortune or an unexpected off day, the 2023 world title fight looks set to be final round, Wilde v Yee slugfest.

Victory for either guarantees the title and if someone else takes the top step (or steps) of the podium in northwestern Spain, the WTCS will still likely be decided by whomever of Yee or Wilde finishes ahead of the other, barring the aforementioned scenarios.

The great rivals will be fuelled by the 2022 WTCS decider in Abu Dhabi last November where Wilde went into the race wearing the No.1 bib but could manage only 6th after reportedly being felled by a then undetected bout of COVID-19.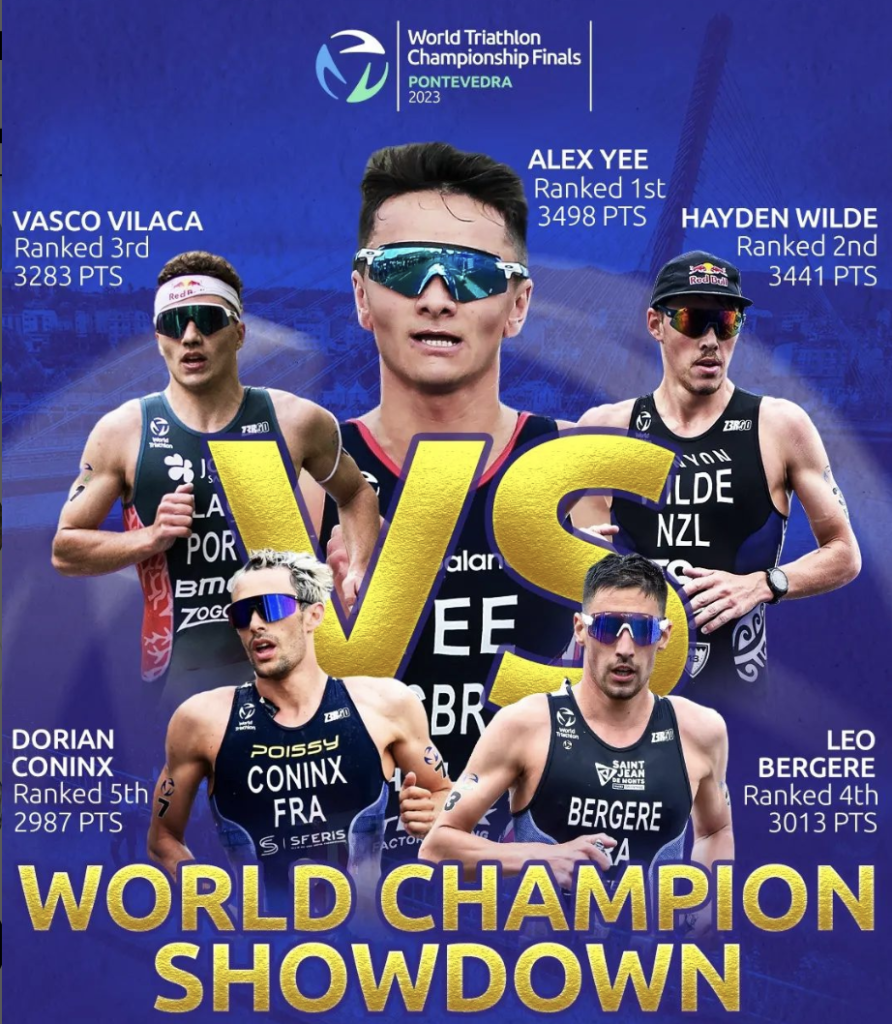 It meant he slipped to third overall (behind Bergere and Yee) and was left to rue being overtaken in the last 800m of the Abu Dhabi finale by Aussie Matt Hauser, a pass that meant Wilde essentially finished 10 seconds and one place shy of a maiden world crown.
"Yep, that one definitely hurt the soul but it's made me so much hungrier for next year," Wilde said afterwards.
Wilde's hunger has translated to two WTCS wins (Yokohama and Hamburg) in 2023 to Yee's three (Abu Dhabi, Cagliari and Paris). It's the same as last year expect for one critical difference ­– Wilde's World Triathlon Sprint Championship win in Hamburg was the first time he'd beaten Yee in a WTCS race they'd both finished.

Wilde will also be determined not to allow his Paris snafu to be the defining moment of an otherwise memorable season. The slow-speed, early morning bike crash en route to the Olympic test event race course and resulting hip injury that meant he couldn't run would indeed be a cruel way to decide the world's greatest short course exponent.
As World Triathlon expressed in their preview, expect Wilde to come out all guns blazing.

"Yee was imperious in Paris over this [standard] distance, but injury denied Wilde a chance to compete on the run. The Falcon was superb in Hamburg, but Yee had another mission.
"There's nothing to call between the two, then, and while many would back Yee over the 10km, anything can happen over the 1.5km swim and 40km bike that could hurt the legs or blur the focus. Wilde will likely have something up his sleeve to upset the rhythm on the run and pile on the pressure, Yee will have been meticulous in his preparation to combat that. For sure, though, it's going to be box office."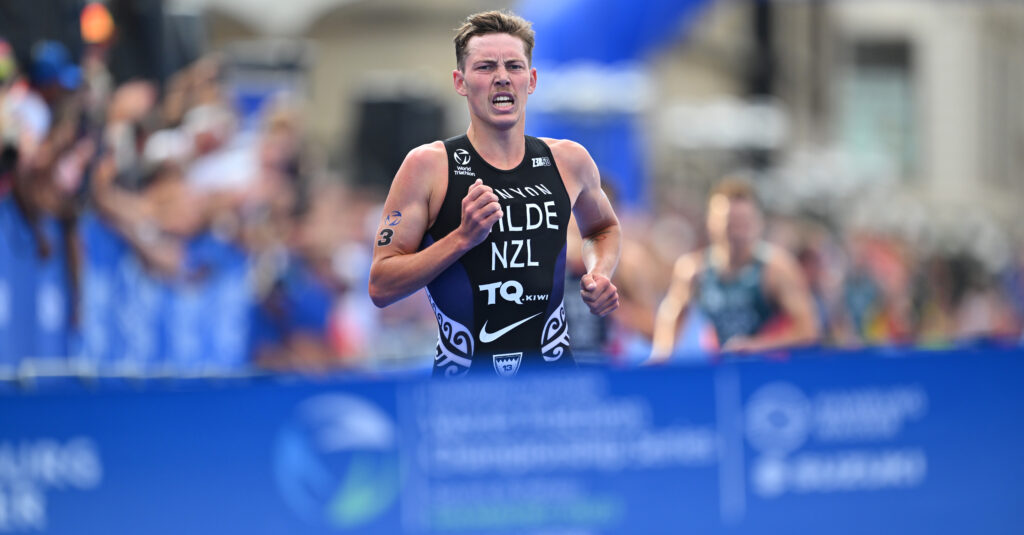 Add Dorian Coninx, fellow Frenchman Pierre Le Corre, WTCS Montreal winner Hauser, resurgent American Morgan Pearson and reigning Olympic champion Kristian Blummenfelt to the mix, and Sunday's race indeed shapes as a humdinger.

There is much Kiwi interest outside of Wilde too, of course, noted in the individual race previews below:

U23 Men – 00:20am Sunday NZT (TriathlonLive.tv from 00:10am NZT)
Saxon Morgan #5
Lachlan Haycock #11
The elite racing in Pontevedra kicks off with the U23 men's World Championship where Canterbury Triathlon Club's Saxon Morgan is out to top his Kiwi best 8th placing at last year's Worlds in Abu Dhabi. Lachlan Haycock targeted this race as far back as his Tinman victory in November 2022 and like Morgan, who has also experienced up and down results this season, the key will be staying in touch in the swim.
***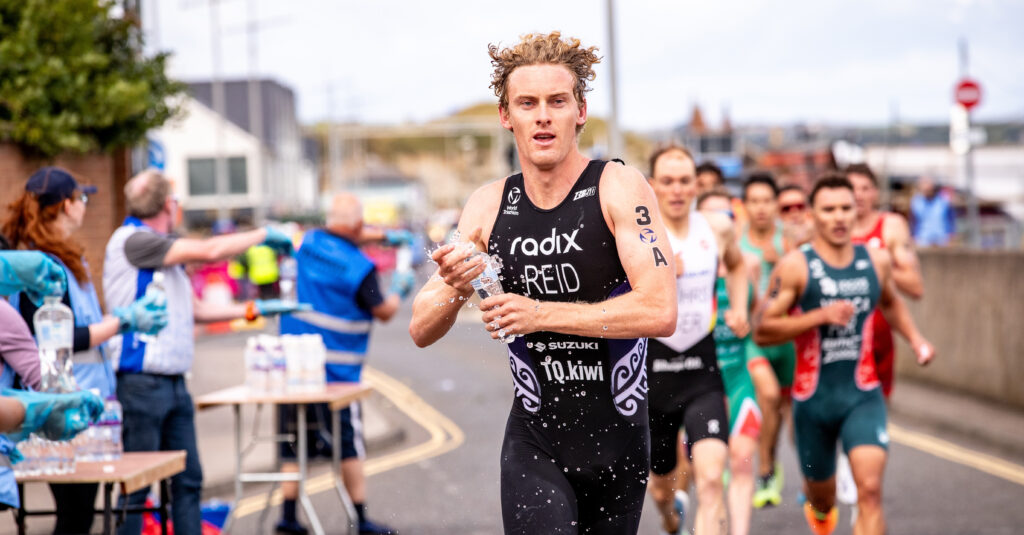 Elite Men – 4:20am Sunday NZT (TriathlonLive.tv from 4.04am NZT*)
Hayden Wilde #2
Dylan McCullough #27
Tayler Reid #28

*NB: Daylight Saving begins Sunday, Sept 24, with clocks officially going forward one hour at 2am
Hayden Wilde's mouth-watering battle with Alex Yee will dominate global attention but closer to home, the Kiwi race within the race between Dylan McCullough and Tayler Reid will be fascinating. Both have had their moments in 2023, McCullough capping a series of increasingly impressive WTCS results with 12th in Sunderland, while Reid's 11th in Hamburg and London Super League bronze medal shows he has top end speed. Expect both to be there or thereabout in the swim and off the bike with the intrigue surrounding their respective 10km splits. Both are scrappers and neither will concede an inch.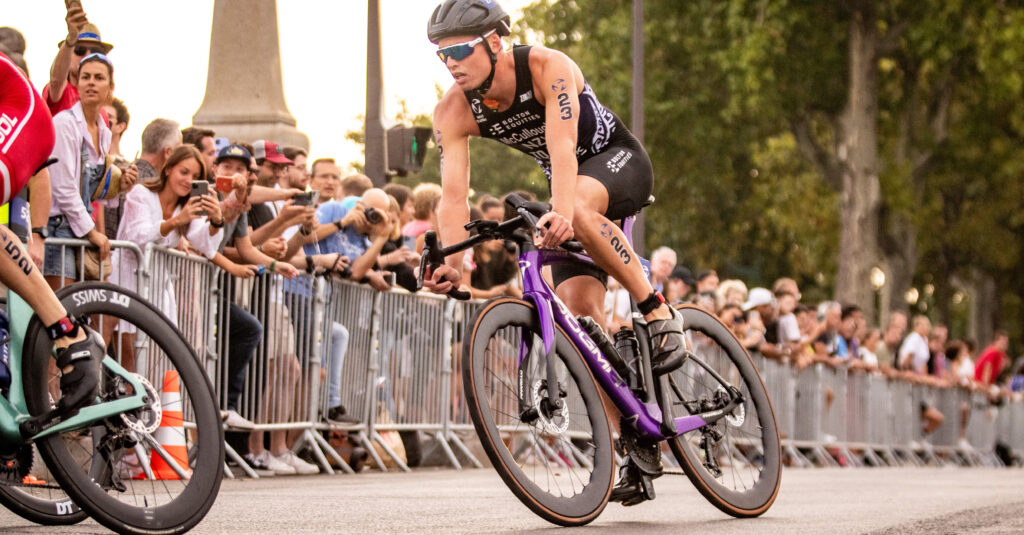 ***

U23 Women – 01:00am Monday NZT (TriathlonLive.tv from 00:50am NZT Monday)Brea Roderick #2
Hannah Knighton #6
Hannah Howell #37

Brea Roderick will look to cap her incredible year of bonus WTCS starts – and results – when the women take centre stage in Spain in the early hours of Monday NZT. Like Wilde in the elite men's race, the 21-year-old Canterbury Triathlon Club star is ranked second behind Switzerland's Cathia Schar. Roderick's recovery following her World Cup Valencia WD will be evident in Pontevedra and don't be surprised to see Hannah Knighton pushing the pace on the bike in tandem with Roderick. Knighton hasn't raced short course since helping NZ to bronze at the U23 Relay World Championships in Hamburg in July, although did finish 8th at Challenge Davos in late last month, a 4hr 35min effort she described as probably her "toughest day ever at the office." Hannah Howell will take an encouraging 10th place at Africa Premier Cup Monastir on September 3, and before that a European Cup best 19th in Wels, into her maiden U23 Worlds start.

***

Elite Women – 3:45am Monday NZT (TriathlonLive.tv from 3:29am NZT)
Nicole van der Kaay #15
Ainsley Thorpe #27
Eva Goodisson #63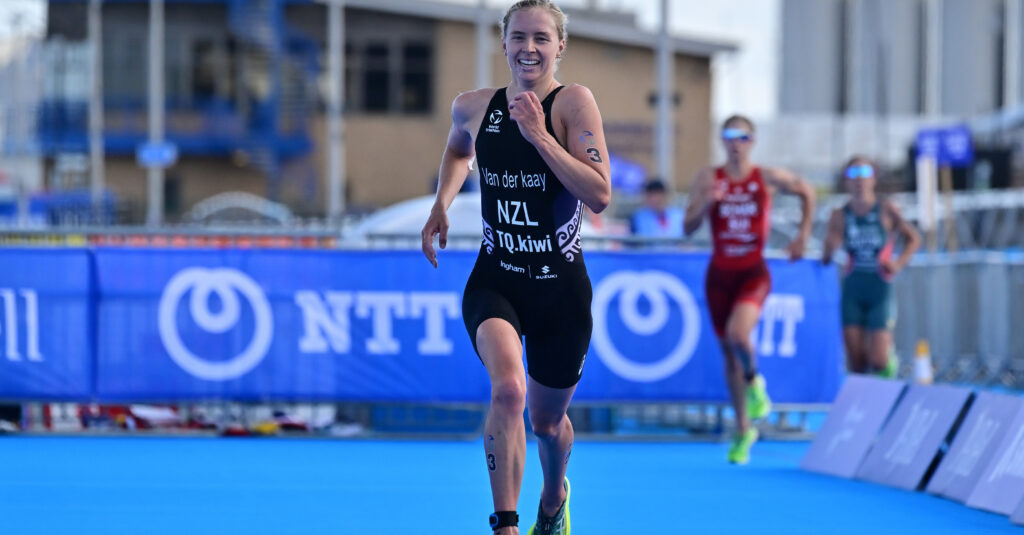 There will be a new women's world champion in Pontevedra with Frenchwomen Cassandre Beaugrand and GB's Beth Potter in the box seat and Emma Lombardi and Taylor Spivey poised to play spoilers if the opportunity arises.
From A Kiwi perspective, Nicole van der Kaay will be hoping for a good swim and even better luck after her bike spills in Yokohama and London (Super League). The Kiwi No.1 has shown her potential with back-to-back WTCS top 8s in Hamburg and Sunderland but, by her own admission, needs to nail the swim after a slow start left her a disappointed 26th at the Paris Olympic test event.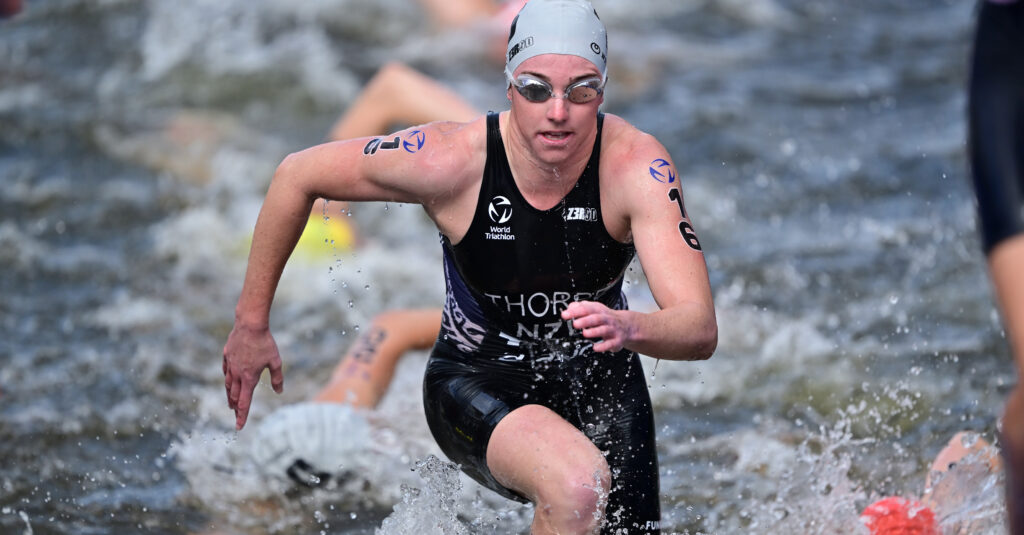 Ainsley Thorpe was 17th in Paris, matching her performance at the WTCS season opener in Abu Dhabi. The key is consistency but progress from her 25th placing at last year's season finale, also in the UAE capital, is definitely achievable for the Aucklander. For Eva Goodisson, even making it to Pontevedra is a win after a season spent slowly recovering from a serious back injury. The Mt Maunganui 25-year-old is coming off 23rd place at World Cup Valencia on September 2 where she again showed impressive swim speed and peddle power. Progression will be an improved 10km run split.