By Triathlon.kiwi
Tri NZ Community Manager Mel Saltiel provides an update on all things swim, bike and run across the Age Group and Para eco-system, including Tri NZ Suzuki Series news and a report from her reconnaissance mission to Townsville ahead of the 2024 World Triathlon Multisport Championships.

Tri NZ Suzuki Series – Auckland Duathlon
It was great to see good numbers in the schools event and support of the new venue amongst age-group athletes at Ambury Park on the 13th of August. The Auckland Duathlon Championships, hosted by Auckland City Triathlon Club, was the Sprint Duathlon qualifier for Townsville in 2024 with close to 70 athletes submitting a nomination to be considered for selection. It was also fantastic to see athletes travelling from not only across the North Island but from the South Island as well. Hopefully we see this across all our Tri NZ Suzuki Series events this summer.
Townsville Reconnaissance
I travelled to Townsville for the Multisport event recently held there in the same week that the World Championships will be held in 2024. Took one for the team and completed the Enticer so that I could experience the swim, bike and run first hand. The Cross Tri was held on the same course that will be in place for Worlds and got some great insight into this from some competitors. The road events will have a difference transition area and swim exit to what was in place this year but it was still invaluable to get a feel for it.  The water temp was 23 degrees and air temp around 26 so will be a great environment for racing. The water is very salty and floaty. 
It is not stinger season but they still do have sections of the beach with stinger nets up. There is also a great 50m outdoor pool complex and a tidal pool that can be used for swim training.
Also used the time to visit the two team hotels, work out transport, and of course the all-important cafes and venue for the team dinner. A few tourist activities including Castle Hill and Magnetic Island were also visited. We have had word there are 400+ in the American team so would highly recommend staying with the Team at the hotels we have secured – contact House of Travel sooner rather than later to secure your room.
We have two great hotels with cooking facilities, pool, gymnasium and close to supermarkets etc. Although the Cross events are further up the coast (8km) you can easy ride your bike along the coastline or catch a bus for less than $3. There is no accommodation close to the Cross events and would recommend staying in and around the Strand to be in the hub of the event.
There with five+ kiwis racing including Ray Lichtwark (pictured below) who road up from Brisbane on is 1980's bike (with tent) to compete. On the final day we managed to scoop 5 gold medals so the Aussies know we are coming.
Biggest point – get your nominations in and contact House of Travel to pencil in your booking. If the Sprint Duathlon is anything to go by, demand is going to be high.
Technical Officials
Mel Schroeder officiated at the Youth Games and Tony Sangster was at the Paris Olympic Test event. With the summer season coming upon us fast if you or anyone you know are interested in officiating please get in touch with us. We can't run events without TOs and it's a small way to give back to the sport we all love.
Para Sprint Champs 
Remember if you know of anyone who has a disability and interested in having a go at triathlon to contact us. The Para Sprint Champs is there for anyone to race and if you want to race at any other club or national series event let us know and we will do our best to ensure you can be involved.
Volunteers
Many of our clubs and event providers are struggling to find volunteers to make sure their events can run safely. If you are spectating or have friend and family with you at an event, make sure you consider volunteering. 
Pontevedra Team
The team is due to head off mid-September for our last showing on the global stage for the year at the World Triathlon Finals in Spain. NZL will have athletes competing in the Super Sprint, Standard Triathlon and Standard Aquabike in Pontevedra. A big thank you for Garth Barfoot for his generous Aquabike Prize Offering which has allowed some of our top performers the opportunity head to the Worlds.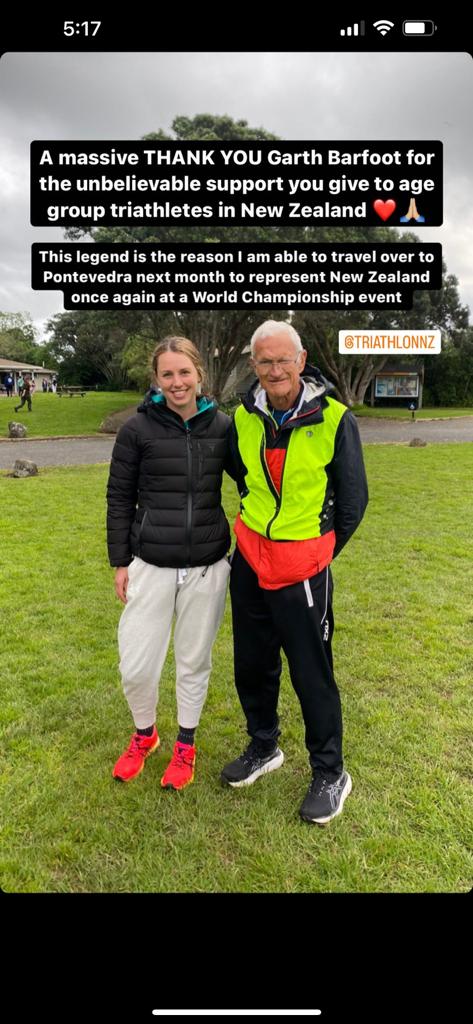 Confirmed Aquabike Prize Offering for 2023-2024
This has now been confirmed by Garth Barfoot – details can be found here. Another great incentive to head to the National Champs.