By Kent Gray/Triathlon.kiwi in London
Tayler Reid is puking his guts out. Shivering uncontrollably. He's perhaps never been happier.
The Gisborne lad, 27, has just finished third behind GBR legends Alex Yee and Jonathan Brownlee in London, the opening scene of Super League season V near Canary Wharf.
It's not a bad podium to belong too, even with compatriot Hayden Wilde and Aussie Matt Hauser absent at West India Quay through injury and, reportedly, illness respectively.

It's certainly worth a little physical tax. On TV, during a brief streaming interview post-race at least, Reid is "stoked", albeit after having just lifted himself off the canvas, barely able to speak after losing his breakfast.
Seems New Zealand has a new Super League Triathlon (SLT) star, Tayler?

"Nah, Haydo [Hayden Wilde] is away, so that big Bad Boy was injured, so I just had to strap it on to the back and carry it for the team," Reid told Triathlon.kiwi.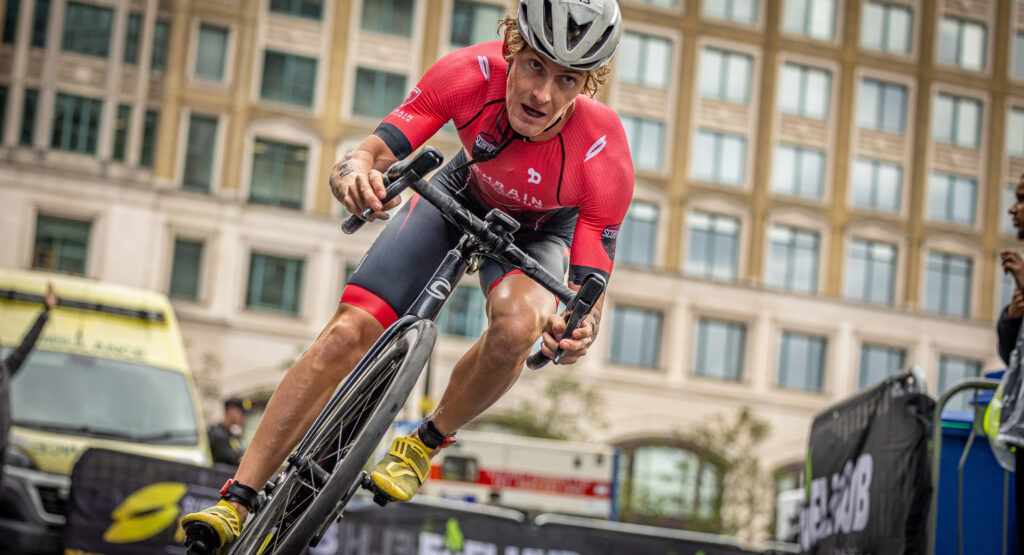 Translation? Trademark humbleness. And the hope Bahrain Victorious 13 team mate Wilde will be back for Super League round two in Toulouse next weekend.
In the bigger scheme of things? You've just finished 3rd, your first ever Super League podium.

"I'm so stoked," Reid said.

"This is my third year on the circuit, I'm just getting better and better and better and I just believed today I could get on the podium.
"I just think that the enduro format suited me to a tee. Yeah, I'm just so amped, I'm so stoked."

Carry on.

"I've been hunting a Super League podium for three years now. I've been getting closer and closer and it's eluded me for a long time but I've finally got on that step, which, behind Jono and Alex, was really epic today."

Indeed.

But wait, before we celebrate, that scene of you shaking like a leaf after the race. After you threw up into a bowl, and then some. Are you okay?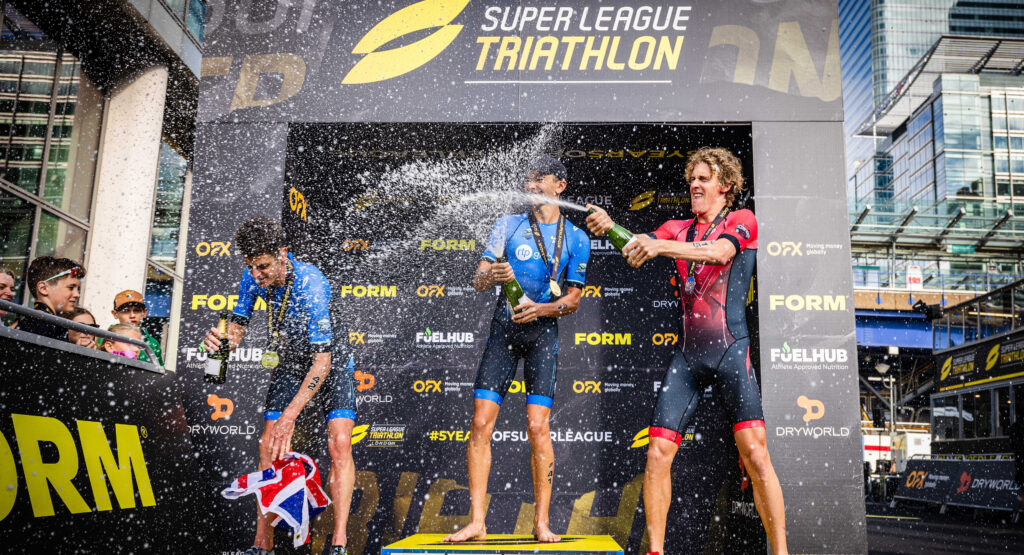 "That's just a tick that I've gone hard enough," Reid said of his uncontrollable shake, the result of an enduro race of three back-to-back-to-back swim, bike, run efforts during which he was never much out of the top three.

"I don't mind, if it is after the race and if I've got a medal around my neck….throwing up is definitely worth it."

People at home will still be worried about you, Tayler. That shaking?

"Adrenaline. Amped."

Cool.

So, clearly, you've a lot to take away from today, on the back of 11th place the World Triathlon Sprint Championships in Hamburg and 25th at the Paris Olympic Test Event.

"Today adds a lot of belief to myself," Reid continued. "Like, to me, this is just mixed team relay on steroids and I know I'm a great mixed team relay athlete, and that was my thoughts  today, [a] podium was definitely in my corner…"

And the London crowds?

"Epic, so epic," Reid said.

"They really get behind it, it's just so loud. Not a lot of cheers for me [given the parochial crowd] but heard a few from a few loud Kiwis which is awesome."

Throughout the back-to-back-to-back triathlons, Reid never wavered. He made the most of his swim prowess to be third out of the water and never looked back.

On top of partner Nicole van der Kaay finishing 9th in the women's race, it was a good day for the Kiwis in London.

"Epic way to finish it off. This is by definitely [far] where it has come together so far, definitely, been a bit up and down.

"I don't think I've quite found my legs in the standard distance racing but mixed team relay and Super League obviously, I'm starting to hone and I own it so I'm happy with that aspect…"