By Kent Gray/Triathlon.kiwi
Race Director John Newsom hopes OxMan's elevated Tri NZ Suzuki Series status, along with the event's Challenge Roth-esque charms, will lure a big out-of-town contingent to the North Canterbury half iron distance race.

Early-bird entries are now open to OxMan 2023 with the event's marquee race to double as the main Suzuki NZ Mid Distance Triathlon Championships qualifier on November 26.

Twelve slots per gender, per age group will be on the line for the 2024 World Triathlon Multisport Championships in Townsville from August 12-25.  An additional six slots per gender and age group will be raced for when the Fulton Hogan Mt Festival of Multisport hosts the secondary Suzuki North Island Mid Distance Triathlon Championship in January.

After four successful editions of OxMan, Newsom is delighted to host the main Tri NZ Suzuki Series qualifier in 2023 and hopes out-of-Canterbury athletes will rush to Oxford.

"Often athletes think they are not fast enough to go to world champs but to be selected, all you need to do is finish in the top 12 in your five-year age group to make the team,  provided your time is within 20% of the winner," Newsom said.


"That makes it a lot more realistic than trying to make the 70.3 Worlds for most, plus you get to go to a cool venue in Australia."

Newsom hopes the unique OxMan venue will also prove a lure.

Athletes can camp at the venue, just metres from the OxMan swim in a 500m long irrigation lake which is directly fed from the nearby Waimakariri River.
The two lap bike leg greets riders with views of the Southern Alps – and plenty of false flats along with a couple of climbs to keep it interesting. The run leg is a flat three lap course on a mix of shingle and sealed roads.
"One unique aspect of the OxMan is the ability to stay on site the night before the race in a camper van or caravan where you are literally meters away from the lake and the transition area. The nearby mountains such as Mt Oxford could easily be explored for a few days after the race to round out a fantastic few days in North Canterbury," Newsom said.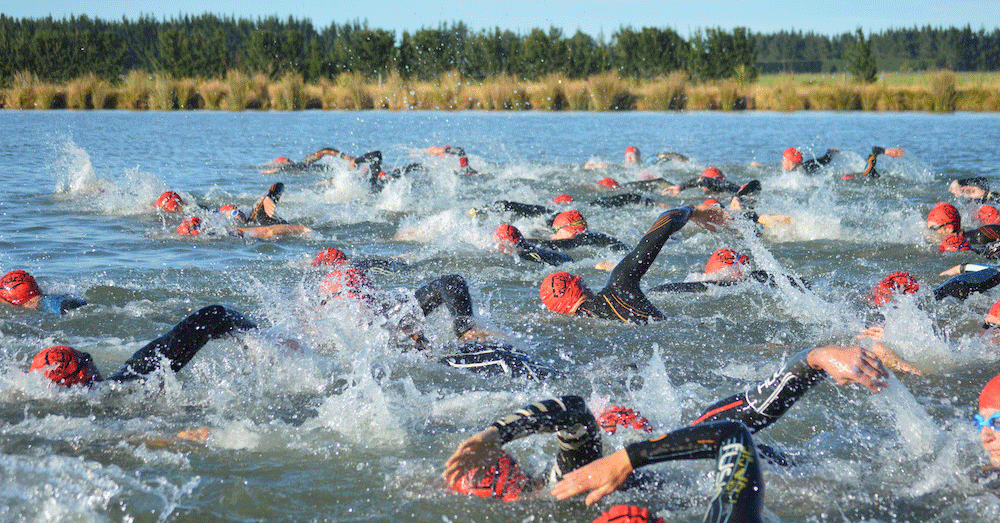 "We have tried a few different course options over the last four years, what we've settled on is a really fair course where drafting should not be an issue. On a clear day you'll have fantastic views of the nearby mountains."

As well as the full OxMan triathlon there is a Mini OxMan, Junior OxMan, Kids running events and a multisport race introduced in 2022. With all events there are triathlon and duathlon options that can be raced as a team or individually.
"Whilst this full OxMan triathlon will be the national championships for age groupers we are still focusing on keeping our low key vibe so athletes of all ages and abilities can enjoy the event."