By TQ.kiwi
Welcome to the second iteration of Triathlon Quarterly, Tri NZ's new digital publication.
TQ2 comes with even more thud factor than our launch issue, 162-pages of swim, bike and run inspiration through a distinctly Kiwi lens – with all the visual and tree-saving benefits of digital.
From NZL's four medal haul at the recent World Triathlon Sprint & Relay Championships in Hamburg (we're not forgetting you Kieran Coates), to next summer's Weet-Bix Kids TRYathlon, there is something for everyone.  

Once again, TQ is FREE to everyone, everywhere. If you can't wait to dive in, read TQ2 here.


While TQ is mobile friendly, we do encourage the more immersive experience gained on desktop or tablet.

A 'Winter Well' theme runs through TQ2, content designed to have you hit the ground running – and swimming and cycling stronger too – this summer. We suspect you'll find the human-interest profiles particularly compelling too.
There's Tri NZ's generous and humble and awesome Patron, Garth Barfoot, Paris Paralympian hopeful, Kurt Peterson, Palmy North chippy, Sam Parry, Rotorua Constable, Ange Keen, Waipukurau crash survivor, Jo Baker, and freshly-minted U23 World Championship Relay bronze medalist, Hannah Knighton, to name but a few.

We've got news, new kit and caboodle, training and fuel tips, the long and short of racing from around the globe and a section dedicated entirely to you, our 'Tribe Nation'. With the Tri NZ Suzuki Series locked and loaded for 2023-24, it's going to be a huge year of weekend warrior goodness, regardless whether you're hoping to qualify for the World Champs in Townsville or Malaga, set a PB or make your very first start line. All the details can be found within the pages of TQ.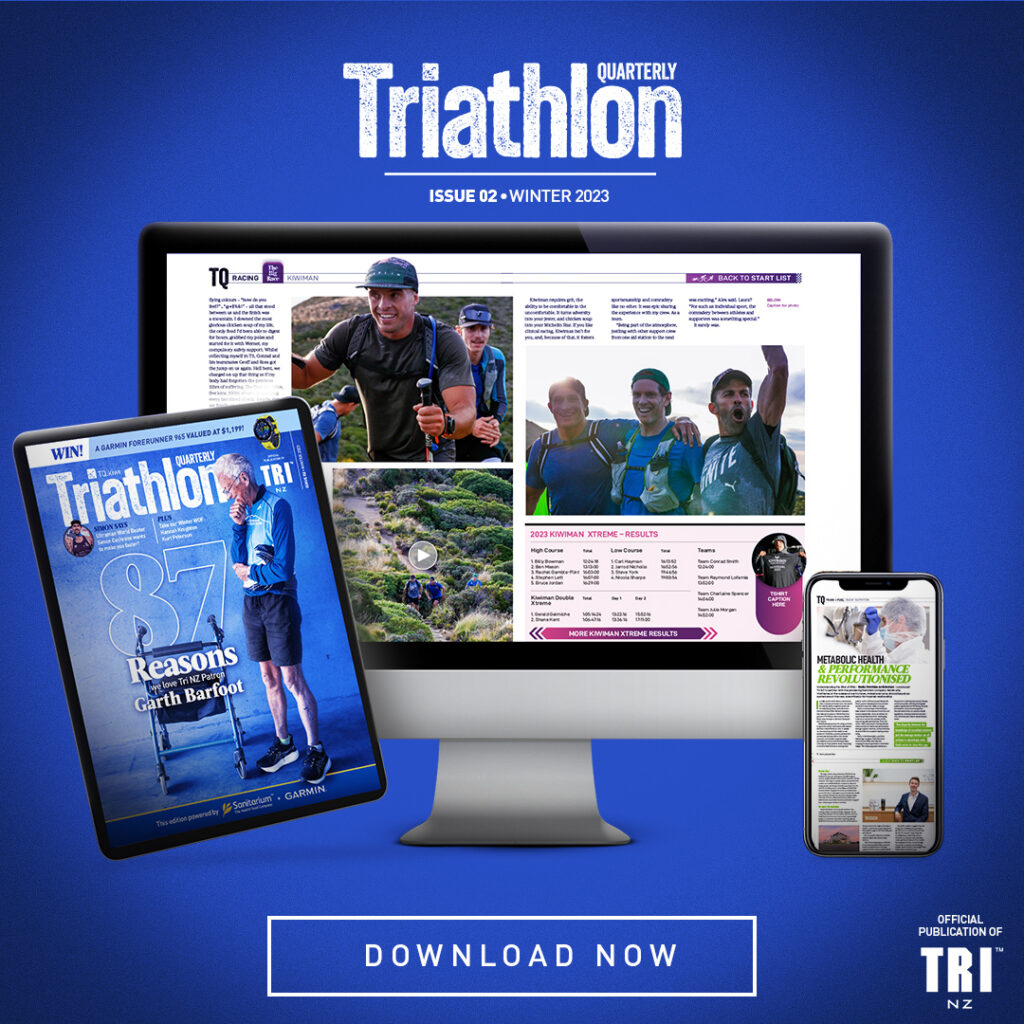 So, enjoy a deep dive into all things triathlon. Be sure to share your thoughts on social media and the link to TQ with friends around the triathlon globe – the more you help us to grow, the more content we can make for you in the future.

Don't miss the chance to win a Garmin Forerunner 965 valued at $1199 or a his and hers, eco-friendly Sumarpo wetsuit, each valued at $779! There's also a tasty trial offer from Tri NZ's new Mixed Relay sponsor, Radix Nutrition, too.
We'd love your feedback on our @triathlonnz Facebook and Insta pages, including feature ideas you'd like to see in upcoming editions. Triathlon Quarterly is your magazine so help us shape it to better serve your needs.
If you haven't seen the launch issue of TQ, you can read it here.
You can enjoy TQ2 from this link over and over, or download to read offline. Whichever way you chose to consume TQ, we hope you enjoy the read.
The Tri NZ team