Images: Triathlon Holten


By Kent Gray/Triathlon.kiwi
Olivia Thornbury's day started brilliantly and just kept getting better and better as she ran to the bronze medal – before partner Janus Staufenberg snared gold – at European Premier Cup Holten on Saturday.

The 25-year-old learned she'd made the start-list for World Triathlon Championship Series (WTCS) Hamburg just before tackling her third European Cup sprint in as many weeks in The Netherlands.
It proved a timely boost as Thornbury consigned a DNF in Wels last weekend to history by claiming the third Continental Cup medal of her career behind Belgian Jolien Vermeylen and home hero Rachel Klamer.

Then partner and fellow Otago Medical School Dr-in-training Staufenberg added to the joy by heading home Australian teen prodigy Bradley Course and Canadian Daniel Damien in the men's race for a glorious first elite podium.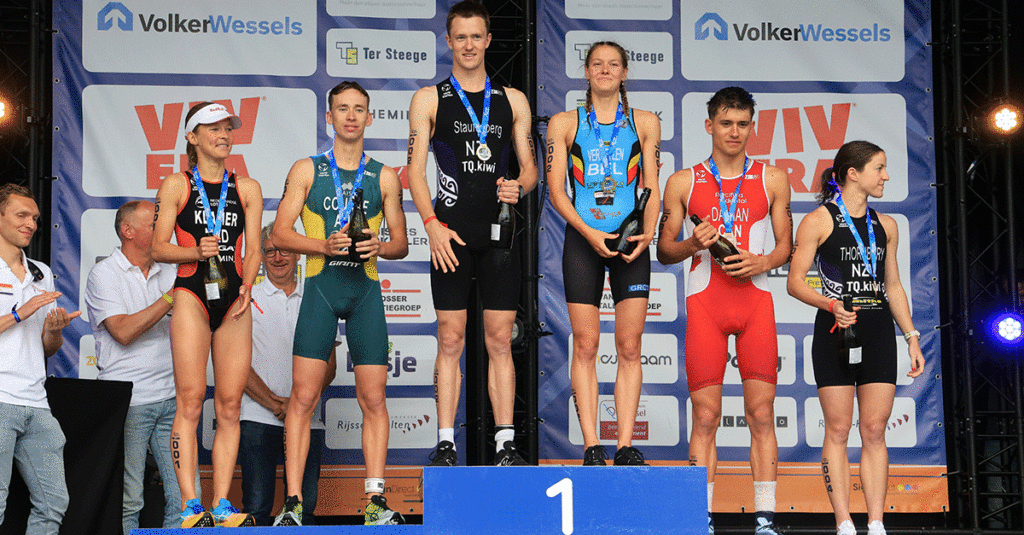 "I'm stoked," the Invercargill-born and bred Thornbury told Triathlon.kiwi.

"It's a huge confidence boost to put a solid race together after a rough experience last weekend. The nerves were there today after what had happened but I dealt with them well and didn't put any expectations on myself."

Thornbury has little time to celebrate. She'll line up again next weekend at World Cup Tiszaujvaros along with Staufenberg, Kyle Smith and Trent Thorpe who ran to a creditable 9th in Holten. She'll then make her individual debut at WTCS level in Hamburg in what doubles as the World Triathlon Sprint & Relay Championships from July 13-16.
"Time to rest up quickly again and get myself together for Tissy World Cup next weekend. I found out this morning I made Hamburg start-list so that'll be awesome to finish my [European] campaign with.

"It's a full on schedule of racing over here but the experiences we are gaining are great."
Thornbury exited Saturday's 750m swim on the feet of team-mate Hannah Knighton, 14 seconds adrift of Vermeylen who would eventually out-kick six-time Holten champion Klamer for the win in an enthralling run that surged back and forth.

Knighton and Thornbury easily bridged the gap and completed the 20km bike in a seven-rider front pack before Thornbury held off Aussie Ellie Hoitink for the final step on the podium with a 19:19 split for the 5.5km run. Vermeylen, fresh from a bronze at the Krakow-Malopolska European Games earlier in the week, ran 18:39 while Knighton faded slightly to 14th with 20:55 split but can be proud of her race after finishing 11th in Wels.
Expectations had been high for Thornbury after she'd finished 6th at European Cup Kitzbühel to start her European campaign. But after the DNF in Wels, she tried to bottle the anticipation and just race. The bronze medal follows gold at Oceania Cup Mt Maunganui in April 2022 and silver at Asia Cup Ipoh (Malaysia) last November, underlining her ability to win in different environments.
"I had a great swim, making the front bunch comfortably. It was raining which made for a slippery bike course so I was cautious on the corners and the main goal was to make it through to the end of the ride upright," said Thornbury, taking up the story of her race.

"I felt strong all-round today even if I didn't quite have the run legs to go with the front two girls.

"I'm happy with my efforts and will keeping working to hopefully one day get myself on the top step. Overall, I'm really proud of getting third, it really means so much even if it is just a Conti Cup."