Images: Triathlon Holten
By Kent Gray/Triathlon.kiwi
In golf, there is a well-worn cliché that warns to be wary of an injured player, someone who shouldn't really contend given their physical ailments but who often gets up to win against all odds. We're not sure of Janus Staufenberg's ability to swing a club but we know for certain it takes more than a little road rash to keep this up-and-coming triathlete down.
The Dunedin-based Wanaka 23-year-old claimed a maiden elite title at European Premier Cup Holten on Saturday, edging Australia teen sensation Bradley Course by 11 seconds to continue his steady ascent up the Kiwi pecking order.
It was the sweetest comeback after a bike crash consigned Staufenberg to 44th place in Wels the previous weekend, a stinker as he'd ran to a jetlagged 9th in Kitzbühel a week before that and knew he had plenty of running in his legs.

RELATED: Thornbury caps a day she'll never forget with Holten bronze

As if Staufenberg's day couldn't get any better, partner and fellow Otago Medical School student Olivia Thornbury, who had DNF'd in Wels, claimed bronze in the women's race in The Netherlands, crossing the line just seconds after the men took the start hooter.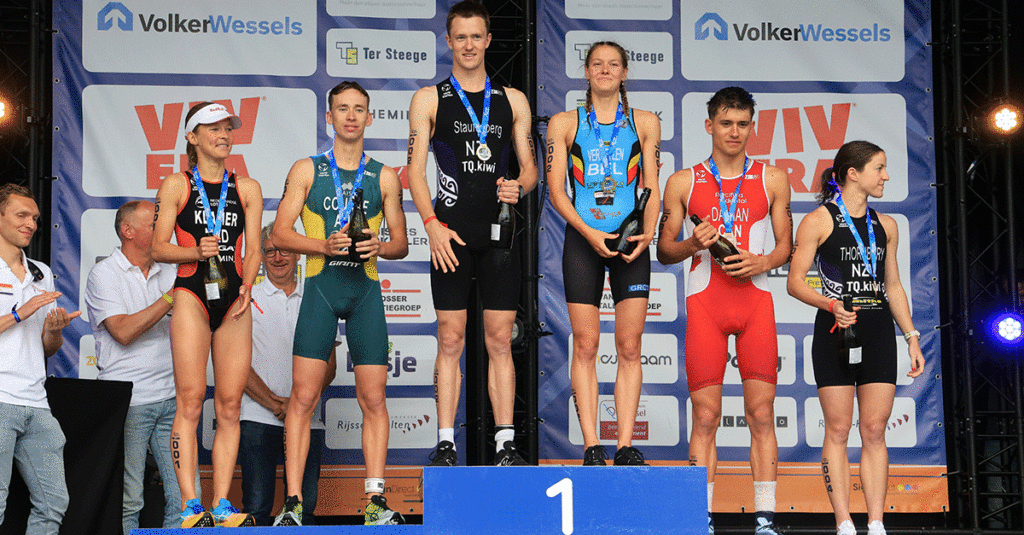 "We had to put Wels behind us quickly after last Sunday because sport, especially triathlon with all its uncontrollable, is tough at times, especially when you know you can be competitive up front," Staufenberg told Triathlon.kiwi.

"I had a few extra days out of the pool to allow wounds to heal and the body to recover after the crash. It was frustrating but had to be positive for this weekend."

Staufenberg is riding high on confidence just now. He hinted at his undeniable talent with second at Oceania Cup Taupo in February, pipped by Spaniard David Castro Fajardo in a photo finish, and was 10th at World Cup New Plymouth.

On Saturday he won the 750m swim, 20km bike and 5.5km run sprint in 53:49 with Kiwi teammates Trent Thorpe (54:24), Saxon Morgan (55:56) and Ivan Abele (56:54) claiming 9th, 38th and 48th respectively.
"I definitely took confidence from the New Zealand season and being ranked 2nd for the third week in a row has given me a positive mindset to know that if I am there off the bike, I'm in with a chance.
"Today had a real good swim, stayed out of trouble; the good ranking helps that. Being on Trent's feet out of the water is often an indicator you're near the front.
"On the bike, the number one goal was to stay upright. Slippery roads from the rain meant I was playing it safely, trying to take control by sticking around near the front of the bunch and away from trouble.
"On the run, all I had to do was back myself. Found my legs early and then I was keen to drive the pace and not leave it for a sprint finish."

Staufenberg gapped Course, the 19-year-old who won the recent Oceania Standard Distance Championship in Port Douglas, early on the run and held on with a 16:36 split. It wasn't the fastest 5.5km of the day – that belonged to Brit Hugo Milner who ran to 6th with a 15:59 – but Staufenberg's fourth best of the day split was still impressive and spoke to his relative control of the race from the bike onwards.

Next up is a fourth successive weekend of racing at World Cup Tiszaujvaros. He'll race in Hungary alongside Thornbury, Kyle Smith and Thorpe and will hope to crack the top 10 to better his best result at the second tier of global triathlon in New Plymouth in late March.

"I'm absolutely stoked to put a complete race together here where everything fell into place. Time to recover before we go again next weekend."