Images: Triathlon Club de Liévin
By Kent Gray/Triathlon.kiwi
Hayden Wilde wasn't scheduled to race, indeed he's in the midst of a big altitude training block at his new Andorra base with an eye to the World Triathlon Sprint & Relay Championships in Hamburg and Paris Olympic Test event.
But the lure of the French Grand Prix Triathlon Series, especially when it's "just a few hours' drive" away, proved too strong to resist. And as we know, when Wilde races, even when it's for fun/training purposes, he only knows one way.

Chalk up another win for the Kiwi No.1 then, this time in the second leg of the five-race Grand Prix de Triathlon series in Bordeaux overnight.

Representing his old Triathlon Club de Liévin, Wilde won the men's sprint race from a pair of Frenchmen, Maxime Hueber-Moosbrugger (Metz Triathlon) and the reigning World Triathlon Championship Series (WTCS) champion Léo Bergere (Saint-Jean-des-Monts Vendée Triathlon).
Fellow Kiwi Sam Parry, racing for Mach 3 Triathlon Club, was 34th in 52:39, good enough for 8th place in the U23 category.
Wilde's winning time was 50:34, four seconds clear of Hueber-Moosbrugger, but it hid the full story of the victory in a race that also included names such as Dorian Coninx (Poissy Triathlon) and Pierre Le Corre (Les Sables Vendée Triathlon).
The Whakatane flyer was 35th out of the water with reports suggesting he looked tired after only arriving in Bordeaux hours before the race. "The bags under his eyes when being interviewed before the race hinted at his fatigue," Tri-stats.com reported.

But with a trademark fightback on the bike and the fastest 5km run split of 15:30, Wilde was en-route to the top of the podium.

"Yeah, it was spectacular to see everyone here. That's the reason I do French Grand Prix is because of the people, the crowds are just amazing and I absolutely love it," Wilde said in a social media post.

"As I said before I wasn't mean to be here but I couldn't turn down [the opportunity]."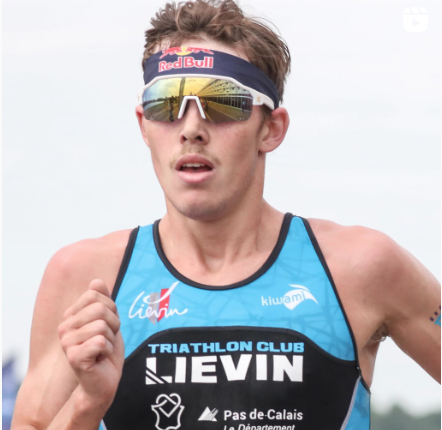 It is back to training now ahead of WTCS Hamburg from July 13-16. New Zealand will look to secure a start in the Paris Olympic Games Mixed Relay, and individual spots for two men and two women as a result, in Hamburg on July 16. NZL need to be the highest-placed team, not counting already qualified France and Great Britain, to achieve that.

Wilde will look to add to his recent WTCS Yokohama gold and WTCS Cagliari silver medals in the earlier individual race in Hamburg before his key target of 2023, the August 16-20 Olympic Test event, where a podium result, presuming he is not beaten by another Kiwi, will secure a nomination to the New Zealand Olympic Committee (NZOC).
For the record, Wilde's performance helped Triathlon Club de Liévin finish third in the teams' classification in Bordeaux where three of the team's five results count. Parry's Mach 3 team were 8th, with the Palmerston North 20-year-old's result the third counting score.