Photos: Delly Carr/Triathlon Australia


By Kent Gray/Triathlon.kiwi in Port Douglas
Nicole van der Kaay has etched her name into Oceania triathlon lore by capping a perfect summer Down Under in Port Douglas on Saturday, a famous fifth victory providing fresh impetus in the push for Paris.
The Taupo 27-year-old quite literally ran away with the Oceania Standard Distance Championship, a rinse and repeat strategy that has seen her sweep all five major races of the Southern Hemisphere summer.
Van der Kaay's win in 1:54:10 saw her beat Jaz Hedgeland by 27 seconds with fellow Aussie Charlotte Derbyshire 3rd a further 15 seconds adrift. Cambridge-based Aucklander Ainsley Thorpe, the Kiwi No.2, was 4th in 1:55:25.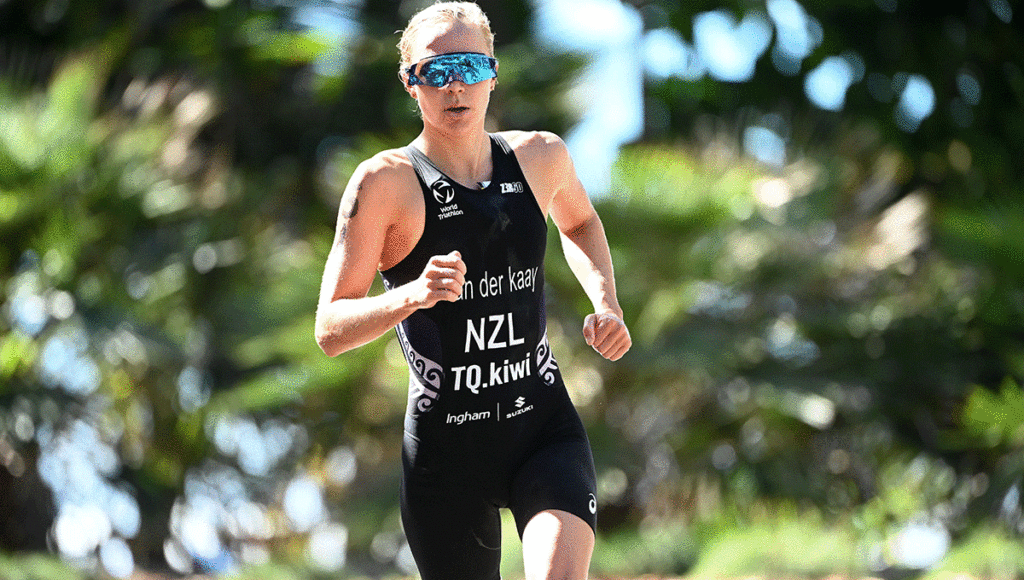 Canterbury's Brea Roderick and Tauranga's Hannah Knighton made it a three-medal day for the Kiwis in far North Queensland, 2nd and 3rd respectively behind Derbyshire in the U23 race run concurrently with the elite women.

Roderick was 6th overall and Knighton 8th while Sarah McClure produced one of her best races at this level to finish 9th in 1:59:22, and 4th in the U23 race.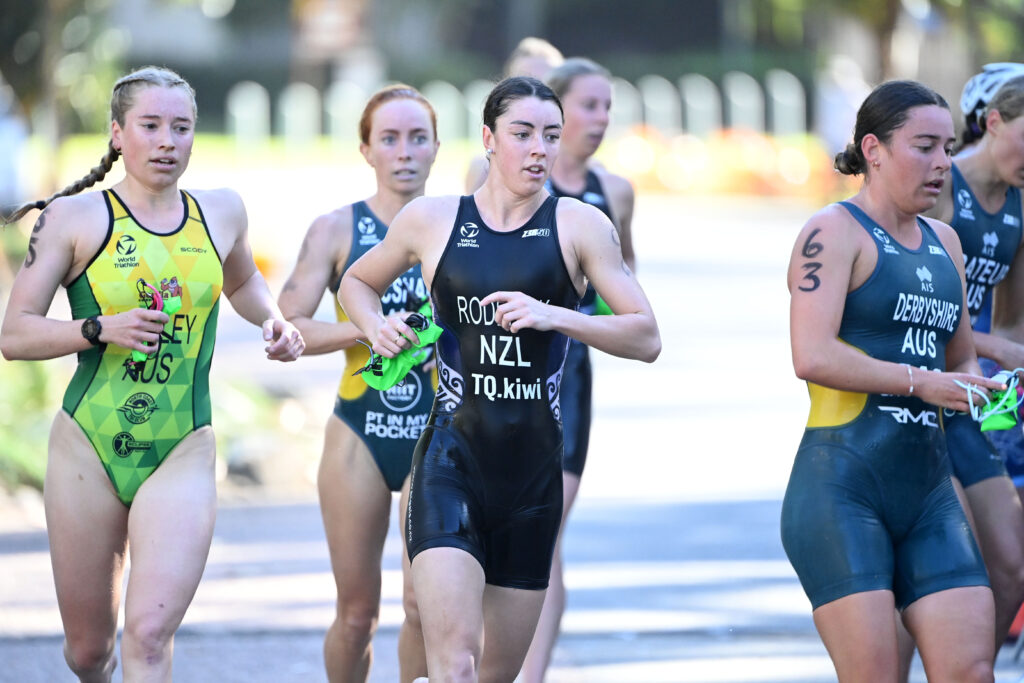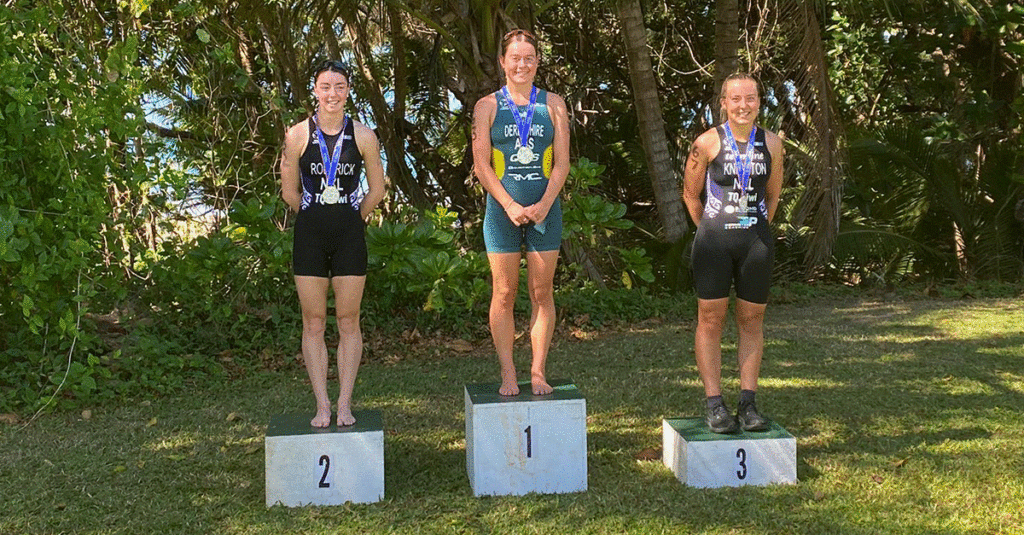 But this was van der Kaay's day. Indeed, it has been her summer with Port Douglas following increasingly impressive romps to victory at Oceania Cups in Wanaka and Taupo, the Oceanian Sprint Championship in Devonport, Tasmania and World Cup New Plymouth.

"Yeah to think a few months ago that I'd get all five, that would have been a dream so I'm really happy with that," van der Kaay told Triathlon.kiwi.
"It's a really good start to the year and I'm just going to keep working on the main goal [while I] keep ticking off the small ones."

The focus, of course, is nailing a nomination for next summer's Paris Olympics. That can be guaranteed with a first kiwi podium finish at the Olympic test event in August or via two top eights at the year's remaining World Triathlon Championship Series (WTCS) races in Montreal, Hamburg, Sunderland and Pontevedra.
She's got another Gold Coast training block before Montreal (June 24-25) and knows the trick now is translating her Oceania dominance into consistent success on the world stage.

Her WTCS season bow at Yokohama a fortnight ago didn't go to plan with a 27th place but all she can do is stick to the process and the strategic points along the way. In that regard, the Oceania summer is a massive confidence boost and ranking points haul.
"That's the first part ticked off, getting as many points as possible for the first qualification period and it sets me up good for the second half of the year.
"Now I go back to Gold Coast for a couple of weeks and prep for Montreal…and yeah working there with a few Australian triathletes and Dan Atkins squad and then I'll go for Europe from there.
"Yup, it's a really good start, I can't ask for better and I really hope I can keep this up and carry it on."
Her race Saturday went pretty much to plan apart from a slightly slow start off the beach.
"It was really hard to hear the start so I was actually quite late, I was on the left side [the horn was sounded on the right] so I had to run my way up to the front which… I love a beach start coming from a surf background, so that was great. Jumped on the leader's feet and just kind of just stayed there the whole way round so I was really happy with that."

The bike was a procession with van der Kaay left to push the pace in a group of 10 featuring Thorpe, Roderick, McClure and Knighton.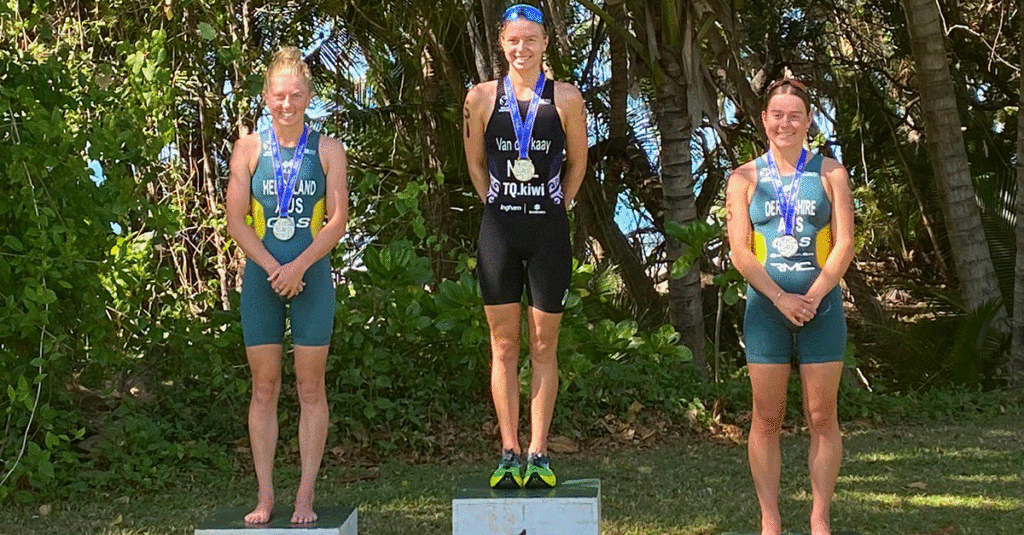 "Yeah, you get that at Oceania races. The depth isn't as big as European races obviously so, up on the front for most of it, very grateful for the few that did help, but I don't mind a hard bike course, it's not easy out there when you do go to the big races so yeah, I don't mind pushing a few watts."

As has become her trademark this summer, van der Kaay made her break early on the run. She eventually recorded a 34:06 split for the 10km, not too shabby in the heat and 23 seconds swifter than Hedgeland. Thorpe ran a 35:21.
"I've been feeling good running and again, I'm simulating what I'd do in European races so I went out hard, wanted to see what I could do and try and hold that and happy to come away with the victory."