By Kent Gray/Triathlon.kiwi in Port Douglas
We're unsure if any of the Australian triathletes lining up in the Oceania Standard Distance Championship on Saturday call Port Douglas home but it hasn't stopped a few locals getting into the heads of the Kiwis. And for frighteningly good reason.
The "Marine Stingers" warning signs are clear for all to see on Four Mile Beach and the uncomfortable joke about not having to fret over sharks – because of all the salt water crocs –  is doing the rounds.

In reality, the lumpy surf is likely to be main concern during the 1500m swim but expect adrenaline levels to be heightened all the same courtesy of the toothy and prehistoric locals ahead of the combined Elite/U23 men's (9am NZT) and Elite/U23 women's (10.20pm NZT) races.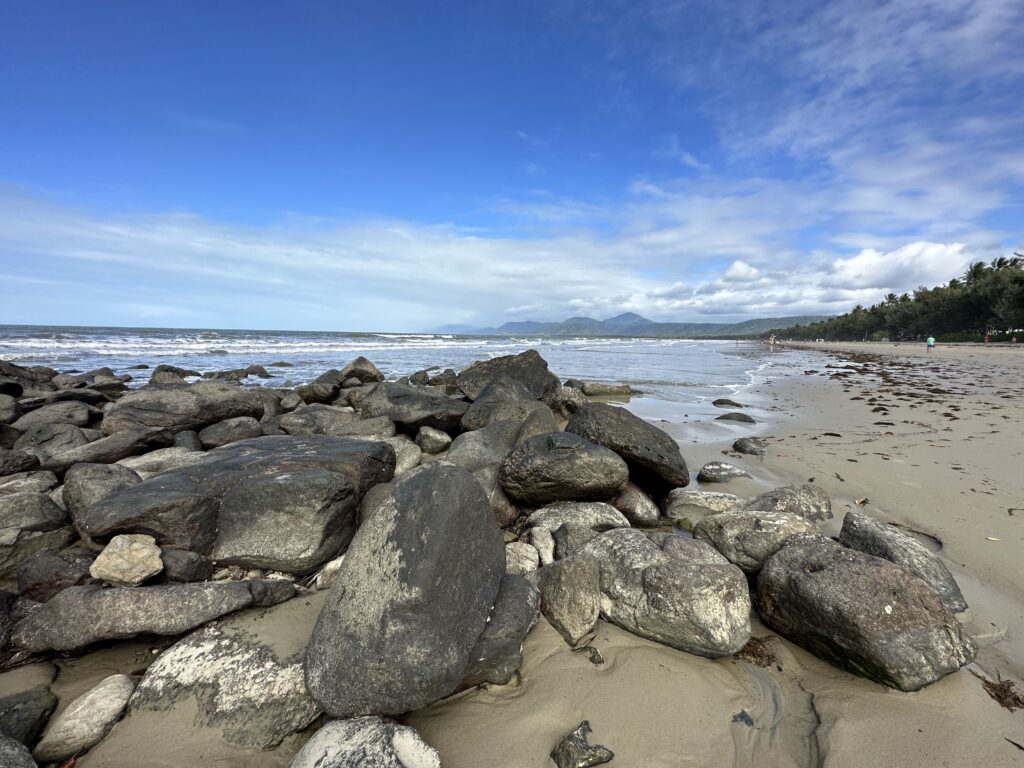 The Oceania championship is the climax of a fascinating trans-Tasman summer/autumn and, for the majority of the 19 young New Zealanders in North Queensland, a springboard stopover on Kiwi triathlon's great annual migration north.
With an eye to the bigger races in Europe to come, we explore five reasons why Saturday's races (don't forget the 40km bike and 10km run) are worthy of your attention:

Quick rebounds for NDVK and A. Thorpe?
There are only seven starters in the elite women's race which bodes well for Nicole Van der Kaay and Ainsley Thorpe, comfortably the Kiwis No.1 and 2 and No.1 and 2 seeds. Neither were happy with their 27th and 43rd placings respectively at World Triathlon Championship Series (WTCS) Yokohama a fortnight ago so will look to rebound in Port Douglas. The beach start to the aforementioned swim will suit van der Kaay who used her wading ability to make up for a fractionally slow start en route to victory at World Cup New Plymouth in late March. Charlotte McShane, coming in off back-to-back Asian and Oceania Cup victories in Subic Bay and Busselton, shapes as the key Aussie threat.
***
Reid v Hauser
Matt Hauser's kick for second behind Hayden Wilde in WTCS Yokohama on May 13 underscored the Aussie's growing global reputation. With the Kiwi No.1 racing WTCS Cagliari early Sunday (NZT), it will be up to Tayler Reid to provide the main Kiwi threat to Hauser in Port Douglas.
Both are strong swimmers but Reid lost more than a fortnight's training after picking up a virus post World Cup New Plymouth so is playing catch-up, witnessed by an uncharacteristically flat 31st place in Yokohama.
Trent Thorpe is the only other Kiwi in the 16-strong elite men's race and has been training the house down. It will be interesting to see how the Cambridge-based Aucklander fares against the likes of hot-in-cold Jake Birtwhistle and fellow Aussie Luke Willan.
***
Reid v McCullough
With 10 of the 24 starters, the U23 men's race boasts the most significant Kiwi contingent in Port Douglas. Dylan McCullough is the top seed and after his career-best 26th in Yokohama, will be hard for Aussie's Oscar Dart and Bradley Course to catch.
Indeed, the U23 race within the elite men's race shapes as an even more fascinating battle. Reid won't want to be pipped by McCullough like he was in Yokohama with the Paris Olympics looming ever larger on the horizon. After a topsy-turvy summer, the performance of Saxon Morgan will be closely watched in the U23 race. Can the Cantabrian emulate something close to the form that carried him to 8th at the U23 World Championships in Abu Dhabi last November?
***

Points count
While an Oceania title is never to be sniffed at, the reality for the big Kiwi names in Port Douglas is that Saturday is another stepping stone toward critical WTCS races later in the year. A nomination for Paris can be locked in by being the highest-placed Kiwi on the podium at the Olympic test event in August. Before that, the job can be done with a pair of top 8s at WTCS level, marking sprint races in Montreal, Hamburg and Sunderland as key dates for the likes of van der Kaay, Thorpe and Reid. The Oceania Championship, with its heightened ranking points given the standard distance, is therefore perhaps even more important for the next tier such as Morgan, Lachlan Haycock and U23 women's contenders Brea Roderick, Olivia Cummings, Hannah Howell and Hannah Knighton to enhance their ranking status. Not only will that help secure more European and World Cup starts in Europe, but also put their name in lights for future Games. It's not long till Los Angeles 2028 and closer still to the 2026 Victoria Commonwealth Games after all.
***
Swell Time & the Fear Factor
At the danger of overplaying the swim and the bitey locals angle, Saturday's dip shapes as more pivotal than normal. Ignoring the inevitable fear factor (good luck with that!), the Sou-Easterly wind has been steady all week in Port Douglas and is forecast to continue into Saturday morning.
Negotiating swells in excess of a metre could break the race up from the get-go. The other factor is the to wet suit or not to wet suit conundrum. The water temp on Thursday was a balmy 26 degrees Celsius which would normally convince some to go wetsuit-less. But we say take the advice of the locals, as per this sign as you enter Four Mile Beach…
Stay tuned to Triathlon.kiwi and Triathlon New Zealand's social channels or full coverage from Port Douglas on Saturday.