By Kent Gray/Triathlon.kiwi in Port Douglas
Matt Hauser's late-scratching has elevated Tayler Reid to top-seed status for Saturday's Oceania Standard Distance Championship in Port Douglas.
What hasn't changed for the Gisborne 26-year-old is the complexity of such a race scheduled in the midst of an Olympic Games selection cycle – where the immediacy of expectation butts heads with a longer-term strategic plan. But more on that soon.
Hauser has withdrawn as a precaution after feeling under the weather since his sprint to second behind Kiwi No.1 Hayden Wilde at World Triathlon Championship Series (WTCS) Yokohama a fortnight ago.
With Wilde now in Italy for WTCS Cagliari early Sunday, the key Kiwi narrative in Port Douglas was already centred on Reid and his increasingly absorbing battle with Dylan McCullough for the likely second Kiwi male nomination for next summer's Paris Games.

RELATED: Stingers, sharks and saltwater crocs + 4 other reasons Port Douglas is a fascinating finale to the Oceania tri season
That has only been amplified with Hauser's WD, although Jacob Birtwhistle and Luke Willian will no doubt step up in their countryman's absence to ensure plenty of trans-Tasman spice.
Still, from a Kiwi perspective, this is Reid v McCullough and mouth-wateringly so.
They're technically not in the same race even though they'll share the same start line and time – 9am NZT, for the record (the Elite /U23 Women are off at 10.20am).
Make no mistake though, as much as McCullough is gunning for the U23 title, the combined men's start means he'll be stalking Reid who has been a flatmate in recent weeks, first in a cosy Cambridge arrangement including U23 starters Lachlan Haycock and James Corbett, and more recently in a wider Tri NZ training camp in Cairns
Reid currently has the inside running for Paris courtesy of his world ranking, 45th compared to McCullough in 78th. Yet McCullough has momentum courtesy of that old adage about an athlete only being as good as their last race, a WTCS career-best 26th in Yokohama compared to Reid's 31st.
That cliché makes Saturday's race important even though the outcome will have little actual impact on the Paris selection conundrum besides any psychological shots fired.

Still, Reid is quietly determined to wrestle back the Olympic initiative in sunny Far North Queensland.

There were extenuating circumstances surrounding his performance in Japan a fortnight ago, namely a virus that cost him a good fortnight of training beforehand.
He had hoped he might surprise himself in Yokohama but ultimately knew he went in underdone courtesy of the virus which morphed into a sinus infection.
Cue a "disaster" of a race. It started with the "worst swim of my career, which is crazy" and ended with Reid finishing with Willan's chain ring tattooed on his left calf after a whoopsie entering T2 involving another Aussie, Brandon Copeland.
"It seems silly but at the time, when you are used to training three times a day, and when you're not training, doing heaps of active stuff, just sitting at home, it just feels like the end of the world," Reid told Triathlon.kiwi of his setback.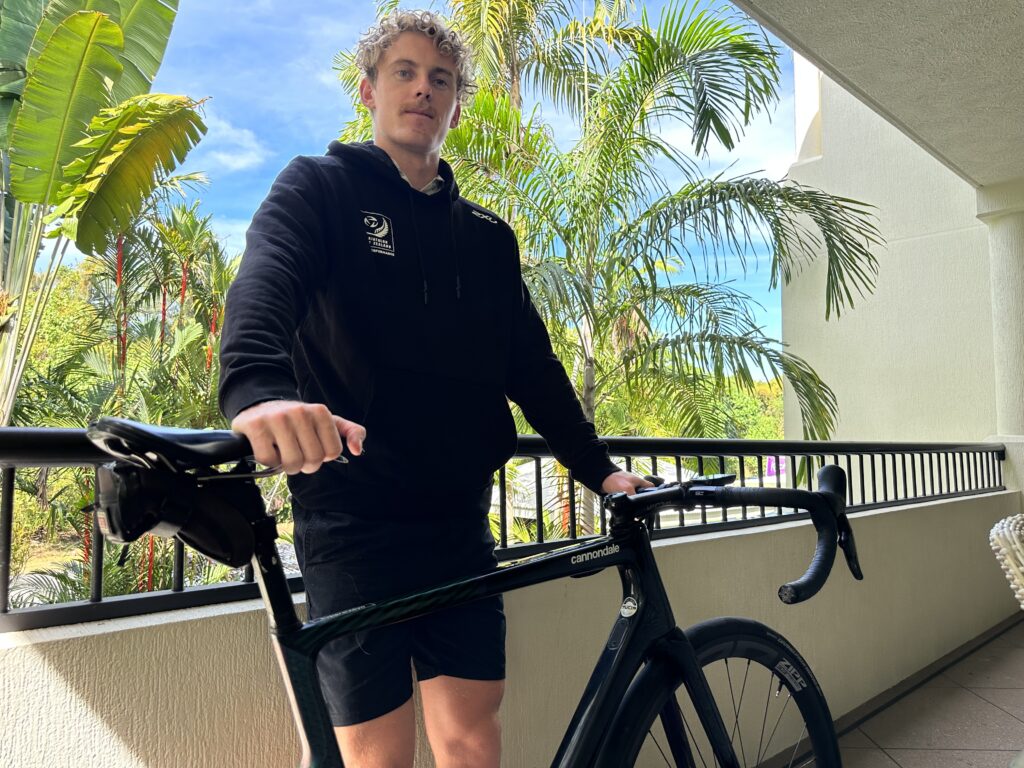 "I was obviously being a bit dramatic but that's just in your mind, like oh no, I'm losing fitness every day. I did actually lose a lot of fitness but it's getting close to being back to where I was pre World Cup New Plymouth [where Reid was 2nd to Wilde and ahead of 4th-placed McCullough] and yeah, I was really fit for that.

"It's still probably not quite where I was pre New Plymouth but it's really close so it's good to be back on track."

The problem is with Hauser out, the pressure to perform has only risen.
"Obviously I really want to be on the podium tomorrow. I think I'm capable of that," Reid continued, unaware at the time that Hauser was out.
"I've been really happy with the form, felt really happy with that whole race in New Plymouth, it just came together really well, felt strong all they way to the finish, yeah really happy with that.
"Unfortunately a little bit of a speed hump but that's just the nature of it. It's about how you overcome sickness and get back on track and now I'm just really focused on staying healthy and getting enough food and good food and sleep and rest and not missing any days anymore."

With the blue-riband continental title and a handy swag of world-ranking points on the line, there will be no holding back in Port Douglas. But while everyone at home wants you to win and you expect to podium as a minimum yourself, Reid still has more critical race dates swirling in the back of his mind.
Two top 8s in WTCS sprints in Montreal, Hamburg (super sprint) and Sunderland, and/or at World Triathlon's season finale in Pontevedra (standard distance) will take care of a Paris nomination, giving rise to Reid's extended view.
There's also the Olympic test event in August where the highest-placed Kiwi to podium will guarantee their nomination to the NZOC. Wilde has made no secret he covets that route and is in the type of form that suggests he just might lock it up.
So for Reid, the savvy strategic move is to target the shorter-distance races in Montreal, Hamburg and Sunderland.
"Definitely trying to hit some top 8s in those, yeah that's pretty much it, that's all there is to it," he said.

"The way to do that is to get really fit for them basically and no more getting sick, no more time off and yeah, just consistent big blocks of training and I think I can do that."

There will be a short Gold Coast training block in tandem with partner and women's favourite Nicole van der Kaay en route to Montreal. But before then, there's no getting away from the friendly fight with McCullough which goes again in Port Douglas.
"It's been really good training with Dyl in Cambridge, it just pushes us both up to our level and the other boys too, they've been training really well. It's been great to have that.

"I really enjoy it. It just takes away maybe the mental strain, it's just so much easier when it's social. You go out for a long ride, maybe four and half hours, but four and a half hours with your mates…yeah, you're pushing on the pedals but it's just enjoyable, or you've got a real hard session where you just go deep and you've got your mates there and they've got to suffer too.
"I love the saying, pain shared is half the pain. I think that's one a lot of people use but I really love that one, it's really true, it just makes it so much easier to hurt or even just go out and take off [training]. Some days it's just boring, you've got to tick off the same miles, run around the same loop again, but it's easier with mates."