Photos: Festak.com
By Kent Gray/Triathlon.kiwi
Race, race and race some more. That's Sam Parry's Covid catch-up game plan during an intensive 12-week, 10-race European schedule where he's prioritised gaining experience over results.

The great news is that the lanky Palmerston North 20-year-old is earning both in bucketloads, most recently by winning the Getaria Triathlon in Spain's Basque Country.
 The apprentice builder certainly got way more than he bargained for racing through the race venue's quaint cobbled streets last weekend.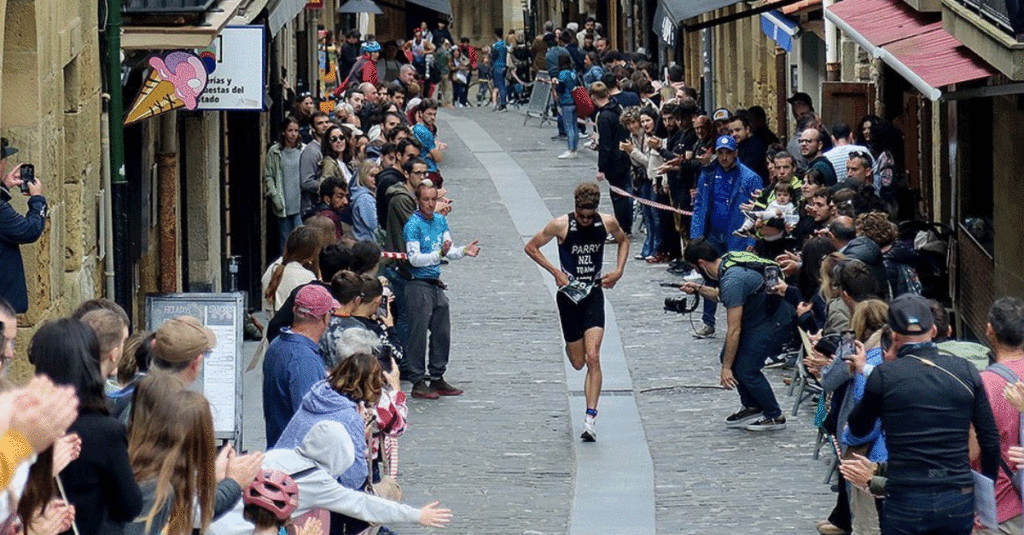 "I haven't experienced such an intense and enthusiastic atmosphere with the streets lined with thousands of people who are just so passionate about triathlon… super cool to win," Parry told Triathlon.kiwi.

"Just people for days on the course, it was like a constant adrenaline rush. Can't wait to experience that feeling again."

Parry doesn't have to wait long for the chance as his races are lined up thick and fast. There's more Spanish starts confirmed and a return to the young 'Mach3 Triathlon' team which has been promoted to the first division of the uber-competitive French Grand Prix circuit this season. Learning there comes standard, as it will in the next level European Cups he hopes to start including in Rzeszów, Poland on June 10.
"My Europe schedule is pretty full on but if you really look at it through the years of Covid we only got to race a handful of times over two years which has left us with an extreme lack of race experience," Parry said.

"So as my first year out of the junior ranks, I'm still a super young U23 athlete, it's the perfect time to rack up some experience that is going to be vital for when the time matters and I'm 21…22 and I need to start performing. So for now I'm racing for experience rather than performance."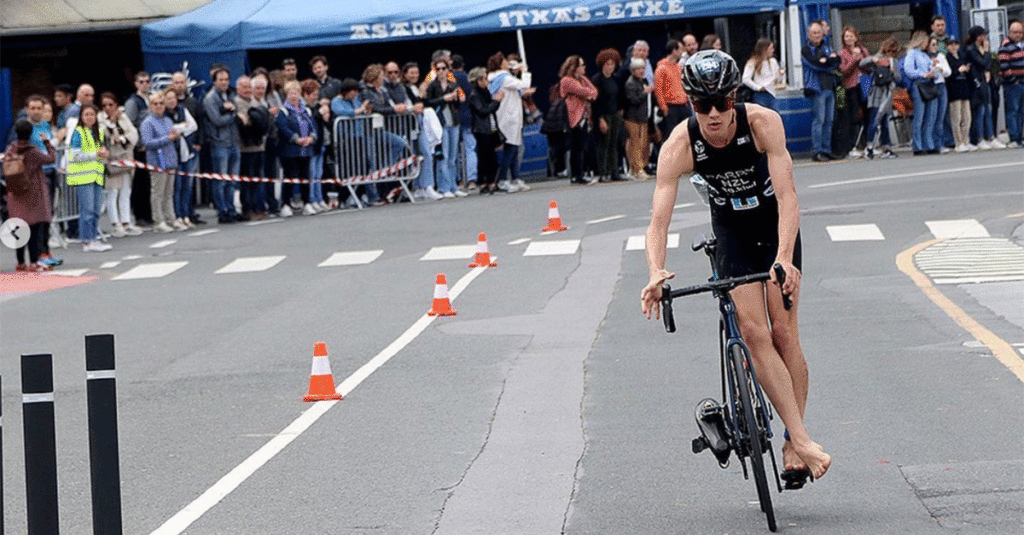 Parry was one of the U23 standouts during the Oceania summer, highlighted by 6th and 12th places at Oceania Cups in Wanaka and Taupo respectively. He was also 12th at the Oceania U23 Sprint Championships in Devonport, Tasmania, a result skewed by a dropped chain on the second climb of the circuit's imposing hill.

He was also an momentous 34th on World Cup debut in New Plymouth in late March. That was a "massive step up" and was part of a summer of Oceania experiences which clearly paid dividends in Spain last weekend.

"With over 300 people on the startline, I think there was a lot of variety in the people's abilities. Definitely some big hitters in there but also some just wanting to give it a go it seemed. I was pushed right until the en,  lets put it that way. Wasn't an easy win," Parry said.
"Wasn't quick enough to the startline so the first 300m, I spent navigating my way through the washing machine but ended up 3rd out the water in the end.

"Onto the bike it was straight into a 300m ascent over 3.5k. So I just settled into my own tempo and managed to go solo for the whole ride. With two kilometres to go I was being caught by two riders and they got the gap down to 20secs. Onto the run I just knew I had to settle into a quick, fast pace so they couldn't catch on to me too quickly, which is what I did. There were a couple steep punchy hills in the hill that zapped the legs a bit but such an awesome atmosphere.
"It felt like a constant adrenaline rush and made for a super fast run. Yeah, held off for the win and I'm stoked."