Images courtesy Hamish Collie
By Kent Gray/Triathlon.kiwi
Some results are more meaningful than others, sometimes for reasons that are not immediately obvious and often in races that might not ordinarily reverberate around the nation. Chalk up Eva Goodisson's bronze at Sunday's Marra Sprint Triathlon as one such precious medal.
The 24-year-old New Zealand rep continued her comeback from a nerve-related back injury with an encouraging effort behind Tauranga's Deb Fuller and Amara Rae at the final of Triathlon Tauranga's summer quartet of marquee races.
TQ Magazine feature: Eva Goodisson – Born to run tri
Fuller's victory and Aucklander Coen Anderson's place atop a men's podium featuring fellow juniors Joshua Gordon-Glassford and Finnley Olivier predictably jumped off the results sheets.

But Goodisson's 1:03:50 effort generated just as much attention. Her finishing position was largely irrelevant, so too the last of her splits for the 750m swim (9:35), the 20km bike (29:10) and 5km run (23:30) race. What mattered was the fact the Cambridge-based Havelock North athlete completed the run at all, clearly the toughest leg given the nature of her injury.
"Yeah, it was nice to have a race to finish," Goodisson told Triathlon.kiwi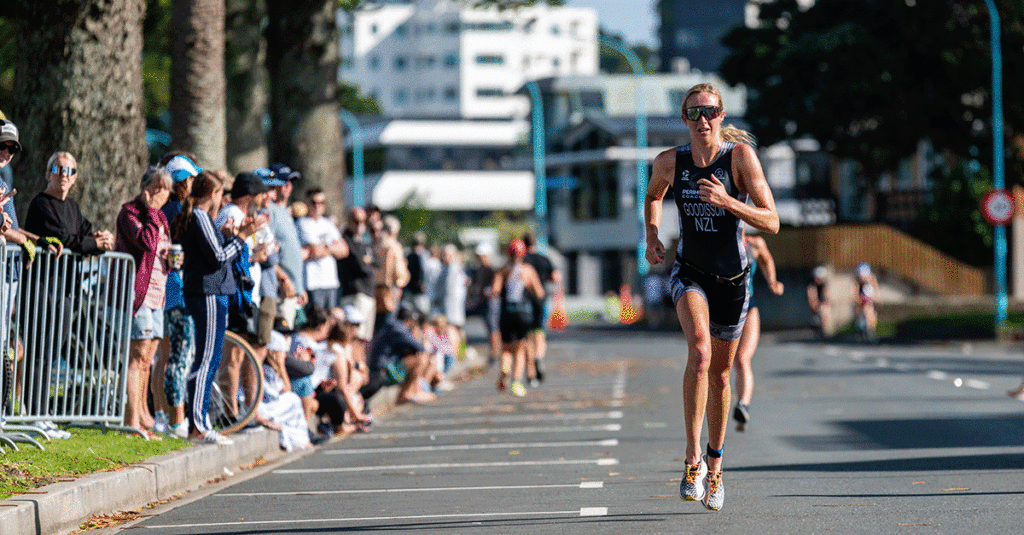 "Still a while off where I would like to be but I can see the pieces coming together. My swimming and cycling have come along really nicely and feeling good. The run is starting to get there too but unfortunately, this is an injury I can't speed up and have no choice but to be patient with."

Indeed, Sunday bodes well for the bigger races in the horizon as Goodisson looks to kick on from a breakout 2022 highlighted by her 7th and 11th places at World Cup Miyazaki and Valencia respectively and before that 24th at the World Sprint Championship in Montreal.
Goodisson lined up in last month's Oceania Cup Taupo and was competitive out of Lake Taupo and onto the bike before jettisoning from the race not long after T2. Look for more of the same at World Cup New Plymouth on March 26 before the Oceania Standard Distance Championship in Port Douglas on May 27 kick starts her year proper and the journey up to bigger races still in Europe.
"It's promising to see progress and I'm feeling a lot more positive about Port Douglas and the European season," Goodisson said.

"New Plymouth will be another good swim-bike hit out and chance to really push my cycling on that course. The run will be what I have on the day…I'm expecting nothing flash but hopefully, I can nab a couple points on the day. Port Douglas and Europe are the targets."
Fuller, for the record, won in 1:02:44 – 64 and 68 seconds ahead of Rae and Goodisson respectively.
Anderson's 56:33 effort saw him edge Gordon-Glassford (57:12) by 39 seconds with Olivier third in 58:09. Twin brothers Blake and Liam Miller, both off to the World Triathlon Multisport World Championship next month, filled 4th and 5th places in 58:57 and 1:00:21 respectively.