By Kent Gray/Triathlon.kiwi
No one was faster than Amara Rae or Will Taylor at the Suzuki New Zealand Sprint Distance Championship on Sunday, nor more inspired by what transpired at the Taranaki Triathlon Festival's showcase race afterwards.
Rae and Taylor took line honours in 1:10:32 and 1:00:28 respectively, technically wrapping up the 25-29 women's and 20-24 men's national age group sprint (750m swim, 20km bike, 5km run) titles.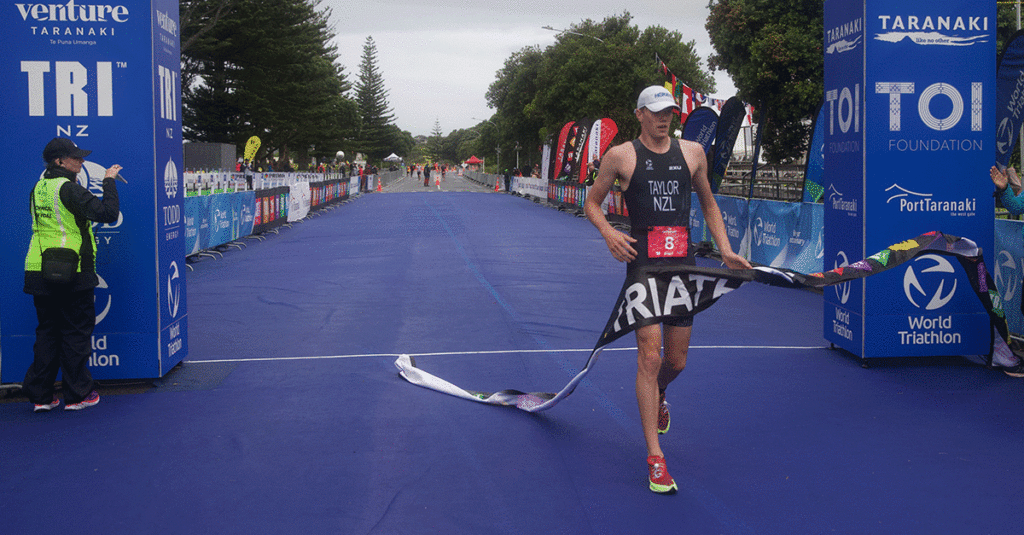 They then both savoured front-row seats to the Kiwi one-twos at World Cup New Plymouth. The Nicole van der Kaay-Ainsley Thorpe and Hayden Wilde-Tayler Reid double act was inspirational stuff for both Palmerston North 25-year-old Rae and Cambridge-based Cantabrian Taylor who aspire to race the World Triathlon circuit one day soon.
"I would love to. Maybe next year I'll be doing the World Cup and stuff," said Rae of stepping up to the big leagues.

"I only started triathlon two years ago so I haven't actually done that many triathlons so I feel like I need more of that base that I didn't get with U19 and U23 years.

"So I'm just trying to do as many races as possible. I've been doing local races as well as the Conti Cups the last couple of weeks, just to go through the motions and get experience that you can only get from racing. There's no amount of training that is going to prepare me to react and prepare for what it feels like."

Indeed, Rae has relished the chance to race at Conti Cup level the past two years. After a DNF in Wanaka, the Tammy Reed-coached, Manawatu Triathlon Club prospect was 23rd at Oceania Cup Taupo last month.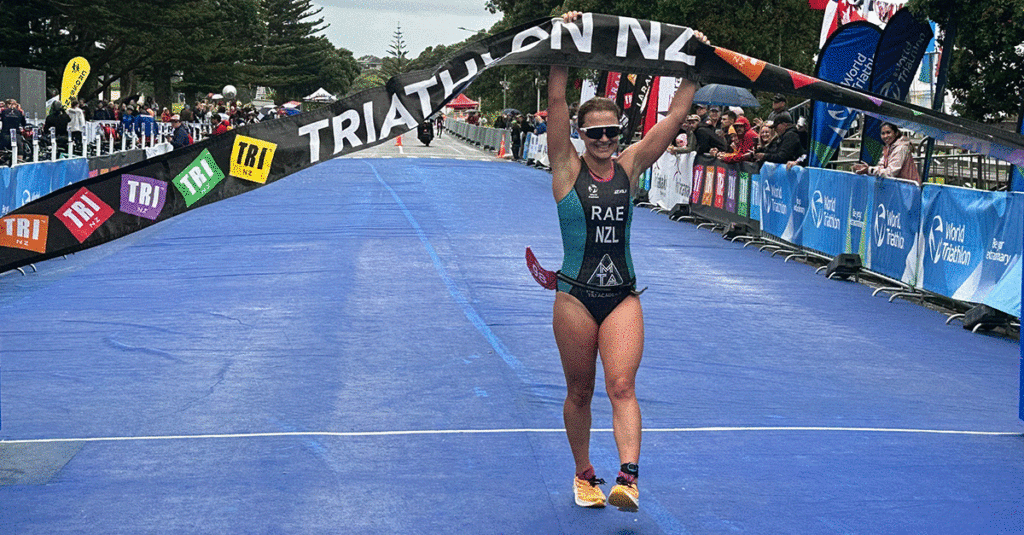 "It was a big step up for me. I did the Conti Cups last year but this year was at a whole new level because we had so many more people from overseas and the [Kiwi] girls have been performing so well so everything was a little bit scary. But it was so fun, such a good experience, you learn so much so fast, kind of sink or swim."
The swim on Sunday turned out to be unusually challenging with the age groupers getting the worst of the wet weather.
"It was so rough, you couldn't even really see the shoreline when you were in the water. There was someone [an official in high vis] waving around, thank god, because I couldn't see anything, I was just kind of looking for random people in front of me."

The greasy roads made the bike a "bit suss" too, but Rae "didn't wipe out so that was a win."
"There was a lot of places where I wouldn't normally brake that I felt like I really needed to brake, but you've just got to ride to the conditions, you can't go all ego central in that type of weather, it's just way too dangerous."
Rae led 20-24 age groupers Georgia Waghorn (1:12:40) and Sophie Shallard (1:14:02) home for the overall title in a useful build-up to the May 27 Oceania Standard Distance Championship in Port Douglas and a North American/European campaign beyond that.
 "That's really cool, I wasn't expecting that," Rae said of her victory.

"I actually wasn't going to come up and race this weekend, I've been feeling unwell the last couple of weeks but it was really cool to go out there and smash it out, it was fun."
Former Olympian and Commonwealth Games Mixed Relay medallist Ryan Sissons is coaching Taylor to bigger and brighter things. The 20-year-old was 29th and 35th at Oceania Cup Wanaka and Taupo respectively last month and is learning the ropes in a high-powered Cambridge training collective featuring Reid.
"I did the other two Conti Cups, didn't do amazing at those, just trying to build up on the swim and bike, but it's amazing experience, it really helps," Taylor told Triathlon.kiwi.

"Especially training with those boys all the time, it just helps tremendously, all the best guys like Dylan McCullough, Tayler Reid, Trent Thorpe, the top boys in NZ. It's been amazing, you can't compare training with people that destroy you every day, it goes a long way in the end."
Taylor led home Kieran Coates (1:01:30) and Christian Davey (1:02:22). "I think this year is just about [training] consistency, get stronger and next year I'll try to go overseas more and get some points, start building up," Taylor said.