Images Hamish Collie
By Kent Gray/Triathlon.kiwi
Natural talent. Raw speed. Race craft. Grit.

You need all those qualities and more to make it in elite triathlon and Luke Scott, not that long out of the junior ranks, has or is quickly gaining all the tools required to compete internationally.

The Palmerston North 21-year-old also has a secret power few gain until much later in their swim, bike and run careers, if at all. Gratefulness.

Scott's appreciation for his sporting lot has been hard-earned, even nauseatingly painful at times thanks to a bike crash in October 2021 that left him battling a serious concussion that originally went undiagnosed.
"40 [kmph] to zero will do that to ya," said Scott, recalling the scary moment he hit a temporary bollard on the side of the road during a training ride near the RNZAF Base at Ohakea, 22km west of Palmerston North.

"I looked behind, my mate had pointed something out, and as I looked back forward I just went straight into a temporary bollard."

Thankfully it was one of those bendy road markers and not concreted into place. Still, the crash would have long-term impacts that weren't immediately apparent as he raced back into racing.
"I didn't know I was concussed and from what I'd seen at high school, the rugby boys seemed to be able to get back into it pretty quickly so after the crash, I had a week, built back pretty quickly and got back racing within probably three weeks."

Until the headaches got progressively worse for the former Palmerston North Boys' High School star, that was.
"The lack of concentration, like I'd just jump from subject to subject. I struggled to eat a decent amount, I felt sick pretty much all of the time," Scott said of the symptoms that soon become all-to-obvious.
"The headaches were just the worst though. You'd be doing nothing and just get a headache even though you'd eaten and drunk perfectly fine. It gave me a lot of time to reflect and it's definitely a case of if anyone ever gets concussed, take it seriously because there are so many different degrees of it."
It wasn't until the following December that Scott was diagnosed properly. January was "pretty much a write off", the worst of essentially four months easing back to fitness.

It was a cruel career blow when combined with the earlier curve-ball that was COVID-19. Scott had been selected for the 2021 U23 Worlds in Edmonton, Canada but was unable to secure a MIQ spot so had to give up on that key development opportunity.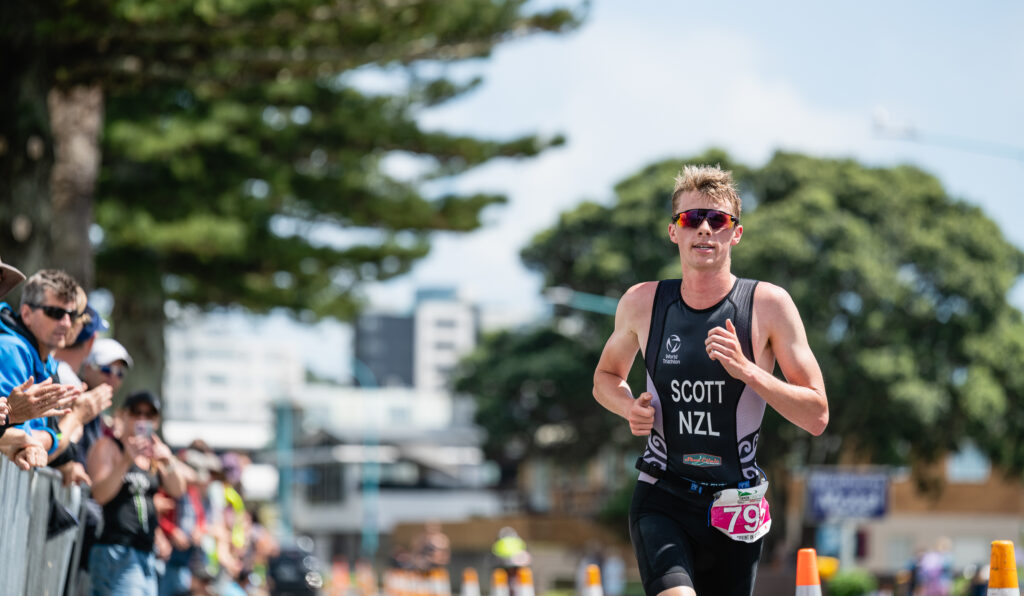 The bike crash put pay to any chance of competing at the 2022 edition in Abu Dhabi last month as well. Indeed, it wasn't until the Garmin Noosa Triathlon in late October that Scott returned to international competition, his first offshore race since securing bronze at the in the Australia Junior (U19) Championship in Devonport, Tasmania in early March 2020.
Scott's 17th place in 1:56:00 at Noosa, marketed as the world's largest standard distance tri, was a good line in the Queensland sand. He later turned it into a bronze medal in the sprint race behind fellow Tri NZ squad member Trent Thorpe and Canadian rep Josiah Ney at Tinman in Tauranga on November 20.
Scott lined up in Asia Cup Ipoh six days later, his first elite Conti Cup start, but just missed tagging onto the last wheel of the leading bike group by a matter of metres and eventually settled for a frustrating 19th place.
Combined, it's all good learning for 2023 where Scott hopes to finally make the U23 Worlds start line in Pontevedra, Spain. Before that ultimate standard distance test in September, he'd love to test himself as part of the wider Tri NZ squad in Europe.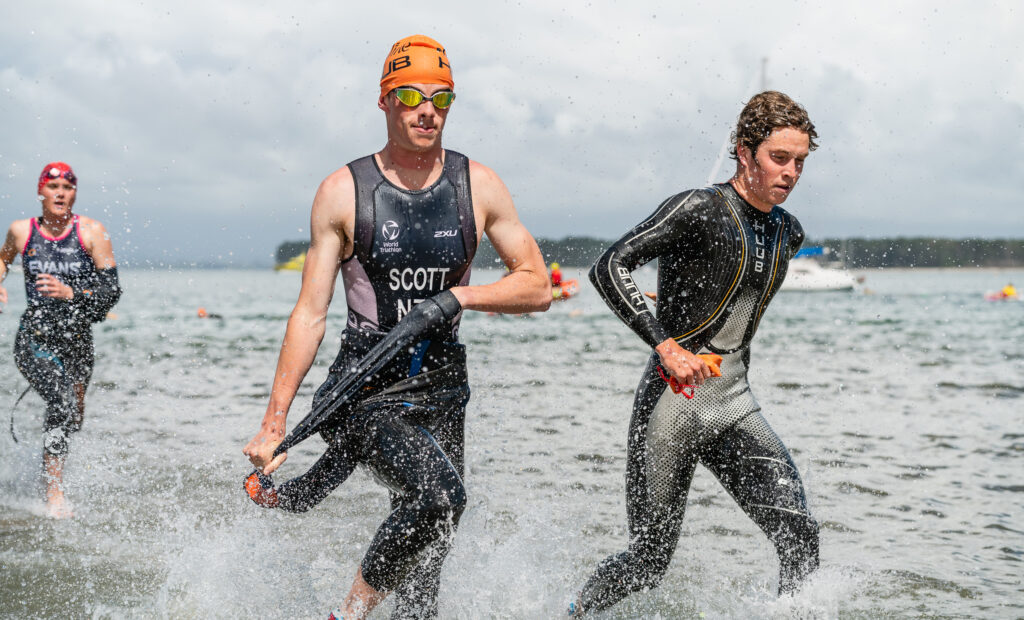 A Northern Hemisphere campaign is still a goal in the planning stages as the global calendar is finalised and funding targets chased, the latter via part-time roles as a receptionist at City Fitness in Palmerston North and a swim coach at Kiwi West Aquatics.
Scott is even assisting the next-gen, running weekly bike-run skill sessions for the Manawatu Triathlon Academy. There'll be a session on Thursday before Scott refocuses on his 2022 sign-off, the Manawatu Triathlon League (MTL) starting Friday.
Incorporating the second leg of the Tri NZ Junior Triathlon series, the unique format will find MTL champions in U13-16-19 and U23/Elite categories via cumulative times from separate cycling/run, swim/run, mile run and duathlon events over three days.
Scott will line up for the opening Toot Kit Palmy prologue at the Chris Amon Circuit at Manfield near Fielding on Friday evening as one of the key Kiwi hopes in the U23/Elite field. A strong contingent from the Australian Grand Prix Triathlon (AGPT) Series gives the MTL some tasty trans-Tasman spice and Scott a big-name target. Josh Ferris, third at Noosa and winner of the Asia Cup sprint in Ipoh, is the AGPT standard bearer.
"It will be good fun," said Scott. "Bar the prologue on the first day, there's a lot of technical elements that can be practiced. I've got a couple of ideas on how to potentially put myself in with a better shot than I would be normally so hopefully execute those and pull off a surprise result somewhere."

Wanaka's Tim Brazier, also coach to Tri NZ squad member Olivia Thornbury, has been responsible for helping Scott executive his race plans since March. Before that, Scott was guided by Manawatu stalwarts Tammy and Shane Reed, the latter of ITU and 2008 Beijing Olympic Games fame.
The passing of Shane on October 30 after a brave brain cancer battle hit Scott hard. Combined with the concussion battle, it reinforced his appreciation for the opportunities that lie ahead.
"I was with them [the Reeds] for four or five years and it just came and it just hit like a truck," Scott said of Shane Reed's illness.
"It's about being grateful as well because being concussed was by far the hardest experience of my life. You're trying to do the one thing you love to do day in and day out but you can't. So, it's like, just don't give up. "
Gratitude. For Scott, it's the secret sauce in the melting pot of personal and professional traits needed to succeed at triathlon's highest level. The Aussies have been warned.