Photos: Korupt Vision/Ironman Oceania
By Kent Gray/Triathlon.kiwi
Mike Phillips' renowned pedal power was to the fore again as he backed up his second Ironman New Zealand win three weeks ago with victory in Sunday's Ironman 70.3 Geelong.
The laid-back Cantabrian ticked off the 1.9km swim, 90km bike, 21.1km run in 3:40:00, 38 seconds clear of Adelaide's Steve McKenna, with Nicholas Free a further minute behind in third.
Phillips' victory came after he emerged from a ding-dong battle with Braden Currie to win Nutri-Grain IRONMAN New Zealand on March 4. The 32-year-old rode strongly in Taupo and almost too well again in Geelong, working his way up from 11th to the lead, then putting over five minutes into the chasing pack heading into T2.
"I'm pretty buggered, that was a pretty wobbly last 10km there, probably didn't help biking that hard but I'm stoked to win," said Phillips after a 1:14:36 half marathon split.
"I got a bit of an average start in the swim but I was surrounded by the guys I knew I'd come out with so I wasn't too worried and I thought my only chance was to take the opportunity on the bike, I thought a few might follow me but I had clear air straight away so I just got to work to get as much of a lead as I could."
Phillips knocked the 90km out in 1:58:53.
"I was pretty stoked to hear five minutes when I got off the bike, you do the maths in your head and work out how much slower you can run than them, it was definitely touch and go at the end," said Phillips.
"I'm pretty ruined now though, I said I'd have a break after this race, I'm pretty happy to shut it down for a few weeks now. It was awesome out there, it's a challenging bike course, nice swim and the run is quite challenging as well, it's not your stock standard run course, it's nice up and down the waterfront."
Melbourne's Grace Thek claimed the women's race in 4:10:10, almost two and a half minutes clear of 2019 winner Radka Kahlefeldt, with defending champion Lotte Wilms of the Netherlands third.
The victory has been a long time come with the Victorian finishing second or third at the event for the past five years.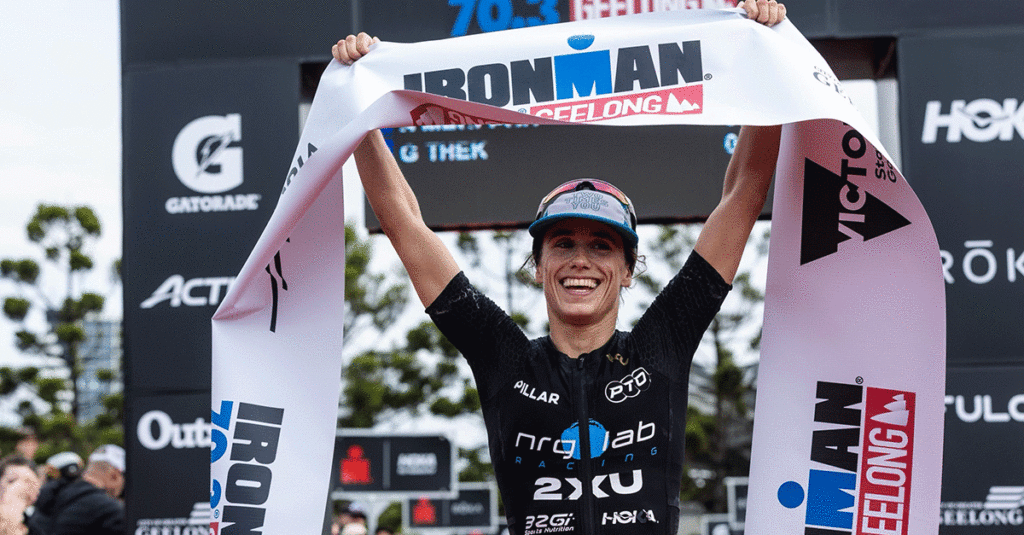 "Feeling pretty great, it was a long time coming, five podiums, finally got that top step this year to make my sixth race here in Geelong and I'm absolutely thrilled to take the win against a classy field of women," said Thek.
"It means a lot, I consider Geelong my hometown race. I'm from Melbourne born and raised and today was particularly special because I had my whole family here, my grandparents even came to watch for the first time, that was really exciting, I had my aunties here, my coach and so much support out on course from fellow Melbourne triathletes and that triathlon community."
IRONMAN 70.3 Geelong – Professional Results

Men
Mike Phillips – 3:40:00
Steve McKenna – 3:40:39
Nicholas Free – 3:41:47
Caleb Noble – 3:42:20
Kye Wylde – 3:44:07
Jack Sosinski – 3:45:24
Jarrod Osborne – 3:47:04
Mitch Kibby – 3:47:51
Matt Roberts – 3:52:12
Kevin Collington – 3:57:42
Women
Grace Thek – 4:10:10
Radka Kahlefeldt – 4:12:39
Lotte Wilms – 4:14:28
Renee Kiley – 4:21:48
Sophie Perry – 4:22:30
Penny Slater – 4:26:16
Kate Gillespie-Jones – 4:29:13
Stephanie Demestichas – 4:30:17