Images courtesy Canterbury Tri Club
By Kent Gray/Triathlon.kiwi
If Brett Clifford keeps rattling off age group results like he has the past year, the intention is to go pro towards the end of 2023 and see how far he can progress in mid and long-distance triathlon. No matter where in the world the sport takes him though, he'll always hold a soft spot for the short and sharp Sea2Sky Challenge on his back doorstep.
The 29-year-old personal trainer won Canterbury Triathlon Club's punchy and picturesque season finale on Sunday, edging OxMan champion Tom Somerville by 21 seconds over the 750m ocean swim and hilly 18km bike, 7.7km run course.

Clifford captured the Brad Richards Building-sponsored sprint in 1:22:30 with youngster Robbie White (1:23:40) rounding out the podium behind Somerville (1:22:51). Former New Zealand junior rep Kiri Atkin won the women's title in 1:31:18, good enough for seventh overall, ahead of Sophie Shallard and Georgia Waghorn.

Clifford has worked in the fitness industry the past seven years and in January opened his own mobile gym business, The Fit Hub. Among his clients is Tri NZ elite squad member Saxon Morgan who was 8th at last November's U-23 World Championship in Abu Dhabi.
Just over three years after taking up triathlon himself, Clifford has enjoyed considerable age group success, most recently winning the 30-34 category and finishing second no-pro at Challenge Wanaka. Before that, he raced the Ironman 70.3 worlds in Utah, was second in his age group and fifth non-pro at Ironman 70.3 New Zealand in Taupo last December and 13th overall at the stacked Tauranga Half in January.
Next up is Ironman 70.3 Geelong on March 26 and then, all going to plan, his debut over the full 226km distance at the Ironman Asia Pacific Championship in Cairns on June 18.
"The aim is to get my pro licence at the end of this year depending on results. Things are tracking well and I'm getting some results now and hopefully that keeps going, get some momentum and see what happens at the end of the year," Clifford told Triathlon.kiwi.

Clifford has enjoyed momentum in the Sea2Sky Challenge, finishing 5th last year after a bike mechanical produced a DNF on debut in 2021.
He was a minute down on White out of the water on Sunday ahead of the ride from Sumner, up over Evans Pass and along Summit Road out to Godley Head. Somerville dominated the bike leg with a 39:35 split, 21 seconds faster than White and nearly a minute quicker than Clifford. But Clifford backed himself as he began the run from Godley Head to Taylors Mistake before the gut-busting trails over Scarborough Hill.
"I was sitting third at that point and after we went through Taylors Mistake, the beach, I ran past the young fellah, Robbie, and asked what the gap was to Tom and he said 20 seconds so yeah, kept pushing. It's pretty hilly run course, especially towards the end, some really steep climbs and some fast, technical descending so I managed to get Tom in my sights with maybe a K to go and made a late push to go past him and turned around and he didn't come. I think the finish was 20 seconds in the end so left it pretty late but felt strong on the run so that's the main thing."

Clifford appreciated the hitout as he eyes Geelong.
"It's one of those races, because I specialise in 70.3, half ironman distance… it's nice to have a shorter, faster race just to kind of work on that threshold intensity and it doesn't take as long to recover as it does with a half," Clifford continued.

"I like racing there, just supporting the local triathlon club, Canterbury Triathlon, and it's pretty awesome because there's not many sea swims we get to do, so it's nice to have that element of the waves and stuff and then the climb straight out of the swim just adds to the intensity of the race.
"Then, you don't get much better runs in terms of scenery in New Zealand. I think that Godley Head Track is probably my favourite run in Christchurch to do so to race on that is pretty special."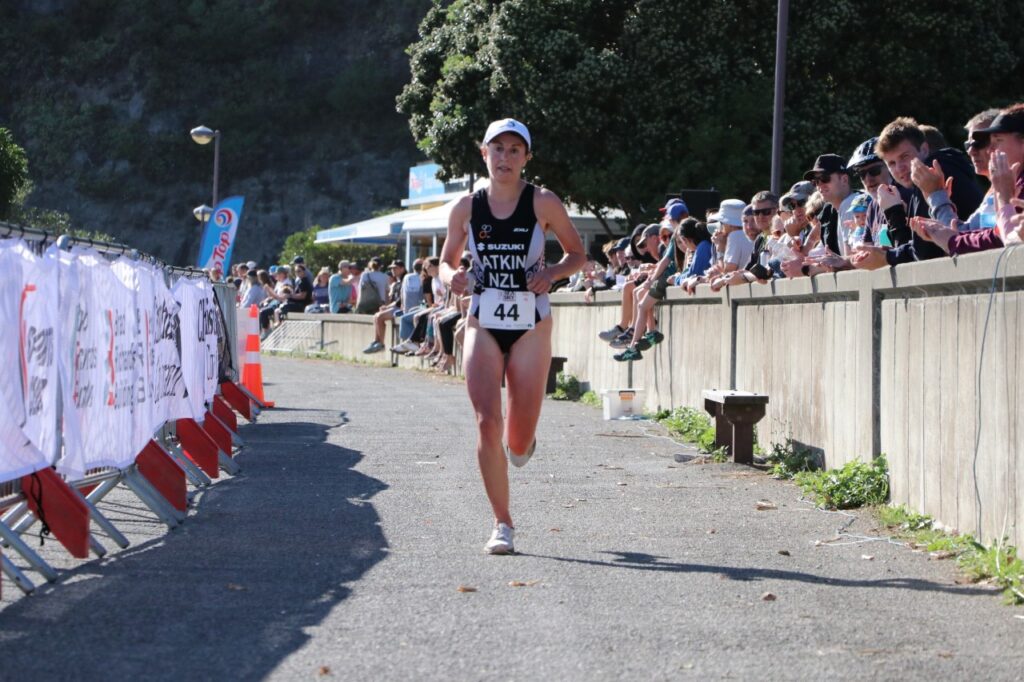 In a plot twist, Somerville later reported on social media that he'd stopped on the bike to help the then race leader with a flat tyre.
"A bittersweet finish at Sea2Sky Challenge yesterday. I finished second, just 21 seconds behind @brettclifford, after stopping for about 30 seconds on the bike to give the then race leader a spare tube. It might have cost me the race, but would have felt wrong to just keep riding," Somerville said.

Somerville was generous and typically funny in his tribute to eventual champion Clifford.
"Having said that, the way Brett ran, he may have caught me anyway. It was like a mountain goat vs an elephant on the steep and technical parts of the course."
Atkin, meanwhile, was third out of the water, 42 seconds down on Shallard and behind eventual fourth place getter Danielle Donaldson. She produced the fastest bike split of 43:14 – 1:50 quicker than 6th-placed Annabel Ramsay and 3:18 swifter than Shallard – to make her race-winning move and then sealed victory with a run split (37:13). It was a split bettered only by Shallard and then only by six seconds.

In the end, Atkin won by 2:18 from Shallard (1:33:36) with Waghorn 3rd in 1:35:27.