By Kent Gray/Triathlon.kiwi
New Zealand Technical Official (TO) Tony Sangster has had nigh on two decades of devotion and personal sacrifice rewarded with his selection to officiate at next year's Paris Olympic Games.
The 67-year-old Aucklander is one of 28 'TOs' confirmed by World Triathlon to oversee the individual men's, women's and mixed relay races at the XXXIII Olympiad, to be staged on July 30, 31 and August 5 next year respectively.
Interested in becoming a Tri NZ endorsed Technical Official? Click here!
Sangster will also officiate at the Paris test event this August 17-20 as a lead in to the Games proper. Fellow Kiwi Cathi Davey has been named as a reserve for both the Olympic Games and Paris Paralympics while Claire Hannan has been appointed to officiate at the 2nd ANOC World Beach Games Bali 2023 from August 5-12.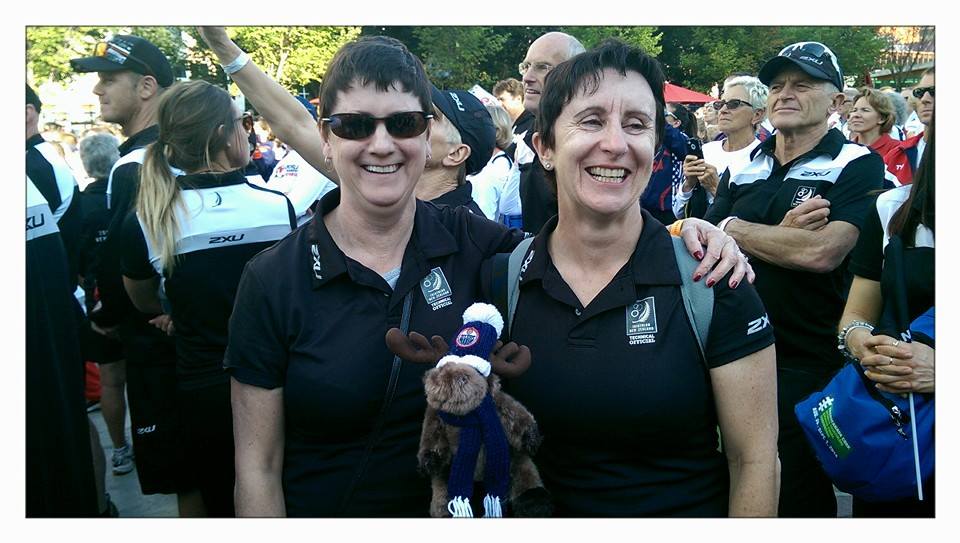 Sangster's selection is the "fulfilment of my career", not that he had any idea of where officiating would take him when he was convinced by Tri NZ Life Member Bruce Chambers, then Technical Director of the national governing body, to become a TO nearly 17 years ago.
"In the early days of being an official, it didn't even cross my mind how you got there but as you go through it and you go to events, it was a goal that I had on my 'this is what I really want to do list'," Sansgter told Triathlon.kiwi.

A career in business meant Sangster had to become efficient at juggling work and family commitments with triathlon, both as a TO and a competitor racing in Auckland City Tri Club colours.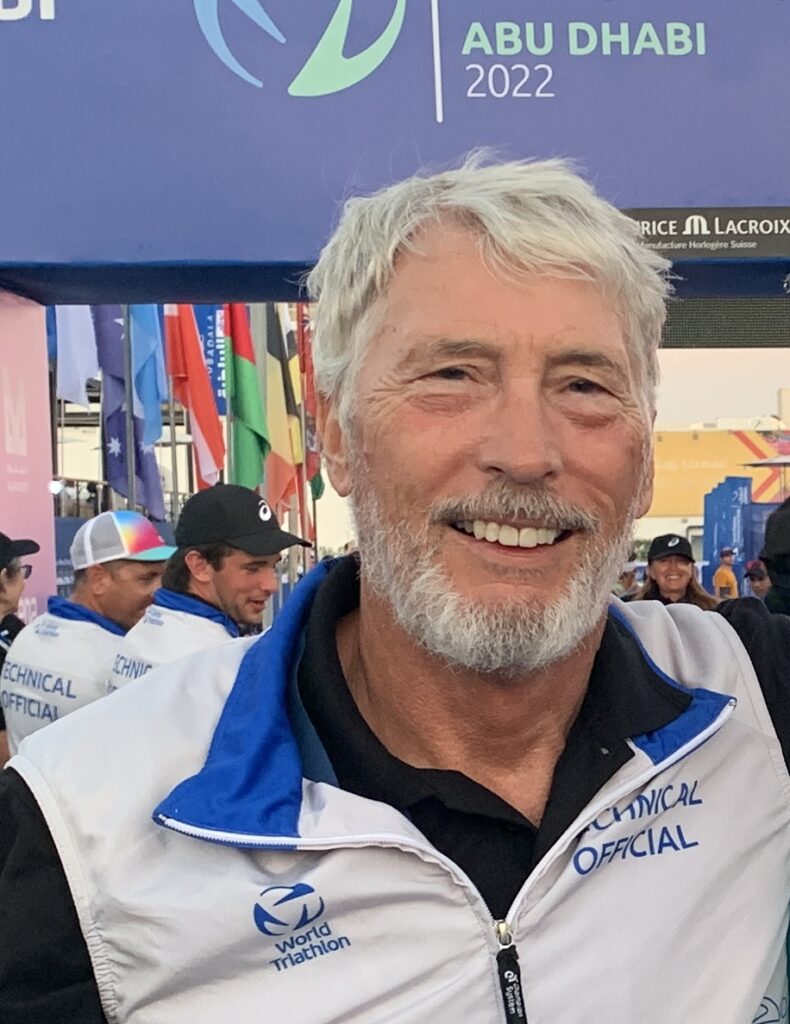 He's officiated all over the world as a result, including at the 2018 Gold Coast Commonwealth Games and at World Triathlon's season finale in Abu Dhabi last November.
"I've travelled extensively and I did all that while I was working full-time. So, you use up your holiday pay, you use up all the bits and pieces for the sake of the sport and obviously, it brings benefits, but also you've got to juggle it and be pretty focused.

"You've got to have a supportive family and also a little bit of understanding from work that you can actually take time off work when you need to go to an event or when you're appointed to an event."

Likewise, Sangster says having an understanding of what the athletes are going through has helped him become a World Triathlon Level 3 TO.
"I think being a technical official, you're a policeman but you're [also] a salesman. If you're officious, you're doing your job but you lose your rapport and respect of those around you and the athletes," he said.

"…I really get down on officious people. It doesn't work in corporate, it doesn't work in officiating but if there's rules and goals…treat everybody with respect, everybody with understanding and give the best you can for them because without athletes you have no sport and without technical officials you will not have triathlon.
"You know, you build those relationships, you talk to them, you understand where they're at, you know what they've gone through but you communicate that in a way that they understand why you are doing what you're doing and the need for it.

"At the end of the day, all racing must be fair, it obeys the rules and no individual athlete gets an advantage over another athlete regardless of the circumstances."

Sangster, still a member of the Institute of Chartered Accountants, retired a year ago but it doesn't mean life has got any slower. Far from it, now he's eyeing races to add to the five Ironmans, countless 70.3s, marathons and 14 Lake Taupo Cycle Challenge loops he's already ticked off.

Chances are he'll find races to both compete and volunteer at around his trips to Paris over the next two years.
"I've got enough gear I need to wear out before I go out in a pine box so yeah, I've got the gear, I've got the motivation, you know, knuckle down, working through the training and I'll be looking at a few events," Sangster said.

"Now I know about the Olympics I might rearrange what I was thinking through but yeah, if you don't go it, it doesn't get done and it's no use sitting on your arm chair just because you've got a couple of years on the clock."
International Technical Officials of the Paris 2024 Olympic Games
Maria Eugenia Micaela Arauz, ARG
Lyndell Murray, AUS
Fritz Schwarz, AUT
Ricardo Neves, BRA
Janice Turner, CAN
Keith Iwasaki, CAN
Zhiyang Ruan, CHN
Rolando Herrera Agon , CUB
Petr Muzicek, CZE
Miguel Alejandro Fernandez, ESP
Maisie Bancewicz, GBR
Uli Zierl, GER
Aggeliki Thoma, GRE
Györgyi Bodnár, HUN
Hideo Watanabe, JPN
Tomoko Oda, JPN
Alexei Kalinin, KGZ
Abdennour Rahmuni, MAR
Adele Cheah, MAS
Cinthia Quilo, MEX
Ivan Mihajlovski, MKD
Tony Sangster, NZL
Marie Josephine Zafra, PHI
Paula Maia, POR
Eva Blomqvist, SWE
Onur Şentürk, TUR
Paul Brandt, USA
Catherine Jennings, ZIM
International Technical Officials of the Paris 2024 Paralympic Games
Michael Thompson, AUS
Patrick Hendrickx, BEL
Patricia Adams Petty, BER
Yan Therrien, CAN
Nicole Tixi, CHI
Cristina Jimenez , ECU
Carmen Gomez, ESP
Kati Raudsepp, EST
Jaakko Mattila, FIN
Duncan Hough, GBR
Maryia Charkouskaya-Tarasevich, GEO
Jan Philipp Krawczyk, GER
Rebecca Mok, HKG
Zoltán Magyarosi, HUN
Sajad Bagherian, IRI
Yuval Raiz, ISR
Koji Koganezawa, JPN
Kyung Sook (Kitty) Kim, KOR
Jose Israel Vera Herrera, MEX
Joanna Pyrzynska-Figurska, POL
Adina Dusa, ROU
Beryl Campbell, RSA
Steven Teck Cheong Wong, SGP
Winston Crooke, SKN
Steve Espling, USA
Olga Blokhina, UZB
David Ellis, ZIM
Reserves of the Paris 2024 Olympic and Paralympic Games
Kelly de los Angeles Barrientos Hernandez, GUA
Byambaa Tsagaanbaatar, MGL
Peter Thygesen, DEN
Cathi Davey, NZL
Monica Flores, ESP
Houssem Felhi, TUN
International Technical Officials of the 2nd ANOC World Beach Games Bali 2023
Micheal Wise, AUS
Sze Yuen Leo Mo, HKG
Mohammad Kazem Hojaji, IRI
Satoshi Hanai, JPN
Peak Sun (Suzanne) Tang, MAS
Claire Hannan, NZL
Siew Yee Ng, SGP
Yelena Kun, UZB
Reserves of the 2nd ANOC World Beach Games Bali 2023
Bei Wang, CHN
Jaewoo Lim, KOR