By Kent Gray/Triathlon.kiwi
The Kiwi sextuple for the first of World Triathlon's four key Mixed Relay (MR) races in 2023 has been named as the sport speeds towards next year's Paris Olympic Games.
Hayden Wilde, Nicole van der Kaay, Tayler Reid, Ainsley Thorpe, Dylan McCullough and Olivia Thornbury have been selected to race at World Triathlon Championship Series (WTCS)-Montreal on June 25.

The six will be whittled down to four for the rapid-fire mixed relay, at the discretion of the Tri NZ selection panel, after the individual sprint (750m swim, 20km bike, 5km run) races in the Canadian city the previous day.
Today's announcement comes after a historic day for Kiwi triathlon at World Cup New Plymouth on March 26 with Wilde-Reid and van der Kaay-Thorpe claiming a gold-silver double-double.
McCullough came close to giving NZL a clean sweep of the male podium with a close 4th in Taranaki while Otago Medical School student Thornbury was the next best Kiwi female in 9th after earlier top 5s at Oceania Cup sprints in Wanaka and Taupo.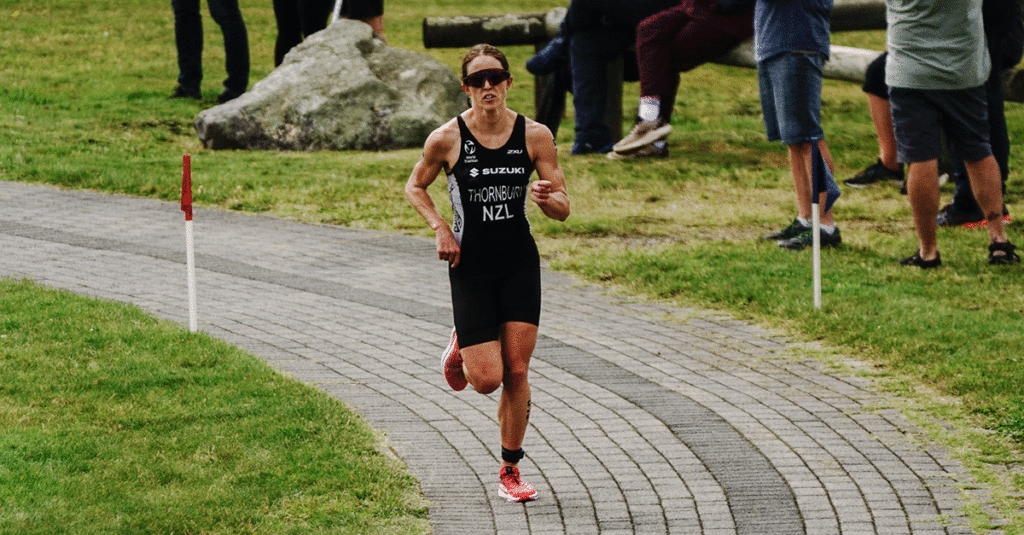 Montreal is the fourth of seven WTCS events in 2023. World Triathlon's premier series has three Mixed Relays tagged to it in 2023: Montreal (June 25), Hamburg (July 16) and Sunderland (July 30). There will also be a Mixed Relay dress rehearsal on the final day of the August 17-20 Paris Olympic Test Event.

Hamburg doubles as the World Triathlon Sprint and Relay Championship and has long been targeted by Tri NZ as a key date on the global calendar with an eye to the XXXIII Olympiad. With an automatic spot in the Mixed Relay at Paris '24 up for grabs, and two male and two female spots for the individual Olympic Games races as a result, the Hamburg Mixed Relay will be one of the most intensely fought races of the year.

For context, the winning team from last year's World Triathlon Sprint & Relay Championship, coincidently staged in Montreal, was France. As hosts, they're already locked in for Paris '24, meaning the available Olympic qualification spot rolled down to second-placed Great Britain. As a consequence, the highest-placed team in Hamburg this July, discounting France and GRB – even if they were to occupy the top two steps of the podium – will qualify for Paris.
If NZL cannot snare that spot in Germany, the key is to be inside the top six nations in the official World Triathlon Mixed Relay Qualification Rankings at the March 25, 2024 cut-off, again disregarding France, GBR and whichever nation qualifies in Hamburg. NZL are currently seventh behind GBR, France, Germany, Switzerland, Australia and the United States and will look to bolster that position of relative comfort, in addition to working on team tactics, in Montreal.
Given the sporadic nature of Mixed Relay events, every opportunity for ranking points and combination building is critical in the lead-up to Paris. It makes Montreal, Sunderland and the Olympic test event equally important points-gathering events, essentially insurance against NZL being unable to automatically qualify in Hamburg.
Anything can happen in triathlon and especially in the male-female-male-female team event, as evidenced at the Oceania Mixed Relay Championship held on the sidelines of Oceania Cup Taupo in February. There, the NZL 1 team of McCullough, Thorpe, Reid and van der Kaay were on track to win only for Reid to cruelly puncture on the penultimate leg. The NZL II team of Janus Staufenberg, Thornbury, Trent Thorpe and Brea Roderick duly capitalised to clinch the title ahead of Australia.
Wilde, van der Kaay, Reid and the recently retired Andrea Hansen were 4th at the Birmingham Commonwealth Games in July, the last major mixed relay New Zealand competed in.

Before that, NZL finished 4th and 5th at last year's World Sprint & Relay Championship in Montreal and WTCS Hamburg respectively.

New Zealand has only won once at elite mixed relay level, the final event of the then ITU World Triathlon MR Series in Edmonton, Canada in July 2019. That team? Wilde, van der Kaay, Reid and Thorpe.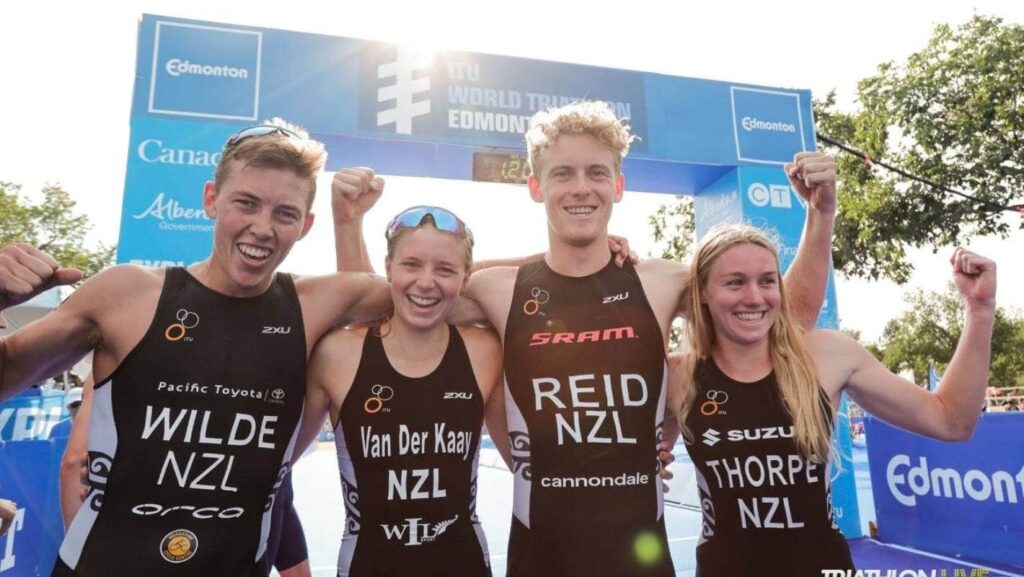 The focus before Montreal will be on individual racing at WTCS Yokohama (May 13) and Cagliari (May 27). Wilde, Reid, van der Kaay and Thorpe are all confirmed starters for the former in Japan while it is likely Wilde will be the only Kiwi to race the latter as Italy's WTCS leg is on the same day as the Oceania Standard Distance Championship. As many as 26 Kiwi triathletes will line up at that key continental event in Port Douglas, many of them enroute to European summer campaigns.
Wilde, third overall last year, has ground to make up after a frustrating, puncture-impacted 46th placing in Abu Dhabi to open the 2023 WTCS in early March. The Kiwi No.1 quickly rebounded with his convincing win at World Cup New Plymouth and will be determined to at least podium in Yokohama with British rival Alex Yee, a decisive winner in Abu Dhabi, set to bypass the second round in Japan.
The next elite race on the global calendar featuring Kiwis is Oceania Cup Busselton which is approximately 230km south of Perth. McCullough, Henry McMecking, Oliver Larcombe, Angharad Llewellyn, Natasha Bowyer and para-athlete Kurt Peterson have all entered the sprint distance race on April 28.