By Kent Gray/Triathlon.kiwi
Weather outside frightful? Then why not let the virtual world be a delightful training distraction to race through the long winter months?

Tri NZ's popular eSport Race Series, a boon for those looking for a little online competition to stay motivated ahead of the next triathlon summer, is set for its 4th season.

Every Wednesday from May 3 to June 7, the national body will host races for men and women in a fun-focused, Zwift-powered environment.
The mix of Individual Time Trials (ITT) and Scratch Races over 20-30km courses will be streamed live on the Tri NZ Facebook page each week and will include sprint and climb bonuses – known as First Across Line (FAL) and Fastest Timed Segment (FTS).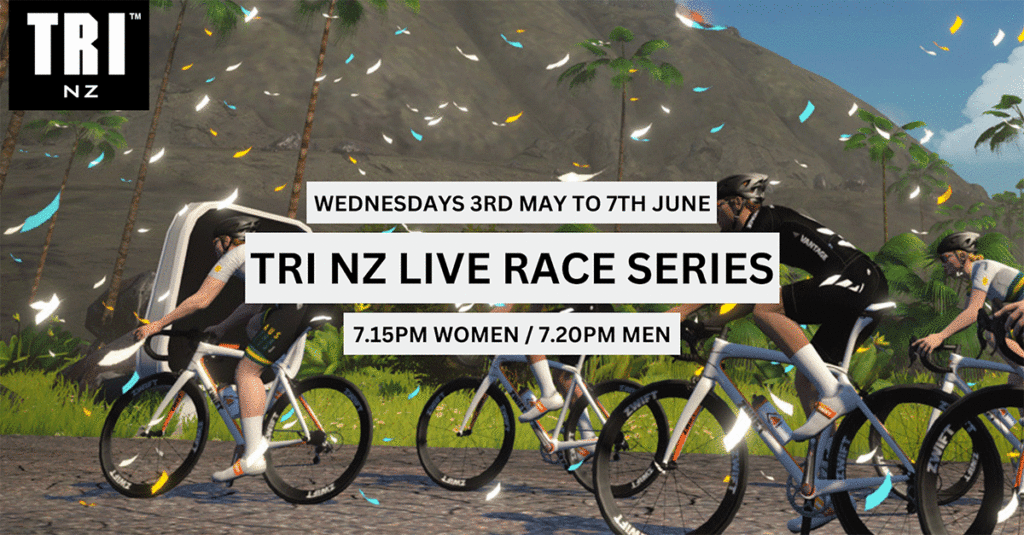 The six-race series will crown individual men's and women's champions across four ability-related divisions (A,B,C and D) with a rider's four best results to count. There will also be club and coach rankings to up the fun factor and keep those locked away in pain caves virtually connected with friendly foes across the triathlon country.
You can plan your racing schedule at the official Tri NZ eSport page HERE – it includes all the event links and race details.
Race there now to register for the season-opening 'The Muckle Yin' – a 25.14km scratch race around a virtual Scottish landscape. It's set to go at 7:15pm (women) and 7.20pm (men) on May 3.

You can also get into shape for the Tri NZ eSport Series with Tri NZ-coached training sessions every Monday from April 17. Stay tuned to Tri NZ's social media channels or follow THIS LINK for the first training session on Monday, April 17 (7.15pm).

Tri NZ's Youth Hub Race Series is also set to return in 2023. To be held every second Thursday from May 11, the series is open to anyone U23 racing either out of Tri NZ Hubs around New Zealand or on their own private Zwift setups. Youth Hub courses and formats will be announced shortly.

Email Tri NZ's eSport advocate Anna Russell at anna.russell@triathlon.kiwi for further information on either series.
Still need a nudge to get involved? Check out Race 4 of last year's series here: