Simon Dawson Photography
By Kent Gray/Triathlon.kiwi
Kyle Smith says he is happy to help pal Hayden Wilde in any way he can en route to hopefully fulfilling his own Olympic Games dream.
The Taupo 25-year-old takes a huge step up in his comeback to short course triathlon at the World Triathlon Championship Series (WTCS) opener in Abu Dhabi on Friday night where he'll race alongside Kiwi No.1 Wilde. The sprint distance feature (750m swim, 20km bike, 5km run) will be screened live on Triathlonlive.tv from 10.44pm, after Ainsley Thorpe flies the Kiwi flag in the women's race from 8.44pm.
Smith produced eye-catching silver medal and 4th place finishes at Oceania Cups in Wanaka and Taupo the past fortnight, edging current Kiwi No.2 Tayler Reid in both sprint races.
With Reid and Dylan McCullough opting to bypass Abu Dhabi, Smith has jumped on a start in World Triathlon's blue-ribband series as he looks to make up for lost time via the richest sources of ranking points in his quest to qualify for the XXXIII Olympiad.
Speaking to Triathlon.kiwi post-Taupo, Smith agreed WTSC Abu Dhabi would be "good to find out where we are, it's a bit of a line in the sand, no pressure and if I can help Hayd's out in any way that I can on the bike, or to bring him to the front…obviously in the Grand Final [last November's 2022 WTCS season finale] he just missed that split so hopefully if I can fill some of those gaps, that would be awesome."

Smith's response triggered a conversation around a semi-permanent domestique-style role, so common in cycling and a key French strategy in leading Léo Bergere to the World title in Abu Dhabi last season as Wilde finished 6th and drifted to 3rd overall in the WTCS standings.
"It definitely opens the option," Smith said. "That sort of model hasn't worked in the past but Hayd's one of my best friends and you know, say for example if I'm not in a position to run for a medal, I'd rather see my best mate get a gold medal than both of us get in the top 10. So, yeah, I'm definitely open to that option of being a domestique to Hayden.

"But like I said, I've owed no favours [with regards to qualifying for Paris] so I've got to do it my own way, clean and fair and if it gets to the start line in Paris, or it gets to WTCS Grand Finals and Hayd needs a helping hand, then I'm going to be there for him."

Surely only if you can't win or medal yourself?

"Yeah, exactly but there is a reality to, there is a reality where like, you can be optimistic and positive thinking but ah, you know if you're standing on the start line with a 15-minute 5k and the guys are running 14 minutes, you just have to put the maths [together] and you can't hope for miracles. Like I say, I'm there to win myself, but if you're starting on the start line and can help your best mate win, there's nothing better than that."

Friday will be just Smith's second start in World Triathlon's top flight series. He was called in as a late reserve for the then ITU Edmonton in 2019 and the late prep showed in a 35th placing.

He's hopeful of a much stronger showing in the UAE capital after finishing second to Luke McClusky in Wanaka and then having a better swim in Taupo, albeit not being able to find that "extra half of a percent you need to go with" eventual medallists David Castro Fajardo, Janus Staufenberg and Luke Willian. The one advantage he does have over the majority of the field is two early season starts.

"Yeah I think so, it's just those teething problems early in the season, when you start getting into it, there's just a couple of little things that you sort of mess up positioning-wise and riding in a bunch that you've missed all winter. And obviously we've done two of them now which is good. Those transitions are super important so I'm looking forward to Abu Dhabi. Hopefully, we can get there and just have that extra percent on the run hopefully," Smith continued.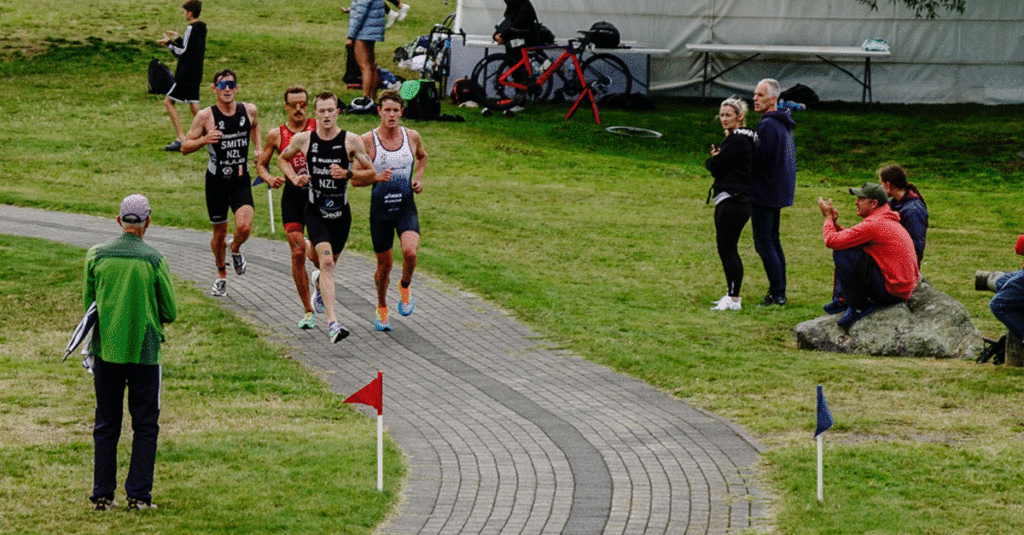 What are you expecting from the obvious step up in calibre?
"It's different because WTCS I think they're a lot more rounded athletes. So generally speaking, they're obviously exceptional swimmers and…but I think at Conti Cups you get a few cats amongst the pigeons, they've got really, really good swimmers who maybe have a weakness [elsewhere] or you've got really good swimmers who are really good on the bike or really good runners who are coming from behind, whereas WTCS are all at a similar level and you kind of know what to expect.
"Generally speaking the race is a lot more cleaner too. The experience, they sort of know that fighting in the swim is counterproductive so…but obviously the step up is massive, they can really run fast so it's just another step up on the run scene to what this weekend [Taupo] has been.
With Olympic qualifying for Paris nearly already halfway done, Smith knows he has to start amassing ranking points and in a hurry.

"That's the thing. Obviously stepping away from it for a couple of years to give long course and give Ironman a go and then coming back, I was fully aware that I'd have zero points and I'd have to start at the beginning.

"I'm so fortunate Tri NZ got me the start at Abu Dhabi to try and get my foot in the door there and earn some decent points but yeah, I've owed no favours like none of us is. We've got to come back and do it from the bottom I guess which is cool
"Hopefully get as many points to get on the WTCS start lists and hopefully we can get three of our boys ranked in the top 30 and get three spots to the Olympics which would be cool."

That, on the current rankings, looks unlikely. A more likely scenario has NZL earning two male and two female spots via Mixed Relay qualifying, ensuring a fight for the No.2 male spot behind Wilde who has targeted automatic selection by being the highest-ranked Kiwi on any step of the podium at August's Olympic test event in Paris.
Whether that transpires and whether the Whakatane/Maltese Falcon has a domestique in his corner in Paris, Smith or otherwise, remains to be seen. What is guaranteed is a fascinating start to WTCS 2023.