Simon Dawson Photography
By Kent Gray/Triathlon.kiwi
Ainsley Thorpe finds herself an unwitting poster girl for the early season form and ongoing geographical challenges faced by New Zealand's globe-trotting triathletes as World Triathlon's blue-ribband series begins on Friday where it ended last season.
Thorpe is the sole Kiwi in the elite women's field for the World Triathlon Championship Series (WTCS) opener in Abu Dhabi, set to be streamed live on Triathlonlive.tv from 8:44pm NZT.
The Cambridge-based Aucklander has had to overcome two significant hurdles in the countdown to the sprint (750m swim, 20km bike, 5km run), the first a confidence-knocking DNF at Oceania Cup Wanaka on February 17, the second a late, long-haul flight to the UAE capital.

At least Monday's journey was made a little easier by a confidence-boosting Oceania Cup Taupo silver medal behind Nicole van der Kaay on Saturday. The 25-year-old also had a  strong Oceania Mixed Relay Championship leg, albeit in a last place cause after Tayler Reid's untimely puncture.
Thorpe can also draw on the strong memory of last season's WTCS finale in Abu Dhabi where she finished 25th to van der Kaay's 48th at Yas Island.
"Yeah, last week I had lots of personal things going on, I wasn't in the right head space and that affected my overall performance," Thorpe told Triathlon.kiwi of her Wanaka DNF at last Saturday's Oceania Cup Taupo.

"So …I had lots of support to help me get to where I should be and it was great to have, a number of people help me get on the start line ready to race this week and the result showed I am in form and that I am ready to race Abu Dhabi."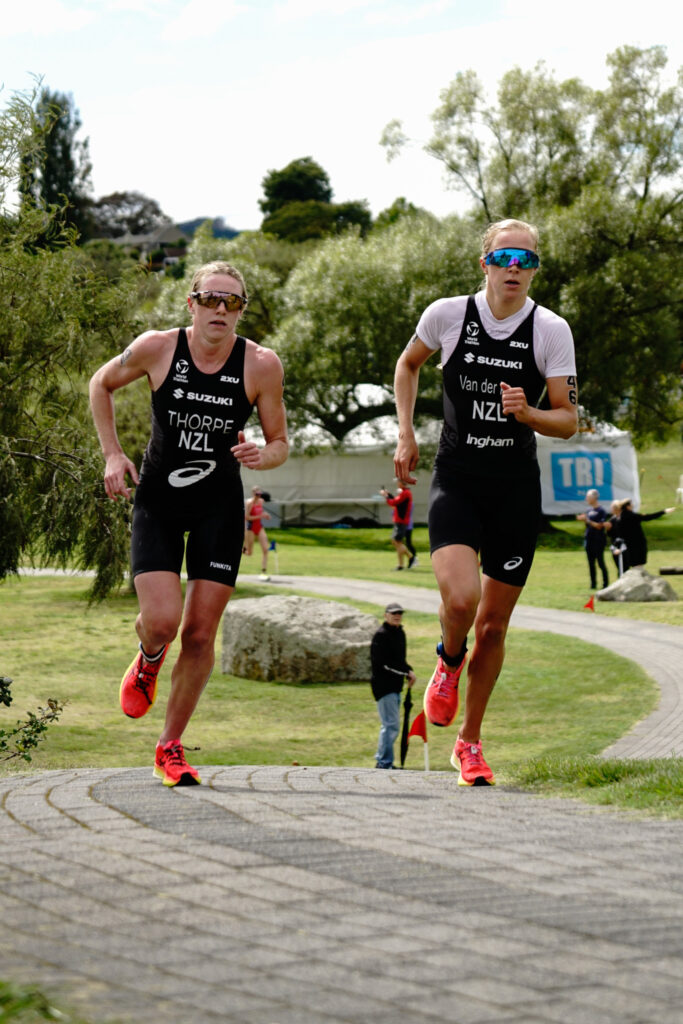 "Maybe it was meant to be not racing [in Wanaka] and just having one race and then Abu Dhabi so I wasn't overly tired, or just ready enough to go into it."

After crashing out of the Tokyo Olympic Games and then being ruled out of the Birmingham Commonwealth Games with an 11th-hour bout of COVID-19, Thorpe has a lot of unfinished business in 2023.

Her 19th place at WTCS Montreal last June and particularly her run to 6th at World Cup Tangyeong  in South Korea in October where pointers to the Kiwi-female best showing at the WTCS Abu Dhabi on November 26.

Her shoulder-to-shoulder run with van der Kaay in Taupo's Four Mile Bay before the Kiwi No.1 outkicked her at the finish was also a timely confidence shot. Van der Kaay eventually won the sprint in 1:00:17, two seconds clear of Thorpe whose 18:12 split for the 5km run was bettered only by van der Kaay (18:05).

"I had a really good T2, I just got a massive gap and somebody yelled at me 'go now, go now' and then five seconds later my coach goes 'slow down'. So yeah, I got a really good head start and just waited for Nicole to catch me, tried to stick with her and took a bit of the head wind with her out the back.  
"She put on the pace the whole way and it was a really good run from both of us."

Kiwi No.1 Hayden Wilde and comeback kid Kyle Smith will line-up in the men's race, set to go live on Triathlonlive.tv at 10.44pm on Friday NZT.