Simon Dawson Photography
By Kent Gray/Triathlon.kiwi
New Zealand predictably won the Oceania Mixed Relay Championship on Sunday – in about the most unpredictable way imaginable as triathlon's rapid-fire team format delivered lashings of drama.
Conventional wisdom had the NZL 1 team of Dylan McCullough and Olympians Ainsley Thorpe, Tayler Reid and Nicole van der Kaay waltzing away with the title, especially as Australia were essentially fielding a development team in Taupo.

But it matters not how hot a favourite, how fast or far ahead you are if one of the quartet suffers a mechanical, the cruel fate that befell Reid as he jumped onto his bike as NZL 1's penultimate looper – only to discover he had a flat rear tyre. Within a flash, the handy lead NZL 1 enjoyed vanished as first Trent Thorpe and then the six other males on course whizzed by, Reid in hot, barefoot pursuit pushing his punctured chariot.
Trent Thorpe's NZL 2 team – including Janus Staufenberg, Olivia Thornbury and Brea Roderick – capitalised on their compatriots' misfortune, comfortably beating the Aussie foursome of Jayden and Luke Schofield, Ellie Hoitink and Charlotte Derbyshire. But even then, the victory wasn't without a few heart palpitations for anchor Roderick who had to serve two penalties on the final 1.5km run.

The first 10-second stop-go was pinned to Thorpe for not correctly binning his wetsuit in T1, the second on Roderick after the Cantabrian mistakenly racked her bike in the wrong position in T2, fooled by an identical pair of shoes owned by one of the Aussie's that she mistakenly streaked away in.
It was a dramatic finale to a race where Tri NZ's HP team will take an 'all's well that ends well', glass definitely half full but plenty of work to do view on proceedings.

There was an initial fear that only the nominated NZL 1 team could take the continental ranking points on offer, so critical in a big year of Mixed Relay racing as NZL eye the most efficient route to ensure four individual places at next year's Paris Olympic Games. Fortunately, it turns out any of the seven NZL teams racing could take points in a first team of any nation across-the-line scenario.

"It was kind of nice to have a slight break in the middle of the run but two penalties in 1.5k's is quite a lot," Roderick said afterwards.

Luckily you had a decent gap back to Derbyshire and didn't have to sweat on the penalties too much?

"I was still definitely panicking but I just had to run hard knowing I'd get a 10-second rest and then go again for another lap, but no, there was definitely panic," Roderick continued.

"We definitely didn't expect this but it is awesome. It would have been nice to be with Nicole [van der Kaay] and hopefully keep up with her for as long as I can but unfortunately they got a puncture.

"There was so much drama today across all teams, there was a million penalties, heaps go wrong but it's how we deal with it that matters."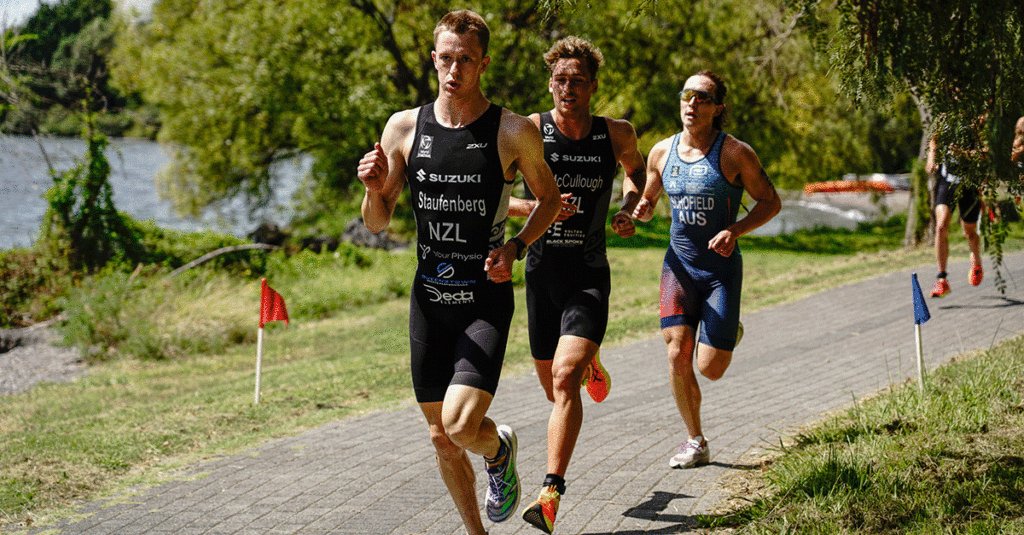 Indeed, the Oceania MR Championship was an invaluable learning experience, especially for those who don't often get to race the team format.

"The majority of us don't actually do mixed team relays because only six people get selected for the worlds series [World Triathlon Championship Series] races. I haven't done a mixed team relay in three years so for a lot of us this is just a good opportunity. Hopefully, we get more opportunities from this."

Reid also hopes to get more MR chances tagged onto WTSC meets in Montreal (June 25), Hamburg (July 16) and Sunderland (July 30). Hamburg doubles as the World Triathlon MR Championship and New Zealand can seal their spot for Paris – and four individual places as a result – by being the highest placed nation not counting already qualified France and GBR.
Reid was forced to run almost the entire first lap – all 3km of it – in bare feet pushing his bike to get to triathlon's equivalent of an F1 pit garage where a replacement wheel was fitted. The race was over before van der Kaay got stuck into the run but there was no way Reid was going to have a DNF tagged to the team.
"I'm really disappointed because Dylan and Ainsley really put so much effort to it and then for me to have a mechanical failure and the whole team's work go up in smoke in 10 seconds, yeah, very disappointed to bring the team down unfortunately.

"I was trying to run on the grass where I could, not to destroy my feet but…we got round, I got pretty tough feet and mentally, more for the team, but even if I was racing for myself I don't want to have that option of pulling out, I feel like that is a bad thing to have in the back of your mind. The only way for it to stop hurting is to go faster and get across the finish."
Reid knew the moment he mounted his two-wheel steed that something was amiss.

"I jumped on and I was hoping…but nah, I knew straight away. Took a couple of pedal strokes and thought, oh shit, it's flat and then I was like, keep going, thinking of what to do…"

The only option was to run back around to the transition area and hope a replacement wheel was handy.
"Pulling out is not an option so jumped off, ran around the bike lap and Janus [Staufenberg] was kind enough to give me a spare wheel. Didn't have a back brake, so just a front brake the whole way around but one break and two tyres were a better combination than before. Finished off and tried to have a good run because I've been waiting around all afternoon to do a hard race.

"I love doing the relay and hopefully I'll try and do as many as I can this year. I think relay is something that, yeah, super strong and super love to do and hopefully get in a lot more this year. We've had some pretty good success at it, so…"
The NZL 1 team of Benjamin Airey, Hannah Prosser, Finnley Oliver and Sophie Spencer finished second in the Oceania Junior Mixed Relay Championship to the Australian 1 quartet of Thomas Feldmann, Rhianna Hepburn, Bradley Course and Gabriella Jackson.