Simon Dawson Photography
By Kent Gray/Triathlon.kiwi
With another metre, Janus Staufenberg reckons he definitely could have taken Spanish star David Castro Fajardo in the epic photo finish to Saturday's Oceania Cup Taupo race. The Otago Medical School student settled instead with putting himself firmly back in the frame for the Olympic Games, the only blurry bit being whether that's Paris next year or editions beyond.

World No.36 Fajardo claimed the sprint distance title in 54 mins flat, the same time afforded Staufenberg although the 29-year-old Spaniard timed his last-gasp lunge millimetre perfect.
Still, Staufenberg wasn't sniffing at silver, not after last weekend's frustration in Wanaka where he battled to ninth after becoming entangled in a crash that saw one of the drops on his handlebars snap. That made accelerating out of the 180-degree turns sitting on the hoods tough going and left him too much work to do on the run.

But with a decent swim – Staufenberg was 12 seconds down on the leading group of Dylan McCullough, Tayler Reid and Trent Thorpe out of Lake Taupo – and a clean ride,he was able to put his run prowess to work.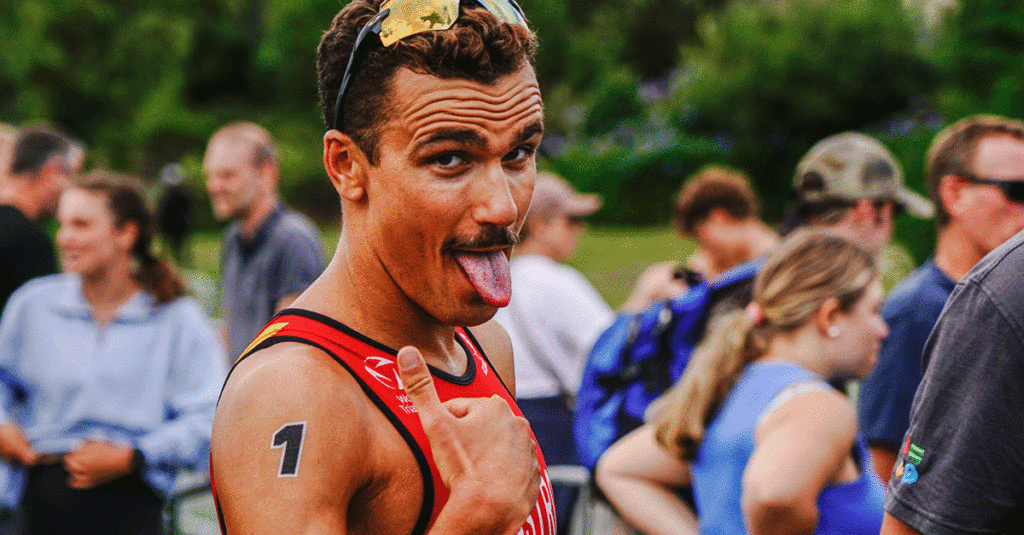 ""I mean, last week was tough but it was racing and I'm stoked to be able to build on that. Absolutely stoked," said the 23-year-old after holding off Aussie Luke Willian who finished third ahead of a trifecta of Kiwis – Kyle Smith, Reid and McCullough.
"Swim was a little bit behind what I expected but then just got amongst it on the bike and then run, for me, it was just proving what I'm capable of today and putting all that hard training to use."
Once decent result does an Olympic campaign not make but Staufenberg showed he has the wheels to compete with New Zealand's best, his 15:44 5km split bettered only by Fajardo (15:39). Interestingly, Staufenberg's split was faster than even Wanaka winner Callum McClusky who laid down a wicked run to run through the field into 7th in Taupo.

"It's a tough gig balancing [racing] with all the studies and you don't get many opportunities to come up against these top boys if you're stuck in New Zealand over the winter. But to be amongst them or ahead of them in their off-season is a step in the right direction.

"From now on it's building and look to get overseas when they're in [their] peak and really put it up against them when I've over there.

The challenge for Staufenberg is fitting World Triathlon racing in around a very hands-on study schedule. He'll race the Oceania Sprint Distance Championship in Devonport, Tasmania on March 18 and World Cup New Plymouth the following weekend but will then re-elevate where his season is headed.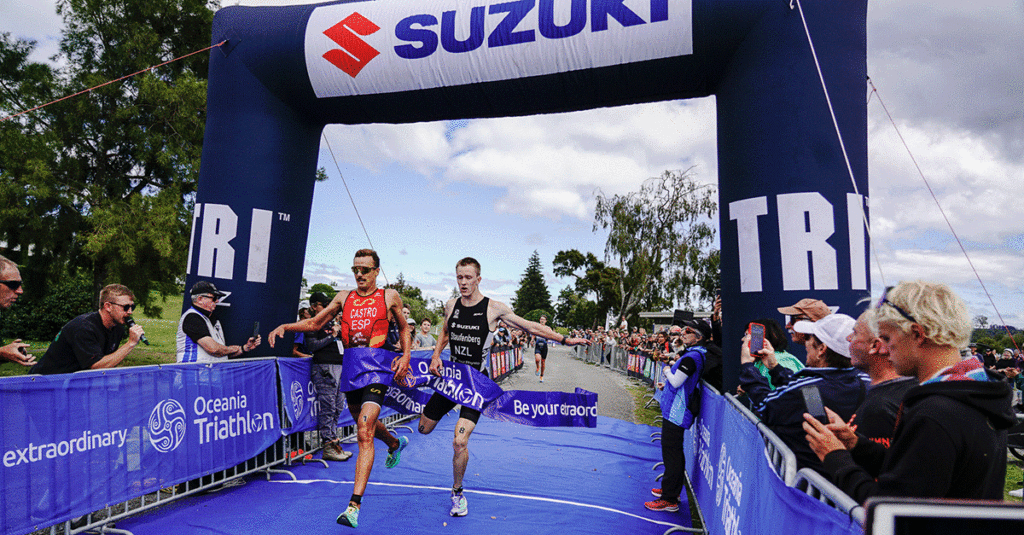 "The tough thing about medical studies is that it's pretty time intensive, there's a lot of contact time, so being able to balance that around a training plan is tough. We were back to uni this [past] Monday and it's been pretty tough getting back into Dunedin, setting up the flat and also attending class while trying to get in good preparation for a race in the weekend but it is all part of the gig."

Staufenberg will get another chance to press his selection claims when he leads the NZL B team out in Sunday's Oceania Mixed Relay Championship. He's been teamed with Olivia Thornbury, Trent Thorpe and Brea Roderick and while they are not eligible to win the title – countries can enter only one team for that honour – the B's are sure to push the Aussies and their NZL A counterparts – McCullough, Ainsley Thorpe, Reid and Nicole van der Kaay, the women's individual champion on Saturday – all the way in the quick-fire relay.
The Oceania Mixed Relay Championship takes the gun at 2.30pm on Sunday with a LIVE stream on Tri NZ's Facebook page from 2:20pm.