By Kent Gray/Triathlon.kiwi
Last week, Nicole van der Kaay made Oceania Cup Wanaka hard for herself by getting caught up in the early swim washing machine. On Saturday, an Olympic champion and a friendly foe combined to pose the tough questions – this time all the way to the tape at Oceania Cup Taupo.

The pleasing thing for the Kiwi No.1 is that she found answers on both occasions, winning going away in Wanaka and again in Taupo courtesy of a last-gasp kick to outsprint Ainsley Thorpe.
Van der Kaay rattled off Saturday's 750m swim, 19.5km bike, 5km run sprint in 1:00:17, finishing two seconds clear of Tokyo Olympic Games sidekick Thorpe who rebounded from her DNF in Wanaka with a confidence-boosting silver ahead of WTCS Abu Dhabi next Friday.
It was a buzz for both Kiwis to share the Taupo podium with Gwen Jorgensen too, the Rio 2016 gold medallist finishing a further 30 seconds adrift in an impressive return to the blue carpet after seven years away.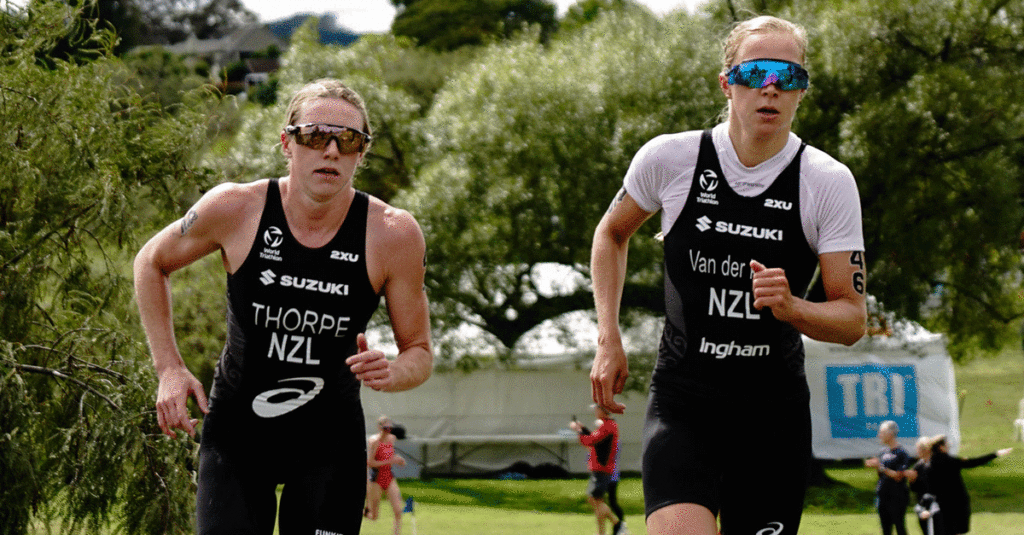 For van der Kaay, producing a cleaner swim was a must-achieve, as was the collection of another swag of World Triathlon points as the race to secure a start at next summer's Paris Olympics rachets up. The bonus was winning in front of family and friends at home while beating an "idol" made it sweeter still for the 27-year-old.

"I've only being doing mainly base work so I'm really stoked to come away with two wins and to get those precious points early season. I didn't know what to expect," van der Kayy said.
"I've been working really hard on my swim so it's nice to see some progress in it. I had a much clearer start this week, I didn't get caught up with the girls, so that made a huge difference for me, got some clear water ad was able to move through the pack."

Van der Kaay enjoyed having Thorpe on her shoulder in the ominous company of Jorgensen for the majority of the run.
"We were close to Gwen, she was just behind us and you never know what kind of form she is in, she's one of the world's best runners so it was awesome to keep the pace on with Ainsley," van der Kaay said.
"I had no idea what her [Jorgensen's] running was going to be like but she hasn't stopped running and like I said, she's one of the world's best runners, she's world-class, it's awesome to be out there with an idol of mine. It was pretty cool."

It was satisfying too to hold off Thorpe, showing there is speed lurking beneath all those base miles.
"Ainsley's a good sprinter so I wasn't sure if she'd get me in that sprint but I managed to get her and I'm really pleased with that."

Van der Kaay's next individual race will be the Oceania Sprint Distance Championship in Devonport, Tasmania on March 18 and thereafter World Cup New Plymouth on March 26. More immediately though she will return to the same Taupo circuit to race the Oceania Mixed Relay Championship on Sunday in the NZ A team featuring Dylan McCullough, Thorpe and Tayler Reid.

There are a total of seven Kiwis teams racing but only the A team is eligible for the title against what will be a strong Aussie challenge. That said, count on the NZ B team of Janus Staufenberg, Olivia Thornbury, Trent Thorpe and Brea Roderick adding a little spice to proceedings in the 2.30pm race. The Oceania Junior Mixed Relay Championship goes at 1pm.  

"It's short and sharp, you don't get many opportunities to have relays so it is really cool that Taupo is holding relays and we're going to put together lots of teams. It's really cool."