Images courtesy World Triathlon
By Kent Gray/Triathlon.kiwi
In the end, Hayden Wilde could do no more than doff his cap to Frenchman Léo Bergère before employing his trademark humbleness in an effort to explain how another big one had got away.
The Kiwi No.1 didn't go down without a fight during his much-anticipated world title shot in Abu Dhabi overnight but just couldn't find his bike or run legs in the World Triathlon Championship (WTCS) Series finale.
After victories in Leeds and Hamburg and a pair of silvers in Yokohama and Montreal, Wilde wore the No.1 bib at Yas Island and anticipated, like pretty much everyone else, a mano a mano with Alex Yee for the world title. But after a month of training in the UAE capital dedicated to this very moment, Wilde could strangely muster only sixth place.
Bergère's brilliant win, American Morgan Pearson's surprise silver and a combination thereafter of Belgian Jelle Geens outkicking Yee on the blue carpet for bronze and Aussie Matt Hauser overtaking Wilde for 5th within a kilometre of the line meant the Whakatane 25-year-old ended the season a slightly stunned third overall.
"That's racing," was Wilde's top-line and oft-repeated explanation of a dramatic race afterwards.
Geens' bolt for bronze meant Wilde had the chance to nab the world title by finishing no worse than a place behind Yee. He would have pulled the title out of the fire of a race that had started well enough in the swim but wobbled as Wilde struggled to clip into his pedals just outside of T1. He was never able to bridge the breakaway group of nine which included Kiwi Tayler Reid (36th in 1:47:43) and then missed Morgan's early uphill kick on the run.
The final gut punch came as he watched Hauser power by after the Aussie had quite literally lifted himself off the canvas to deny his Kiwi pal the Super League-WTCS double he so desired.
"Actually, Matt was with us on the first lap [of the run] and the ground was quite slippery, he actually slipped in front of me, tripped over and hit the deck hard. It was super unfortunate but it was awesome to see him come back," Wilde said, verbalising the sportsmanship that marked similar disappointment at July's Commonwealth Games.
"I saw him stalking me and we were running about the same pace and yeah, he got me in that last part. I was really hurting and I just had to bring it home."
It was a cruel trans-Tasman knife twist at the death of a season that will unfairly be remembered for Abu Dhabi and Wilde's contentious helmet clip penalty in Birmingham which cost him the chance to sprint for gold with Yee.
The script for Sunday morning's WTCS decider called for a Yee re-match, perhaps even a sprint to the tape. The only issue was that Bergère never allowed that to materialise, cranking the pace in the nine-rider breakaway before smashing out a 29:44 10km to slam the door shut. Talk about timing your first WTCS gold medal to perfection.
"It's insane, I don't know what to say, I didn't want to do the maths before the race I just wanted to race it all out and try for the breakaway," Bergère said.
"We went for it as a team, and I can't believe today. I was really focussed on what I was doing, I didn't want to think about anything else. I was chasing this win for a long time and I knew I was capable, I just needed all the stars to align, and to do it here at the final in Abu Dhabi is incredible. Thanks to everyone in my corner."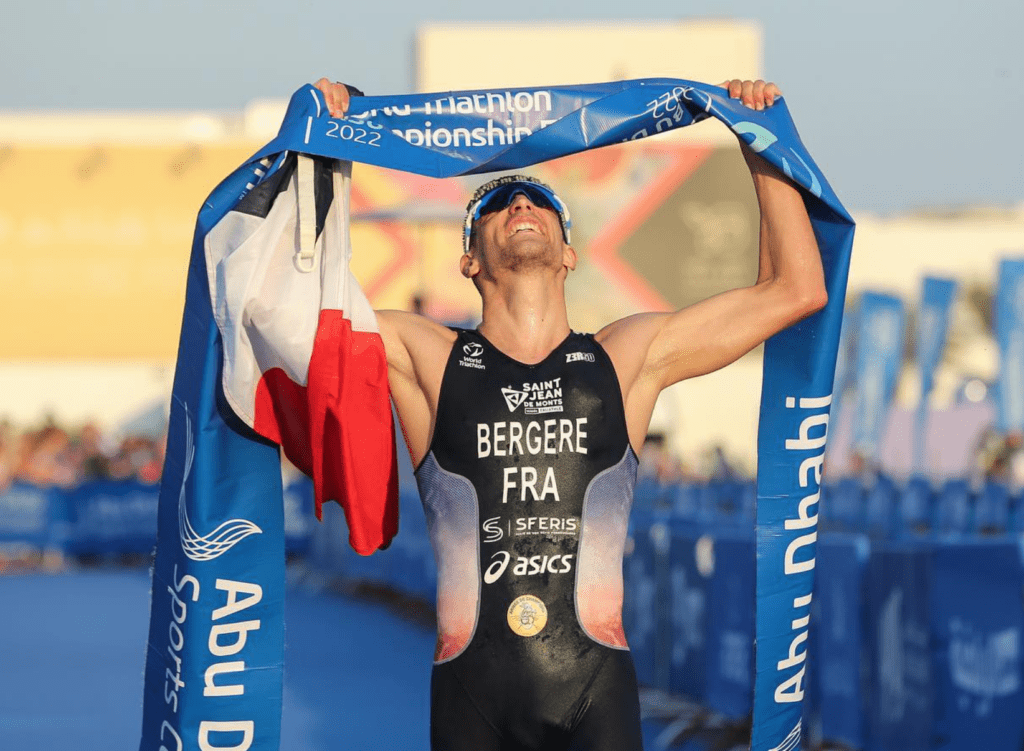 Wilde's 30:01 split was nothing to sneeze at but it was 37 seconds slower than Yee and nearly 20 seconds off Hauser's pace which he quickly regained following his tumble. The writing was on the wall at the start of the second lap, Wilde caught on camera shaking his head in frustration as his legs continued to betray him.
"The run is normally my strength so I don't really know what happened there, I'll have to go back and assess that, but yeah, the first lap was rough, I think I was a bit flustered when Morgan attacked and [I] couldn't go," Wilde said.
"Second to the fourth lap I felt really good and I was actually gaining back and yeah it just wasn't enough on the day and I really starting suffering on that last kilometre but hey, that's racing. I did all I could to put myself in the best position.
Wilde agreed T1 had been critical, the slow getaway on the bike ultimately costing him.
"I just didn't have the power, Leo had the power in that first part of the hill and I just saw the group fly away there and yeah, I just didn't have the legs I normally do on the bike.
"So for that, I'm quite disappointed, [because] I was hitting some good numbers before the race and I should have definitely got over [bridge the gap to the front group of nine] but hey that's racing."
After three wins and two other podiums to clinch the Super League title, a silver in Birmingham and third overall in the WTCS, Wilde can reflect on a hugely successful year. His month-long training block in Abu Dhabi largely went to plan and it would have been lovely to become New Zealand's first world champion since Bevan Docherty in 2004. But sometimes, well, "that's racing'.
"I had a great swim and just missed that front group and that could have been that, If I'd just made it…didn't have the legs I normally do on the bike, I really wanted to help [push the pace] but I just couldn't get through," Wilde said.
"We've had a great season anyway and I think if you'd told me I'd come third place, I'd be stoked with that and we just move forward from there."