By Kent Gray/Triathlon.kiwi
There's not a lot of water left to pass under the metaphorical bridge before the 2024 Olympic Games but Saxon Morgan sees no reason why he can't figure in New Zealand selection considerations if he can find some explosive speed in the H2O.
The Christchurch 22-year-old takes another step towards that lofty goal in the company of Kiwi team-mates Dylan McCullough and James Corbett in tonight's U23 World Triathlon Championship race in Abu Dhabi (live TriathlonLive.tv from 7.05pm).
While McCullough's breakout 7th placing at the Birmingham Commonwealth Games in July marks him out as New Zealand's favoured contender around Yas Island, Saxon is hoping to finish a topsy-turvy season on a high.
He's taken a lot of confidence from 17th place at World Cup Miyazaki on Oct. 29 where he produced one of his best swims of the year.
"All of my racing really just hinges on a good swim which is what I've been working on the last couple of years, just trying to be more consistent in the water and just eliminate that chance that I'm not in that front bunch," Saxon told Triathlon.kiwi.
"…if I'm there or thereabouts out of the water then, I have a lot more confidence in my biking and running abilities."
Saxon is coached by John Hellemans but has spent a lot of time in the pool with swim coach Carl Gordon as he looks to kick his career along.
"It's primarily just building strength. I'm in the gym a couple of times a week and working with Carl down in Christchurch, working on my initial speed off the line, that's what I'm lacking.
"I'm fine for the endurance side it's just that first 200m, I need to knock off three or four seconds just so I'm not in that washing machine around the first buoy."
Saxon has struggled to pinpoint his up-and-down results in 2022 but is accentuating the positives of Japan and a runner-up finish to Aussie Matthew Roberts at Africa Premier Cup Larache in Morocco in late June.
He also finished 42nd in World Triathlon Championship Series (WTCS) Hamburg as an 11th-hour replacement for Tayler Reid who went down with Covid-19.
"I've raced a couple of WTSCs in 2020-2021 when Covid was pretty rampant, not many people were doing WTS, so I got to do three of them, it was a cool experience, but definitely a step up this year having all the elites back with no Covid restrictions."
He intends to chase more WTCS starts after the extended Oceania calendar to start 2023. Solid performance in New Zealand and Australia will be needed, in addition to World Cup and WTCS points, to achieve his main goal of 2023, a start in the Paris Olympic test event in August.
Making the Los Angeles 2028 Olympics might seem a more realistic goal although Saxon isn't that far off the pace in the Continental rankings, 14th in Oceanian overall and fifth Kiwi behind Hayden Wilde, Reid, Trent Thorpe and good mate McCullough.
"It [World Cup Miyazaki] does give me a bit more confidence. My main weakness is the swim and in Japan that was a lot better for me than what it normally is, so yeah, kind of sets my race up a bit better," Saxon said.
"Even if I just get on the start list for that test event, that will be a good achievement."
Corbett had his first taste of WTCS racing Cagliari last month, his 44th placing leaving the Cambridge 20-year-old Hungry for more.
Likewise, McCullough is happy to be back at the elite level after a post-Birmingham elbow break. He blew out the cobwebs with 28th place in Miyazaki and stepped it up again with victory in the standard distance race at the Barfoot & Thomson People's Tri series opener in Maraetai a fortnight ago.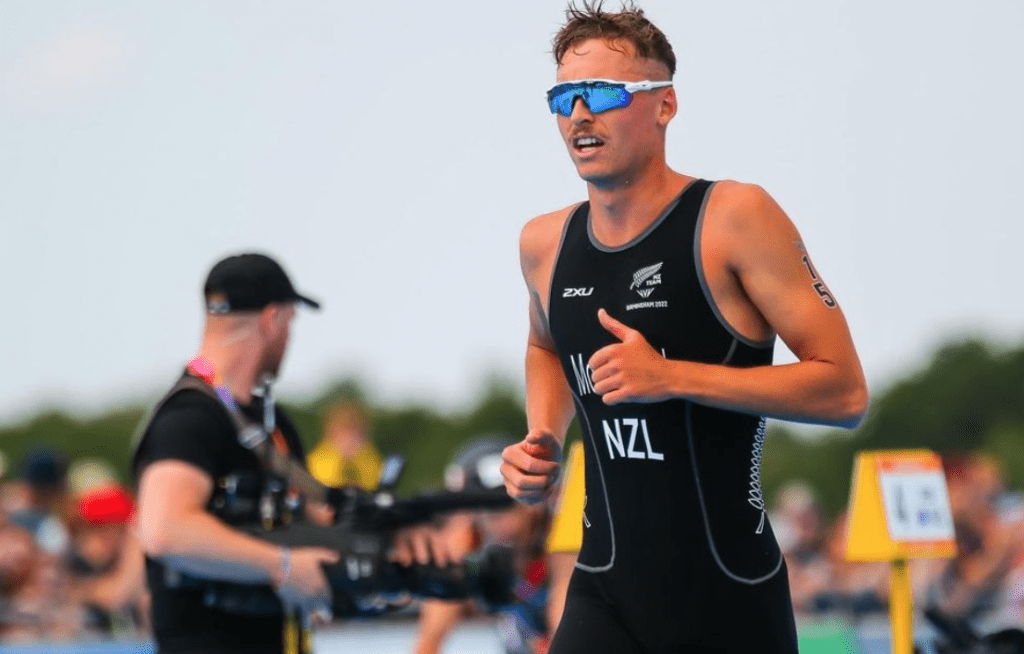 "The elbow is back to normal now, it's strengthened a lot since Japan with gym work and I no longer have any pain. I'm feeling more confident after racing Japan and the local People's Tri," McCullough said.
"The last three weeks of training post-Miyazaki WC went well and I am excited to race on Friday. I am loving being here in Abu Dhabi, it would have to be my favourite race venue I've ever been to.
"It's very hot on the ground but I've prepared as best I could for it and it's the same for everyone. I don't have a certain result in mind, I just want to put together a good swim, bike and run that I am capable of and I will be happy."