By Kent Gray/Triathlon.kiwi
Shorty Clark struggled to hold back the tears as he recalled his journey from tail-end Charlie in Switzerland nearly a quarter century ago to world champion in the UAE. Wellington teen Emily Cook was "really proud" of her gold, a warm fuzzy feeling Sharon Prutton now knows twice over. Marieke Buma, meanwhile, admitted her silver medal "gives a lady of a certain age quite the boost".
It was another magical day as Tri NZ took its medal tally to 14 – seven golds, five silvers and two bronzes – at the World Triathlon Age-Group Championships in Abu Dhabi on Saturday.
After Grayson Westgate, Alice Adams and Prutton won super sprint titles on Thursday, Saturday produced a further four golds: for Clark (Taranaki Tri & Multisport Club) and Prutton (Canterbury Triathlon Club) in the 70-74 age-group standard distance triathlon and for Tri Wellington's Cook (18-19) and Auckland City Triathlon Club's Dave Bradding (60-64) in the standard distance Aquabike.
RELATED: Three golds and compelling backstories dominate six medal haul for NZ on opening day of Abu Dhabi worlds
There were also silvers for Buma (75-79) and Tri NZ's own Stephen Sheldrake (45-49), along with a bronze for Aucklander Hamish Butler (20-24) in Aquabike while Deborah Rhode capped magnificent worlds with a standard distance silver to go with her second place in Thursday's 75-79 sprint distance.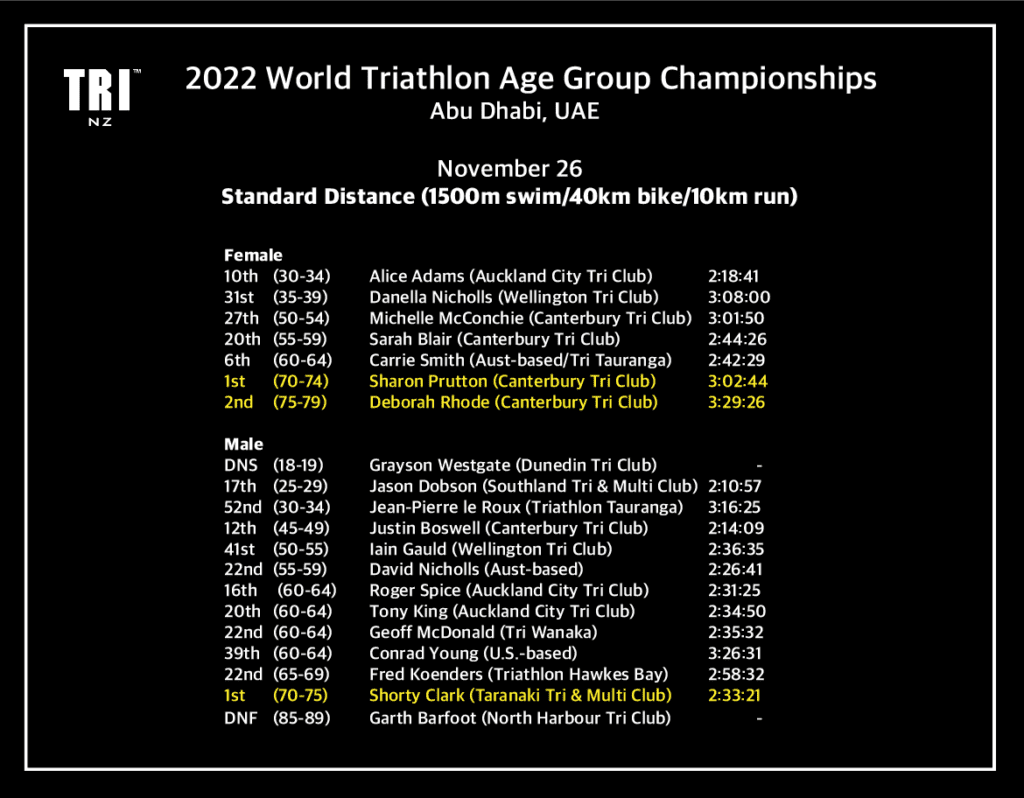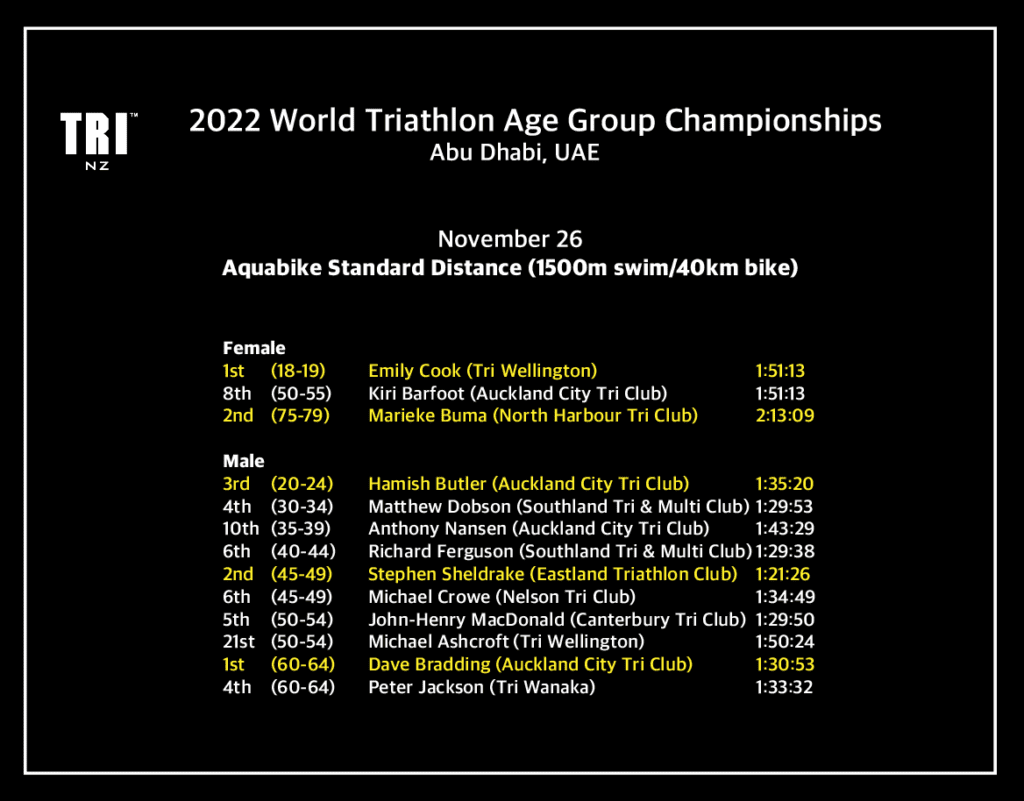 For Clark, this was the culmination of utter love for and devotion to triathlon. He warmed up for the world champs by winning his age-group at the Suzuki NZ Standard Distance Championship at Tinman Tauranga last Sunday in a swift 2:32:38 before darting to Auckland International for the flight to Abu Dhabi.
He triumphed in the much fiercer Abu Dhabi heat in 2:33:21 – 2mins 21sec clear of the German silver medallist Bernd Stegmann.
"Pretty unreal, very emotional," Clark said, choaking up as he remembered coach to the stars, the late Jack Ralston who previously guided the likes of Hamish Carter and Cameron Brown and can now claim an age-group world champion posthumously.
"There's a lot of people to thank, especially the late, great Jack Ralston, sort of racing for him and my family."
His family back home were ecstatic of course, as daughter Daria Klemra noted on social media: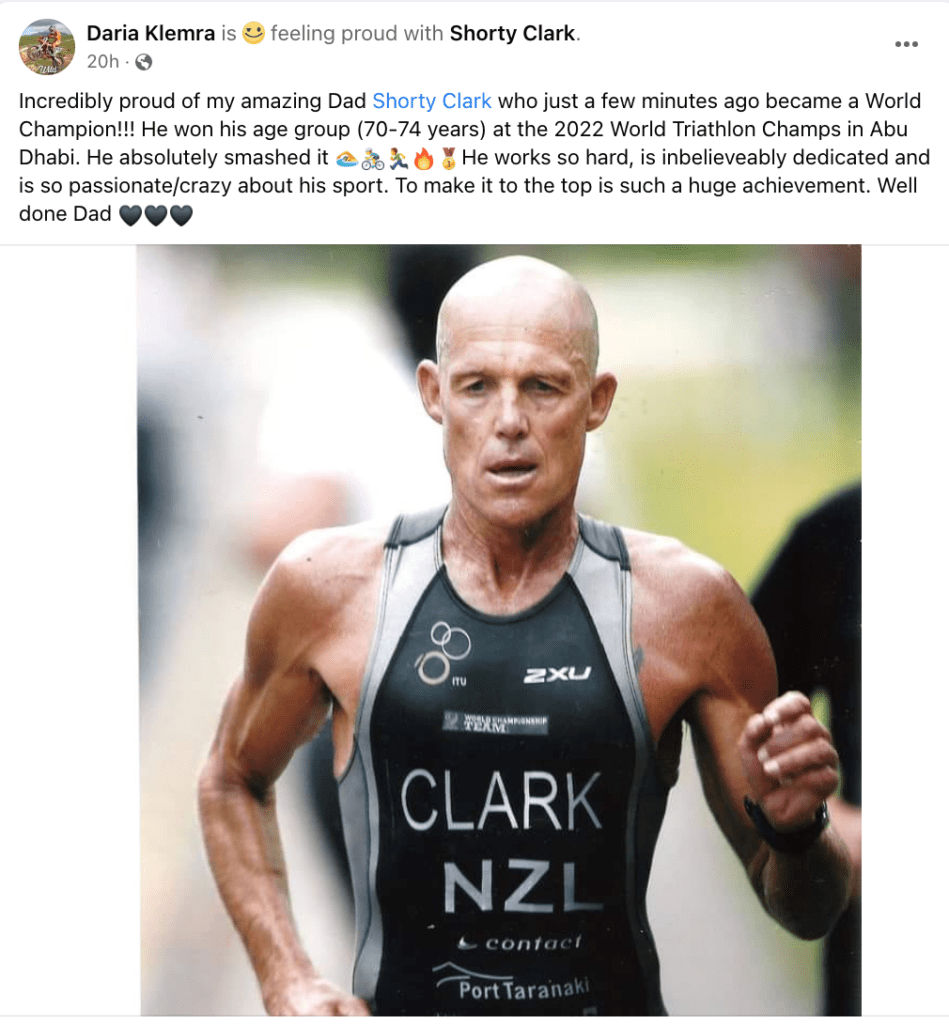 Clark has indeed come a long way. He competed at the 1998 ITU World Triathlon Championship and it was an eye-opener.
"So yeah, good to not come 75th out of 75 in the water in Lausanne, Switzerland 1998 so it's a nice change to find your bike in the rack with a lot more rather than being alone," Clark said.
"I went to Gold Coast in the sprint in '18 and Rotterdam in '17 for the standard but a bit lame in both races, I had some homework to do this time. I made the proverbial mistakes of overtraining and jumping the gun and things, so it was time to change the recipe and put a new brew in the oven and see what happens."
What happened was a memory of a lifetime and a shot of motivation to have another go at it all over again next year.
World Triathlon will host three Age-Group World Championships in 2023 – Multisport in Ibiza, Spain (April 29-May 7), Sprint Distance and Mixed Team Relay in Hamburg, Germany (July 13-16) and the World Age-Group Standard, Super Sprint and Aquadbike in Pontevedra, Spain (Sept. 22-24). Tri NZ's Suzuki National Series this summer is the place to attempt qualification – CLICK HERE for more information.
Clark has already qualified for Pontevedra courtesy of his Tinman trouncing. Likewise, Buma is the very epitome of what the World Triathlon Age-Group Championships are all about: "Be your extraordinary" as the tagline says
After adding an Aquabike silver to her super sprint bronze from Thursday, Buma summed up her race.
"Well, I thought, I'll just go for a ride, just do my very best and see what happens," she said. "Obviously I'm incredibly happy with the result, it gives a lady of a certain age quite the boost."
Who do you train with back home?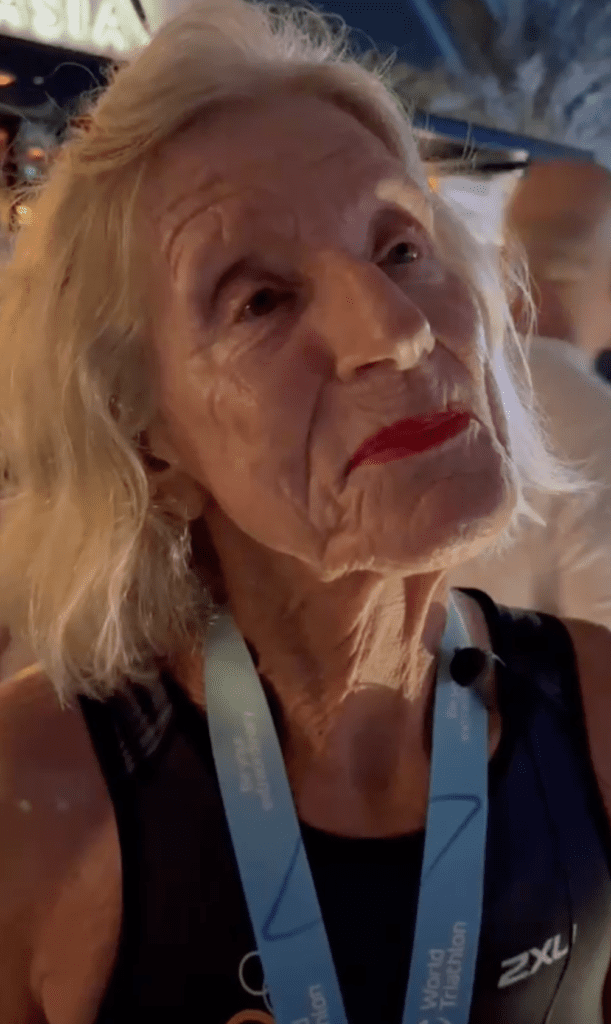 "Oh, god I train by myself, I am just doing what I am doing, I'm repping in the water and I'm going for a bike ride with my husband on mountain bikes, very heavy and he goes fast so I need to keep up.
"So it's just a hobby, it's really just a hobby. I don't really want to think the future too far, just little things, little triathlons in New Zealand, just for fun."
What. A. Legend.
Well done to all our Age-Groupers in Abu Dhabi. You've done New Zealand proud.
Motivated? Go to the Suzuki NZ Series page and start dreaming.