By Kent Gray/Triathlon.kiwi
New Zealand is home to three new age-group world champions after a memorable six medal haul on the opening day of the 2022 World Triathlon Championship finals in Abu Dhabi.
Dunedin's Grayson Westgate (15-19), Aucklander Alice Adams (30-34) and Cantabrian Sharon Prutton (70-74) all struck gold in the super sprint at the 2022 World Triathlon Age-Group Championships on Yas Island overnight.
Tri NZ is also celebrating silver medal performances from its legendary 86-year-old and recently hospitalised patron Garth Barfoot (85-89) and Canterbury Triathlon Club stalwart Deborah Rhode (75-79) as well as bronze from Marie Buma (North Harbour Triathlon Club) who competed in the same category as Rhode. A further 10 Kiwis produced top 10 performances on a hot and successful afternoon in the UAE capital for Team NZ.
The medals were inevitably accompanied by inspirational backstories starting with Westgate who had his medal upgraded from silver after the Dunedin Triathlon Club 19-year-old was involved in an incident with what was likely an unsuspecting migrant worker.
"I came out of the water first and I got out onto the bike and at about 2km in, just a random cyclist who wasn't even doing the race cut across the road and I didn't have time to stop…so I just smashed into him," said Westgate who was sporting road rash on his knees and hands.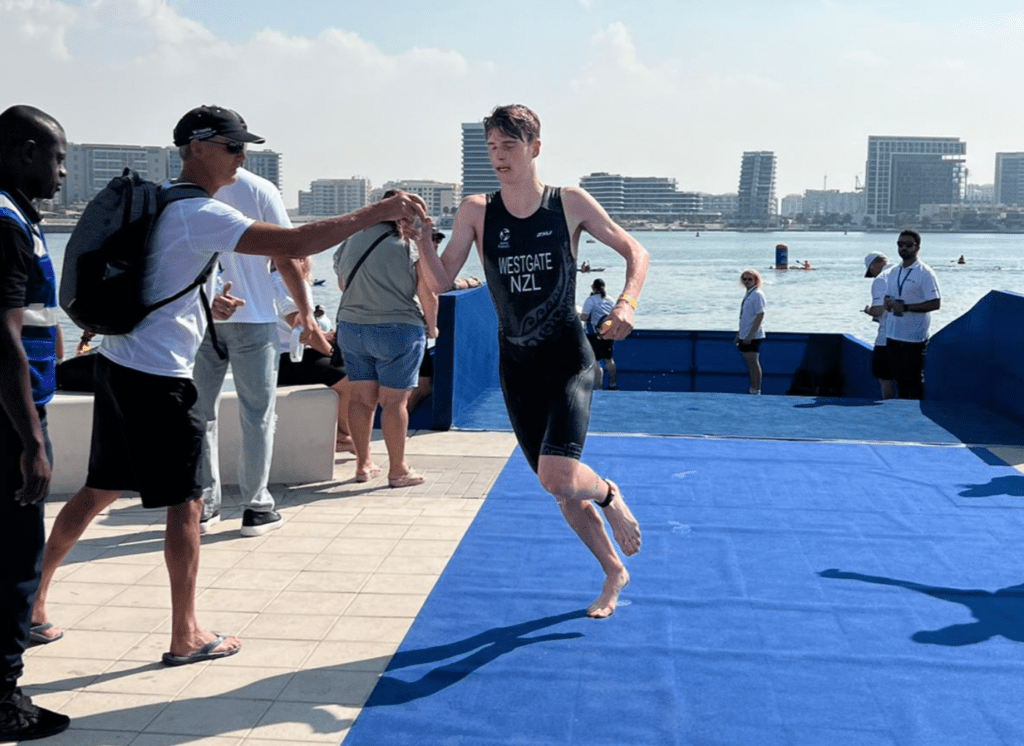 "I fell off, went to get back on my bike, my chain had come off because of the crash so when I finished I found out I'd got second by 10 seconds. I made a protest because it definitely took me at least 20 seconds after I'd crashed to get on my bike."
After about four hours, technical officials awarded Westgate the same time of 33:18 for the 400m swim, 10km bike, 3km run (+ a 500m run to T1) as Brit Mark Agent, meaning they were both awarded gold.
"I'm very pleased with the technical officials because they understood what had happened, yeah, I'm very grateful."
Westgate is part of tri NZ's wider development squad and now firmly on the radar for future honours.
"It's extremely hot here and it means the world. I've been training hard, indoors, got the heat pump at 30 degrees, trying to adapt to the heat. It's a huge relief and I'm extremely proud to put my training into a race and get the W…so yeah, I'm really pleased."
Adams' background in competitive swimming helped her lead out of Yas Bay and hang tough till the blue carpet, courtesy of some sage cooling tactics with ice and icy cold foam sponges on the energy sapping run. The Auckland Triathlon Club rep, who works as a Senior Management Accountant for New Zealand Cricket, stopped the clock in 37:29 to win by 71 seconds from Kuwaiti Najla Aljeraiwi.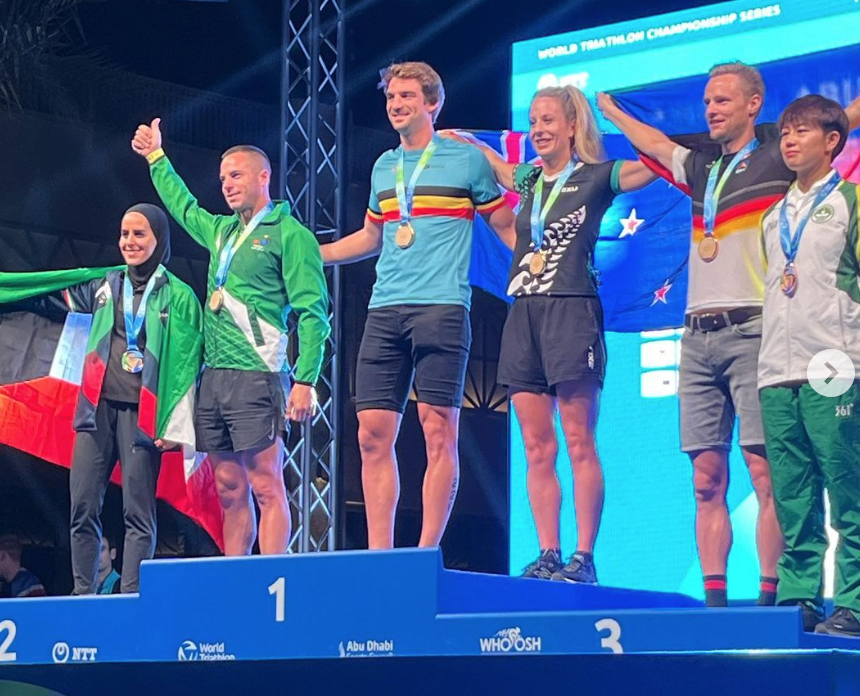 "It means a lot to be World Champ. Having done sport most my life, I love to push myself to the max to be the best I can be," Adams, who is competing in her third age group worlds in just her fifth year in triathlon, told Triathlon.kiwi.
"It's been a long road just to get to the start line of this event, the commitment everyday of showing up, balancing life, family and friends, full time work, fitting in training when you can whilst managing injuries.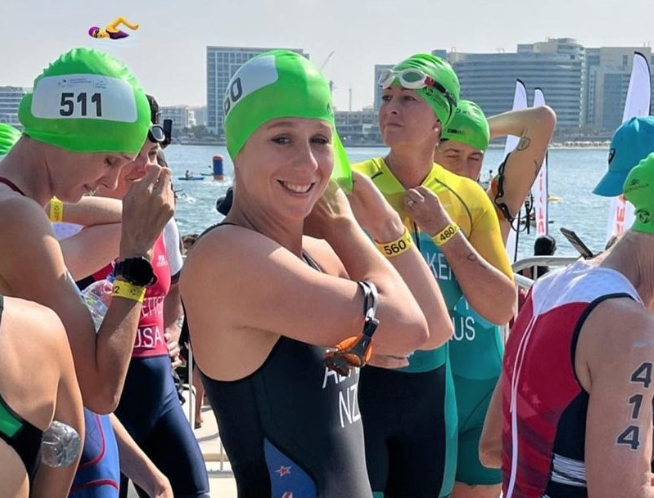 "I love the age group world champs. Each and every person has such a great story to tell."
Prutton won the 70-74 title in 49:39, a whopping 4mins 56s clear of American silver medalist Ruth King and a special present for her coach, son Mark. It turns out Mark had plenty of talent to work with; Prutton is a serial and multi-discipline world champion too.
"It feels awesome, very exciting," Prutton said afterwards. "I've won world championships in time trials, road cycling and Xterra so this feels really neat because it's something…I haven't been swimming long, or swimming properly long, so it's been a challenge."
The age-groupers take a day off Friday to take in the U23 men's race featuring Kiwis Dylan McCullough, Saxon Morgan and James Corbett (7.05pm NZT on TriathlonLive.tv) before the elite women's title decider including New Zealanders Nicole van der Kaay and Ainsley Thorpe on Sky Sport 1 (051) from 9.50pm.
Saturday will see most of the Kiwi age-groupers compete again in either the standard distance or aquabike championships.