By Kent Gray/Triathlon.kiwi
If the dream scenario plays out, Hayden Wilde will swim like a Māui dolphin in foreign waters, catch and gap Alex Yee on the bike and run off into another glorious desert sunset, the world title his to go with a recent Super League crown in Neom.
Heavyweight title fights, even if this one is technically being contested by a pair of big-name welterweights, rarely prove that stress or punch and counter-punch free though. Indeed, given Yee is 3-1 in their head-to-head matchups this World Triathlon Championship Series (WTCS) campaign and is motivated by his own maiden world title shot, Sunday's mouth-watering showdown will likely go to the tape.
In that case, Wilde needs to finish at least second in Abu Dhabi and if not, no more than a spot behind his great British rival to become New Zealand's first world champion since Bevan Docherty in 2004.
However Sunday's Olympic distance race transpires, Wilde is banking on one inevitable: the entirely unpredictable Norwegian factor.
The presence of Tokyo Olympic Games and defending WTCS champion Kristian Blummenfelt and, perhaps to a lesser extent freshly-minted Ironman World Champion Gustav Iden, is set to have a critical bearing in the widely anticipated Wilde v Yee bout.
On one hand, Wilde is happy to have two potential watt-producing powerhouses to help him bridge any gap Yee might be able to establish in the two-lap swim in Yas Bay. Then again, it puts more heat on Wilde's own swim in the Arabian Gulf because if either Blummenfelt or Iden get too far up the road with Yee, Leo Bergere, Vincent Luis or a combination thereof in tow, the Kiwi knows he's going to have to expend a lot of energy to stay in touch.
"It's going to be a tough race I think. It's really hard to know what to do," Wilde admitted to Triathlon.kiwi in a refreshingly frank tactics chat earlier this week.
In one breath Wilde said: "I'm happy to have those guys back in". Then, in the next, the Whakatane 25-year-old openly ruminated more challenging scenarios.
"With the Norwegians coming back into the fold, it's going to make life very difficult to get back into the chase group," Wilde continued. "Just not having those guys throughout the whole season for me has been slightly difficult because I normally work with those boys in the chase group to catch up with the front group."
It will sting a bit, Wilde admitted, if Blummenfelt influenced the outcome given his only WTCS appearance this campaign was a 6th in Bermuda a week after he captured the Ironman 70.3 Worlds in Utah, that after an empty-the-tank 3rd in Kona.
Iden has at least lined up twice this WTCS season, adding a 9th in Bermuda to his 48th placing in Leeds after his record-smashing full ironman win in Hawaii. Still, Wilde can't help wonder how fair it is for the Norwegians to have such a short course say when they've otherwise been engaged smashing the long distance world.
It induced another of his yin-yang thought patterns.
"It's good to have them back [but] in some ways it's a little annoying because they've just come in…they could change the dynamics of the race massively which could impede the World Series race which is a little bit…" Wilde said before stopping himself.
"It's going to potentially make my life a little bit easier if I was going to chase the front group and then [converserly] with Vincent [Luis] being back in tip-top form, that puts a little bit more pressure on the chase group as well just because potentially guys like Leo Bergere will be in that leading group. We can't with numbers the way they are, we can't let him [Bergere] go up the road too far and put too many people between us or he can potentially be a surprise takeaway for the title.
"I dunno, an athlete who has committed to the series and then two guys that could potentially cause chaos in the race is a little frustrating sometimes, whether it's a good thing or a bad thing."
Wilde at least agrees having the Norwegian duo back in the Olympic Games frame for Paris is good for the sport.
"They've been kicking butt in the long course and it's nice to see them back. I just hope I come out of the water around them, or together with them just like the old days."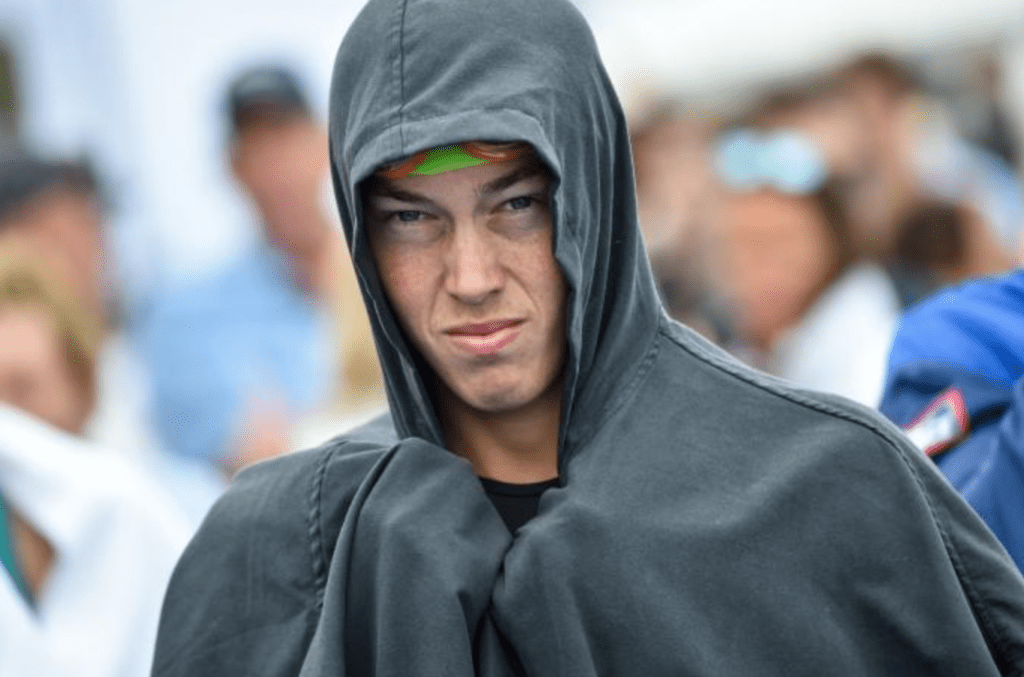 At the end of a nerve-jangling Saturday in the UAE capital (early Sunday NZT), Wilde ultimately knows he just has to back his Falcon-like instincts and the master blueprint devised over a month of 'Monk mode' training and acclimatisation in Abu Dhabi.
"There's some very interesting kind of things to look at in the race so I'm just going to get up there and race how I normally race and just kind of be confident in yourself and give it some."
Coverage of the elite men's race starts at 11.50pm Saturday on Sky Sport 9 (Channel 059) with the race taking the gun at 12am Sunday NZT.