By Kent Gray/Triathlon.kiwi
To milkshake or not to milkshake, that is the question.
While Hayden Wilde's bid for the men's title in the early hours of Sunday will inevitably dominate Kiwi attention at World Triathlon's three-day season finale in Abu Dhabi this week, it's Tri NZ's 35-strong cohort of age groupers who get the ball rolling on Thursday evening (NZT).
There are myriad Kiwi storylines to watch for in the super-sprint (400m swim, 10km bike, 3km) races but perhaps none as fascinating as the battle for the men's 85-89 title featuring Garth Barfoot, he of Auckland real estate and extraordinary pensioner running and triathlon fame.
Tri NZ's legendary 86-year-old patron is one of three athletes lining up in the oldest age group race in Abu Dhabi with many predicting a ding-dong battle between Barfoot and 89-year-old American Jim Farr. Who has their prep right has been a matter of light-hearted conjecture on social media overnight after Barfoot linked to a story where Farr's specialised diet was outlined, all fibre, protein, carbohydrates and electrolytes as opposed to those nasty sugars and saturated fats.
"My favourite drink since I was a little kid was a milkshake, and I haven't had a milkshake in so long I don't remember what it is anymore," Farr said with a laugh. "I don't miss it. Since I've gotten into racing, everything is fine with my diet. I'm happy."
So too, it seems, is Barfoot who revealed his own pre-race sustenance regime since landing in the UAE capital.
"What we have in common is that we have both been flag bearers for our country's teams, what we don't have in common is our pre-race diet," Barfoot joked.
"I have had a milkshake in the Yas Island Mall every night this week. Read this article if you want to know why he [Farr] was not there too."
We reckon Barfoot has the food balance about right and the clear upper-hand when it comes to pre-race banter but then, hey, we might be a little biased too.https://www.instagram.com/reel/ClUJiawj_M5/embed/captioned/?cr=1&v=14&wp=1080&rd=https%3A%2F%2Ftriathlon.kiwi&rp=%2Fhow-a-humble-milkshake-or-three-might-be-garth-barfoots-secret-sauce-at-the-world-triathlon-age-group-finals%2F#%7B%22ci%22%3A0%2C%22os%22%3A1403.2000000476837%2C%22ls%22%3A880%2C%22le%22%3A1368%7D
We can't wait how to see how our inspirational patron goes; he's also racing Saturday's standard distance race and will be cheering along daughter Kiri (50-54) who lines up in the super sprint tonight as well as Saturday's aquabike races.
Garth Barfoot shared flag bearer duties with Tri NZ's own Stephen Sheldrake at the spectacular Parade of Nations at Yas Bay Marina overnight. Sheldrake, Tri NZ's National HP Performance Manager, will contest the super sprint and aquabike race this week.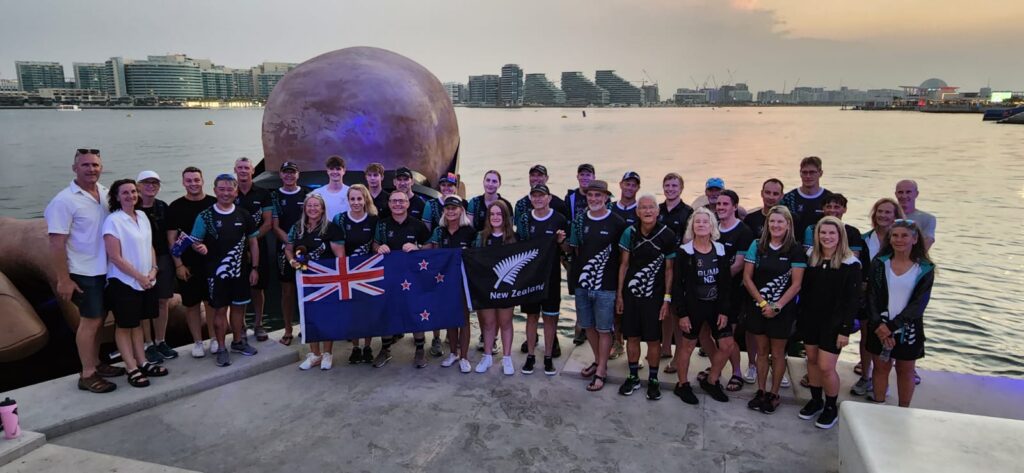 Four teens – Nikita Coleman, Emily Cook, Jakob Cunningham and Grayson Westgate – will also proudly represent NZ in the 15-19 age group and watch for Taranaki's Shorty Clark who won his category at Sunday's Tinman Triathlon in Tauranga before jetting out to Abu Dhabi.