By Kent Gray/Triathlon.kiwi
An exciting new event for elites and age groupers and a rare opportunity for the next gen to shine in front of Tri NZ talent scouts.
That's just the start of the unique selling points of a "split-triathlon" incorporated into next month's inaugural Cambridge Festival of Sports – and only part of the promised fun to be had at the four-day, charity-inspired celebration of sport and music.
Organised by local identity Alwyn Poole, the November 23-26 festival is designed to inspire and motivate people of all ages through sport and entertainment while raising critical funds for I AM Hope via Gumboot Friday, the youth mental health charity championed by comedian Mike King.
A number of Tri NZ's elite and development squad members are expected to race the bite-sized swim, run and bike tests scheduled for November 24-25, the swim on the Friday evening before the run and time trial bike legs on Saturday.

But as welcome as any innovative new event on the triathlon calendar is for elites and weekend warriors, it's the junior racing that will have Chris Willett's full attention.
Tri NZ's Athlete Development Manager says the U14 racing in Cambridge offers a rare opportunity to identify talent in an uncluttered format, as it does for older teens racing in either the age group or open categories.
"Tri NZ is very excited about the emergence of the Cambridge Festival of Sports and the chance it offers to identify new athletes that could potentially feed into our Junior Development Pathway," Willett said.
"We often see the variables of a stock-standard triathlon race day have an impact on results. With the split-triathlon, it's an opportunity to race the clock in each discipline… it really will be the 'race of truth' times three.

"It's a format that allows a clear look at each individual discipline and could open our eyes to widening our net of talented junior athletes. We certainly hope it does and encourage all budding triathletes, regardless of their experience, to come and give the racing a go."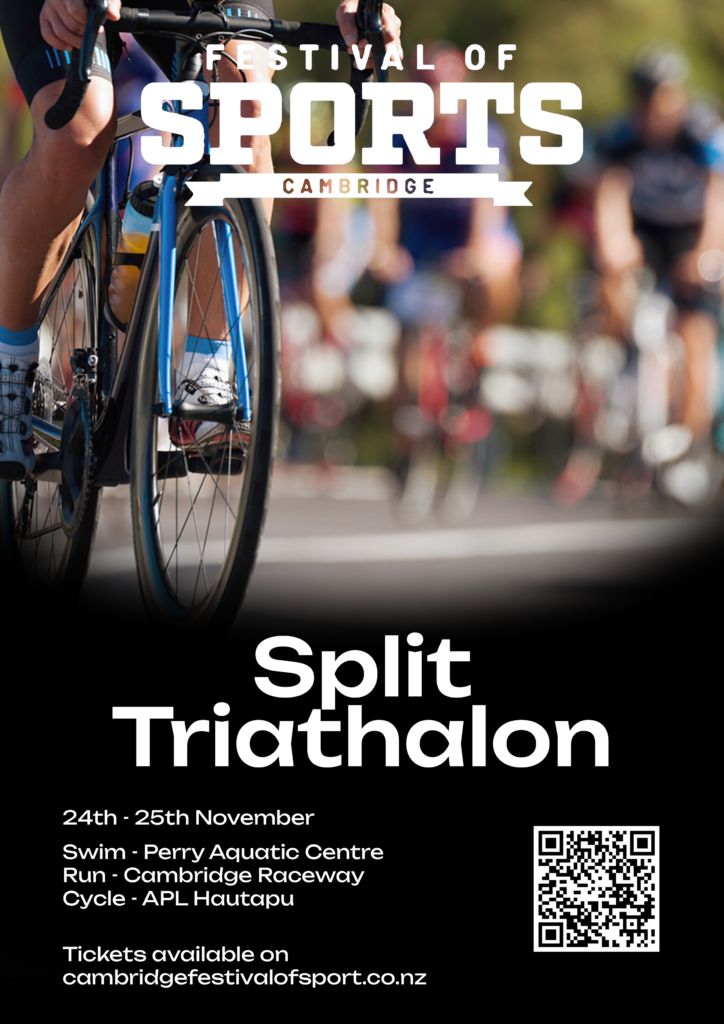 The split tri will begin at the Perry Aquatic Centre in Cambridge on the Friday evening (Nov. 24) with timed freestyle swims – 200m for U14s and 400m for 14+ to elites.

Cambridge Raceway will host the run the following morning (Nov. 25) – 2.2km starting at 9am for the U14s and 5km for adults. The competitive adult races begin at 10.45am for women and 11:15am for men after an earlier 5km 'fun run' for adults from 8am.

The split tri concludes with 4.8km and 20.6km time trials for the U14s and adults respectively at APL Hautapu.
Full details of the split-tri can be found on the official Cambridge Festival of Sports website HERE.

"It could even appeal to younger athletes who have until now been solely focused on just swimming, cycling or running," Willett continued.

"This is your chance to give triathlon a go in easily manageable chunks and you never know where it could lead. At the very least, you'll have a lot of fun participating and taking in the other Cambridge Festival of Sports events. It's really a 'can't lose' long weekend of sport and entertainment."

Indeed, it seems there is something for pretty much everyone including a pool party and swimming events, hole-in-one golf, a rowing 'erg-off', goal kicking and even trout fishing. The NZ Cross-Fit Championships at Grassroots Trust Velodrome on November 25-26 have also been incorporated.
The festival begins on Thursday evening, November 23 with a dinner at Tieke Golf Estate in celebration of 1983 New York marathon champion Rod Dixon.
On Friday evening, Mike King's 'Gumboot Friday Concert' will feature, among others, The Feelers and multi-platinum, multi-award-winning singer-songwriter, producer and ex OpShop frontman Jason Kerrison.
Tickets to the Rod Dixon Dinner and the alcohol-free and family-friendly Gumboot Friday Concert at Glowbox Arena in Claudelands (Hamilton) can be purchased via the highlighted links.

The festival will also include unique 'Run-4-Good' and 'Cycle-4-Good' events. The former is a self-timed 10km, half or full marathon at Cambridge Raceway between 6am and noon on November 25 – or anywhere in New Zealand with the run loaded to Strava for verification.

The cycle equivalent offers self-timed 40km, 60km, 100km or 160km options anywhere in New Zealand from November 19 to 25, again with the ride uploaded to Strava for verification. Riders already signed up for the Lake Taupo Cycle Challenge on November 25 are encouraged to enter the virtual Cambridge ride to do their bit for charity.
Runners and riders can choose to run and cycle for a charity of their choice via these Cambridge Festival of Sports Give-a-Little pages.