Photos: World Triathlon
By Kent Gray/Triathlon.kiwi
Dylan McCullough has fallen agonisingly short of a World Cup podium for the second time in 2023 but has happily banked another ranking points and confidence boost in South Korea.
The 22-year-old Aucklander finished 4th at World Triathlon Cup Tongyeong on Saturday, just two seconds shy of a podium topped by Tim Hellwig. The German made it back-to-back wins in the sprint following his victory in Chengdu, China last weekend.

Saxon Morgan was 26th and Trent Thorpe 43rd in the men's race while Ainsley Thorpe and Eva Goodisson were an impressive 5th and 39th in the women's race.
It was a bittersweet moment for McCullough who kicked on from his 9th in Chengdu but desperately wanted a medal after narrowly missing the podium at World Cup New Plymouth in March.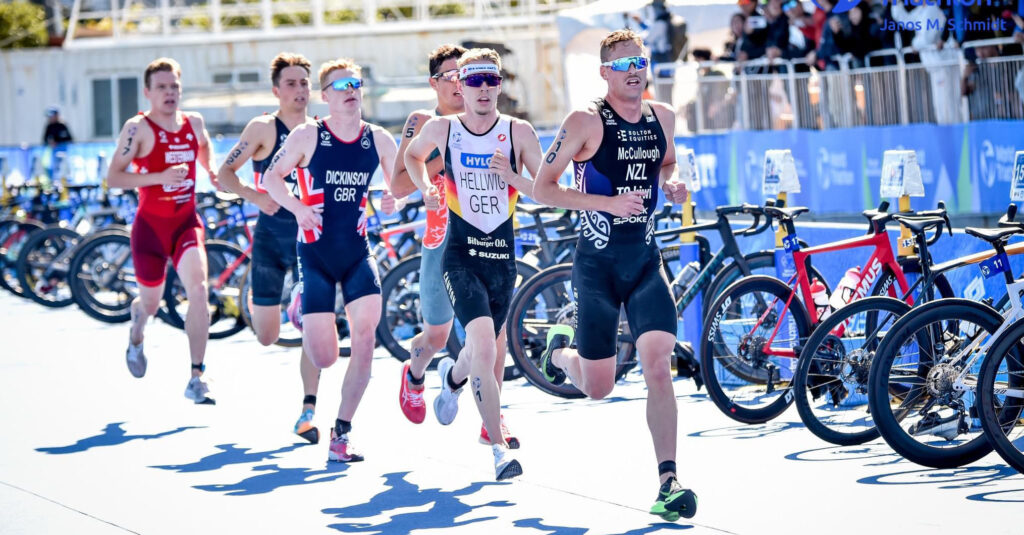 "I am happy with the result as it was one of the best World Cup fields in a while but also slightly disappointed as I really wanted that podium after 4th in New Plymouth earlier this year," McCullough told Triathlon.kiwi.
"It was a super honest race from start to finish, with a high swim pace, then a very committed breakaway where I recorded my highest ever bike power during a race, before running 14:55 5km on a tough course.

"So definitely a lot of positives to take away from the day. Another good haul of Olympic ranking points was a nice bonus."

McCullough will back up again at World Cup Miyazaki next weekend, rounding out his season in Japan "before a needed break!"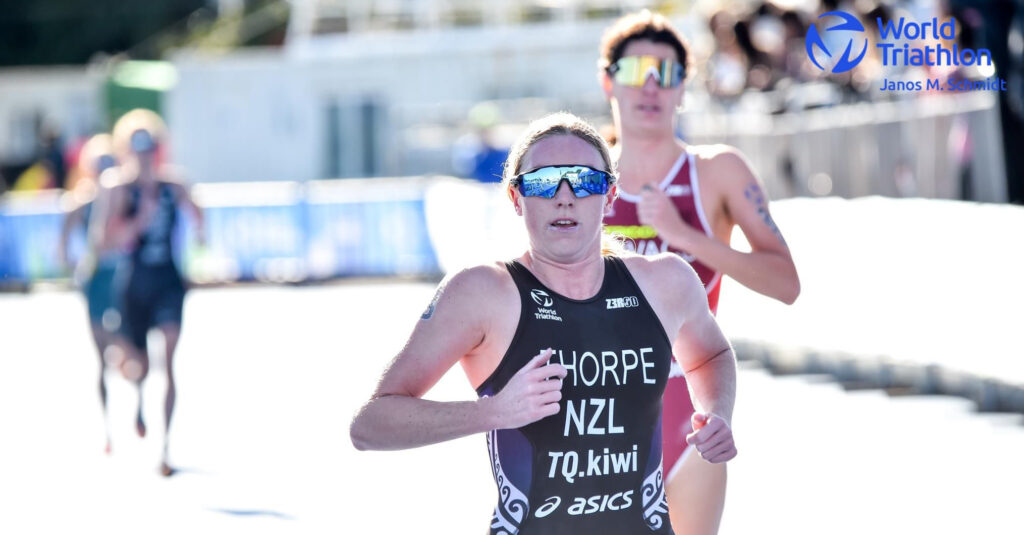 Gwen Jorgensen won the women's race in 58:16 with a 16:30 5km split. Ainsley Thorpe produced a 17:16 run to finish in 58:50 while Goodisson's 20:27 run in an overall 1:02:38 again underlined her slow recovery from a neural back injury.
Thorpe bettered her 2022 result in Tongyeong by one place which was impressive given her buildup.

"I didn't have my day in Pontevedra [at the World Triathlon finals], not feeling like myself. I arrived back in NZ and tested positive for Covid so this may have been the answer. To be 5th here. I am super proud of as most of the result didn't come from my preparation, it came from backing myself and racing with confidence.

"I wanted to race Tongyeong, not for the points but because I enjoyed it last year so wanted to do it again.
"My swim was average but I knew the first five minutes of the bike up the hill is the crucial part of the course to make up time. One of my main goals of the race was to be one of the first out of T2 as the run course is very tight and windy and I nailed that part. The run I felt good but just lacked the leg speed needed to go for the podium."
Hellwig won in 50:25 with a 14:47 run split. McCullough (50:35), Morgan (51:26) and Trent Thorpe (52:12) had respective 5km splits of 14:55, 15:08 and 15:50 after McCullough had set up his day with the third fastest swim of 08:19 for the 750m.
Morgan just missed the swim breakaway.

"Solid race today with a good swim. Just missed the break away of 9 out of the swim which was pretty frustrating," he told Canterbury Triathlon.

"Was in a big chase bunch on the ride which didn't get very organised and we lost time to the break. These Asian races this year are a lot more stacked than normal due to everyone chasing Olympic points so pretty happy to come away with a strong result in a strong field."